LOCAL AUTHOR SPINS ROMANCE AND INTRIGUE
Coy Rene Granderson, Sr. sits in a corner book nook at Sacramento Avid Reader, signing books and visiting with friends and family. He is a large, attractive man with a sunshine smile that lights up as he talks with admirers. It's the beginning of summer and the heat is seeping into the bookstore. By his side is his youngest teen daughter who is drawing. Coy proudly introduces her and talks about her creativity.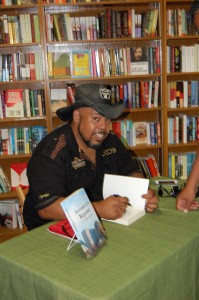 Granderson has just published his first novel, Accounts of a Reporter, about an adventurous New York investigative reporter, Jamal Montgomery, who leaves his unfaithful, pregnant ex-wife Desiree and moves to Sacramento to start a new life. Wanting to forget the past, Jamal gets involved with drug lords, police corruption, love triangles, sexual encounters, and strippers. The story takes Jamal from Sacramento to Barcelona where…"he has his wits, his balls, and his instincts," but will these be enough to save him from international crime boss Francis DaPrato?
The author spent his formative years in Oak Park, Rio Linda, and the Watsonville, Santa Cruz and Monterey bay areas. He says, "I spent my playboy years in cool places like Oakland, San Francisco, Los Angeles, and San Diego Bays. These locations and my experiences shaped my outlook on life."
Now Coy Sr. is a family man, married to his wife Suanne for forty years. They have three children, son Çoy Jr. and daughters Sucoyia and Coyanne. He attended Cosumnes and Sacramento City College while studying graphic arts and writing. He describes himself as a digital composer. He says he always loved art as a child and polished his skills through classes that helped him create a productive life in communications.
The author, now retired, says he worked for 35 years in Sacamento local publications and California state agencies: The Sacamento Observor, The Sacramento Bee "Neighbors" section, the Board of Equalization, the Office of the Secretary of State, the State Library, and State Printing. Granderson says he felt so privileged to work with State Librarian Kevin Starr, "He was incredible – you'd ask him anything, and he knew the answer
But, more about Jamal… who gets involved with lovely Roxanne Jones, a young sexy school teacher and dance choreographer. In an attempt to lure Jamal into marriage, she hooks up with her ex-boyfriend, an international drug dealer G-Dogg. The story is a merry romp through an international adventure where G-Dogg' s boss sends two corrupt detectives on Jamal to silence his journalistic life.
Book reviewer Jessie G. Love says, "Accounts of a Reporter has it all! You will not be disappointed while reading because C.R. Granderson captivates your attention and keeps it. His writing is vivid, enthusiastic, and you feel yourself in the presence of the characters…Well done. I expect to see future masterpieces!"
When asked what next, Granderson says he's developing a sequel to the book. He also is finishing up a collections of short stories and has an idea for another novel about a "holy roller" congregation and a pimp.
Hearing him talk about his writing is like hearing a bubbling well. The joy of creation is evident in his face. Obviously he's enjoying this fun time of his life.
Accounts of a Reporter is available at Avid Reader Bookstore on Broadway and also can be ordered from Amazon.com. The author can be contacted at http://www.granderson.com.
###
Leigh Stephens is a retired CSUS Professor of Journalism and Communications and the author of more than 500 articles and several books.