Friends of the State Fair offers opportunities to assist the fair
During a recent visit to the California State Fair, the Arden-Carmichael News met with Carmichael resident Harry Moose, CEO of the Friends of the California State Fair, a nonprofit, all-volunteer organization with a mission "to promote public awareness (of the fair) and provide support for the many community events and activities held on the grounds of Cal Expo."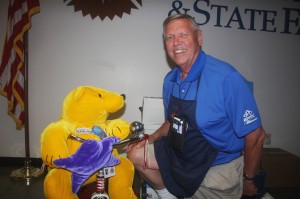 Carmichael resident Harry Moose, CEO of the Friends of the California State Fair, is shown alongside a small, stuffed replica of the fair's Poppy mascot./ Photo by Lance Armstrong
While wearing the standard, dark blue apron like the ones worn by other Friends volunteers, Harry responded to various questions regarding the organization.
After being asked to speak about the history and function of the Friends group, Harry, 68, who pronounces his last name as "mows," said, "The very first president worked for an (advertisement) agency and thought, 'Hey, why don't we form a volunteer group out here?' It started out as a small group of people who helped the fair do a lot of different things. We have all kinds of things here. Somebody has to take them in, register them and when the fair is over, somebody has to be there to get them out. So, many of our friends do that.
"Last year, we had probably the biggest year helping the fair with 10,000-plus hours. But it started out very small. It was about 40 people in the beginning, which as far as I can trace back was about 1977. They would do a barbecue and raise a little money and do things at the fair (to assist)."
Harry explained that it was changes in the economy that led to the creation of the Friends of the Fair.
"When (the fair) came here from the old fairgrounds (in 1968), it was brand new and the economy was such that they had lots of employees," Harry said. "Well, now we went through some recessions, and the State Fair is not supported by the (California State) Legislature at all with one penny. They have to make all the money out here to keep it going. So, having said that, the volunteer group (was formed and) started to grow and we now are right at 240 people. Any given day out here, we will have 150 to 170 people out here volunteering."
Harry next spoke about specific Friends activities, saying, "(The Friends volunteers) do various things. We work the information booths and the Expo Center or the A/B Building, which used to be called the Counties Building. We have a farmers' market, where we sell fresh fruit at a reasonable price. And all of that money that we make goes into the (Friends') scholarship fund. We're a 501(c)(3) (nonprofit organization), we run the California State Fair Friends of the Fair scholarship and we give away about $34,000 a year. And we have 24 scholarships. We just added a trade scholarship. You can either go from high school to junior college or to (training for a trade), so we can help students out. So, our people volunteer there.
"We also have a Coca-Cola booth and all the profits there go into the scholarship fund, as well as the farmers' market and two other venues – the Snack Shack, which is healthy snacks up in (Expo Center) Building 2. And then we resurrected a place called the Gazebo, which was run by a group of senior citizens. But they finally just gave up and it sat dormant for a number of years. I kept saying, 'Why don't we sell ice cream out of there?' And we sell ice cream and milk and juice and all kinds of things now. And of course, no one is paid, and all the profits from that go back into the scholarship fund.
"We have a live auction, and that's where most of our money comes from. And we were very successful this year. And so, that money goes into our fund, and after this year, even with the payout, we should be just over $400,000. We built that from a $25,000 grant 25 years ago. So, lots of volunteers are very dedicated to that scholarship fund, so that we can help educate a lot of our young people."
The Friends group, which is involved with various other activities at Cal Expo, begins its year in February, with mailings. But, of course, the majority of the volunteers' involvement occurs during the duration of the fair.
Harry commented about a portion of the diversity of the Friends volunteers, saying, "We have people in wheelchairs that can't really do much at the fair, but they come in before. They can put envelopes together, and do all of that stuff. We have many special needs people, and they're all welcome. There are jobs we can get. We're pretty diversified. So, if they want to volunteer, they'll find a position."
Most Friends volunteers work four-hour shifts and 120 to 160 people are providing their assistance at the fair each day.
As for Harry's schedule at the fair, he said, "I'm out here usually at 8 in the morning and leave at 10:30 at night. So, my wife (Sharon) keeps telling me, 'You know, you're getting a little older.' But, you know, it invigorates me to see the little children and how excited they can become. And we have such great things for all."
After being asked to provide a verbal invitation for those who might be interested in joining the Friends organization, Harry said, "If they're sitting around wondering what to do with their time, come on out, we would love to have them become a Friend. And there's no long-term commitment. You come out, if you don't like it, you don't have to come back.
"What they can do is go on the State Fair website, californiastatefair.org, and you'll see a little tag (for Friends of the Fair). But if you're not an online person, you can call the State Fair and they will hook you up with us. They operate from 8 o'clock in the morning during the fair until 10 o'clock at night. So, they will get a message to us.
"A lot of our people are not online and that's OK. We'll get you an application, and get you over and get you your credentials to get in. And we can use volunteers even at this year's fair. We have spots we can put them in and give them a nice menu of things to choose from. Next year, we'll go out and promote it and get more volunteers."
Because the fair has not yet ended, Harry was asked to describe the entertainment value that this year's fair provides for families.
"It's the best value in Sacramento right now when you look at the cost of everything," Harry said. "You can bring a family of four, if you go online and get the Poppy Pack. You get the tickets, you get the parking, you get the monorail ride, and you can spend a whole day out here with your family and enjoy it. And there's great food, but we also have fresh fruit from the Certified Farmers Market at the farm. So, a family of four, after they've tasted the fried zucchini and fried whatever, they can come out and cleanse their system with great fruit, (including) watermelon, at reasonable prices.
"And there are a lot of things that go on here. (There's) everything from drone racing to (agricultural) heritage, and everything in between."