Matias Bombal's Hollywood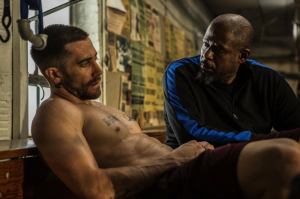 Jake Gyllenhaal is down for the count until he meets Forest Whitaker in "Southpaw"
SOUTHPAW The MPAA has rated this R
The Weinstein Company throws another boxing movie into that cinema genre with "Southpaw". Directed by Antoine Fuqua, it stars Jake Gyllenhaal as Billy Hope, a boxer starting at the top of his game with a gigantic mansion, beautiful wife (Rachel McAdams), lovely daughter (Oona Laurence) and all the trappings of the nouveau riche, including a slimy business manager (Curtis '50 Cent' Jackson).
A series of events throws him down for the count as one blow after another in his own personal life destroys his surroundings and family. Following a charity event, he loses his wife in a tragic accident, and before he even begins to understand what is happening, his business manger Jordan Mains (Jackson) moves in to play on his confused state to take advantage of him, coercing him to sign a contract that will clearly do more for the manager than the fighter. The unscrupulous Mains thinks "If it makes money, it must be right." He's always the backer of the guy who's on top.
It is only the beginning of misfortunes for boxer Billy, whose daughter is removed from his custody by court order. The daughter, Leila, has a chance to offer some of the movie's most direct and honest dialogue, allowing for moments of humor in the downward trajectory of the fighter's situation. Their separation is his biggest blow of all, and the very core of his motivation to climb out of his hell. His house and cars are repossessed, his assets frozen, and he is left on the street to begin again.
Motivated to avenge his wife's death and be allowed to live again with his daughter, he seeks out a famous boxing coach, Tick Wills (Forest Whitaker), in a very humble and tough section of the inner city. There, at a small and careworn gymnasium that Wills runs, Billy takes the job of cleaning up the place at night to cover his membership. After a false start, he begins training for his return to greatness. Following a small exhibition fight for a charity, the slimy Jordan Mains returns, offering a contract to fight the man Billy holds responsible for the death of his wife, and the motivation to return to the glossy world of big time fighting proves too much to resist. But he does not want to do it alone; he insists that Wills be his trainer. Wills is not easy to win over at first, and the two characters are at opposite ends in many ways, but eventually, they bind together for the common goal.
Forest Whitaker is good in just about all he does. Here, he is the center of this movie, offering the foundation for Billy to begin again. This riches-to-rags bout with a fighter starting at the top of his game and spiraling downwards is nicely made to make audiences happy, with beautiful lighting and color design. It plays on the emotions, and there's not a dry eye in the house when the father and daughter are separated by the judge.
When I asked Jake Gyllenhaal, in my online review (which you may see at www.mabhollywood.com), what was it about this movie story appealed to him the most, he replied: "The story about how to fight the system, having to be your best self; ask yourself questions internally, dig deep and say- how do I overcome situations where everything is telling me to fail.
"That idea, and seeing how this character fights through all that… was a beautiful idea, a beautiful part of the story and something I wanted to tell." He continued: "The other idea that was really beautiful is this idea of family; everything that you sacrifice for your family to be a father and learn how to be a good father. That, to me, moved me more than everything, the relationship with father and daughter in this movie is incredibly powerful and incredibly moving; it moved me in the script and it moves me even now, when I watch the movie."
In spite of excellent visuals, this picture reworks many old plot ideas that we have seen in boxing movies of the past, introduced again in this storyline perhaps for young people that may have never seen a boxing movie before. There were some surprising continuity errors here and there, but they will not affect the crowd pleasing emotional tugs well handled by the director.
Ms. Rachel McAdams, featured in the early part of the movie lights up the screen beautifully with her singular personality. I loved her in Woody Allen's "Midnight in Paris" and wish that her part may have lasted longer here. She's memorable in her brief screen time.
The movie's credit crawl begins with a title card in memory of the film's composer, James Horner, who died in an airplane crash last June. Horner's movie scores gave mood and advanced the plot of some of the best pictures in the last 20 years, including memorable scores for "Aliens", "Field of Dreams", "Braveheart", "Apollo 13" and "Titanic". "Southpaw" is not the last of his scores that you may hear; he composed music for three more productions yet to be released. Overall, this movie is going do well with audiences, but I was not overly impressed. As always, I leave it to you to decide.