SMUD's history began through local voters' approval in 1923
Editor's Note: This is part one of a two-part series about the Sacramento Municipal Utility District. Part two of the series will feature details regarding the renovation of East Sacramento's SMUD headquarters building.
For well more than six decades, the Sacramento Municipal Utility District has been serving the electricity needs of residents of Sacramento and beyond.
Presently, SMUD serves all of Sacramento County and a small portion of Placer County.
The company recently made news when it was reported that its more than half-century-old headquarters building at 6201 S St. in East Sacramento would undergo a $100 million renovation.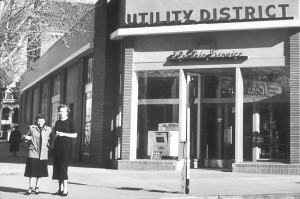 That project, albeit one of the major projects of the district, marks just one of the many highlights in the company's history, which dates back to July 2, 1923.
On that day, 87 percent of voters approved a $12 million bond issue for the creation of SMUD.
Additionally, a five-member board of directors was elected to serve a one-year term. Those original directors were Mayor Albert Elkus, Judge C.E. McLaughlin, George L. Herndon, Robert L. Jones and Ben Leonard.
In 1921, The Sacramento Union had published the following words: "It has been very definitely proved that municipalities can provide their own power and light at a cost considerably below the rate charged by private hydroelectric companies."
During the same year, efforts to establish a community owned electric distribution system and water and power rights on Silver Creek in El Dorado County were investigated by SMUD representatives.
The district's original service areas were the cities of Sacramento and North Sacramento and adjacent territory of approximately 48,000 acres or 75 square miles.
SMUD's early history also included the expansion of its service area from 48,000 acres to 420,000 acres, with the inclusion of the communities of Elverta, Rio Linda, Elk Grove and Herald.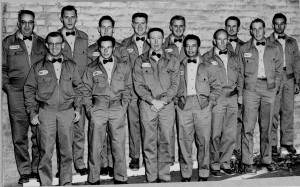 An article in the Dec. 29, 1986 edition of The Sacramento Bee summarizes SMUD's major challenges of its early years, as follows: "SMUD had been created by voters in 1923. But it took most of the intervening 23 years to win independence from (the Pacific Gas and Electric Co.), which was loathe to relinquish the territory.
"In fact, for several years, even after the 1946 takeover (of PG&E), SMUD was a captive of PG&E. It bought most of its power from the big private utility until 1952, when it won an allotment from the federal Central Valley Project."
Regarding the change from private to public distribution and sale of electricity, The Bee, in its December 31, 1946 edition, notes: "It would have been easy during the long fight for (SMUD's) directors to have become disheartened and to have given up. But they kept tenaciously at their task and saw it through. And for that they deserve the thanks of the entire community."
That night, at 6 p.m., the Sacramento area's power distribution facilities formally passed from PG&E to SMUD, and Sacramento became the nation's seventh largest city to obtain its electric service from a publicly owned power system.
At that time, SMUD was operating in rented rooms at 1325 K St. and in tin Quonset huts at the present 59th Street site.
A 50th anniversary (1947-1997) SMUD booklet describes the change in the usage of electricity in Sacramento homes from the end of World War II to the beginning of the 1960s, as follows: "In 1945, many homes in Sacramento and outlying areas were lit by kerosene or gas lamps and kept warm by wood stoves. But by 1960, the average Sacramento home not only had electric service – it had become a veritable electricity consumption center. Sacramentans had bought electric ranges, central heating, electric washers, dryers and dishwashers, and a remarkable range of small electrical appliances, from waffle irons and griddles to electric blankets and bathroom space heaters."
In 1949, SMUD relocated its headquarters and offices into the then-recently remodeled, former Northern Motor Co. building at 2101 K St.
The 1949 city directory lists SMUD as then having its administrative and general offices at 2101 K St. and its operating headquarters at 59th and R streets.
During the late 1950s, SMUD began to build its own hydroelectric power plants on the upper American River, and by 1961, the company had lowered its electricity rates three times.
SMUD's aforementioned headquarters building in East Sacramento opened in 1960.
In 1966, the company purchased 2,100 acres in Herald, in southeast Sacramento County, for the purpose of constructing its once controversial Rancho Seco nuclear power plant. The plant was built from 1969 to 1974.
Fifteen years later, Rancho Seco – Spanish for "dry ranch" – was permanently closed following a public vote to have the place decommissioned.
During those years, the Arab oil embargo led to an energy crisis in this country, and the federal government requested that Americans limit their energy consumption.
Furthermore, a major drought in Northern California in 1976 resulted in the drying out of SMUD's largest reservoir. Subsequently, its hydroelectric power output was decreased by 50 percent.


In response, SMUD's directors approved a comprehensive energy conservation program, which involved the input of its customers.
Folsom was annexed by SMUD from PG&E via a vote of that city's residents in 1984. The acquisition added 141 square miles to the utility district's service area.
Among SMUD's highlights in the 1990s were the construction of three cogeneration plants, the expansion of generation capacity at its upper American River power plants, and the opening of its Energy Management Center.
In regard to the center, the aforementioned 50th anniversary SMUD booklet notes that it "dovetailed to allow the district to make its own minute-by-minute decisions on buying power and managing energy sources, a method far more cost effective than relying exclusively on long-term power contracts."
Furthermore, the booklet notes that SMUD employees were able to cut costs by $56 million, and avoid a tenth rate increase in eleven years.
The 2000s brought the Y2K bug concern that never actually became an issue and the state mandated deregulation of the electric utility industry, which resulted in shortages of power, rotating outages and an increase in wholesale energy costs.
Additionally, the Sept. 11 attacks led to an elevation in security at the SMUD facilities and offices.
Now in its 68th year of providing energy services to its customers, SMUD continues its efforts to improve its offerings.
An official SMUD document, which includes a section, entitled, "The New Century," notes: "Even as we coped with deregulation and other difficult issues, we forged ahead with a (sic) major green-energy efforts such as our wind-power project in Solano County,  https://www.smud.org/en/residential/environment/smart-homes/"Smart Homes, https://www.smud.org/en/residential/environment/greenergy/"Greenergy, https://www.smud.org/en/residential/environment/solar-for-your-home/solarshares.htm"SolarShares, plug-in hybrid vehicles and a host of other initiatives.
"We're well on our way to building a smart grid to help us operate more efficiently and give you better choices in the way you use energy."
Last week, in speaking about the company's past and future, SMUD CEO and General Manager Arlen Orchard said, "SMUD's value to the community is deep and far reaching, and we're doing everything in our power to make that relationship even stronger in the years and decades to come."