Over The Fence with Greg Brown
Track 7 Brewery held annual Chili Cook-Off
Band leader and trumpeter Harry James once said, "Next to music there is nothing that lifts the spirit and strengthens the soul more than a good bowl of chili."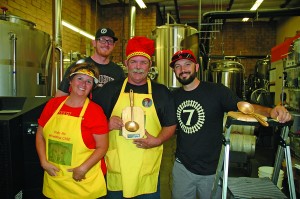 I think Harry may have been onto something, because spirits were lifted and souls were strengthened at the Third Annual Track 7 Chili Cook-off at the taproom in Curtis Park.
A lot of chili and beer were consumed too.
Local chili contestants were vying for the top spot and the golden chili spoon trophy. A colorful array of chili connoisseurs used a wide variety of chili ingredients. Spices and seasonings wafted through the air at the boisterous taproom.
One of the rules was contestants had to use Track 7 beer in the chili. Other than that, it was a free-wheelin' chili cook-off.
I asked Track 7 brewer Geoff Scott what he looked for in a chili and he told me "It's about consistency. A good base and good combo of meat and beans." He added, "It's gotta have spice!"
Mark and Toni Groth are the team of Wow Wow Chili. Mark wears the big chef's hat and both of them don colorful yellow aprons.
I call it the Wow Wow factor.
The first year of the chili cook-off the WOW WOW chili crew were told their chili needed "more heat."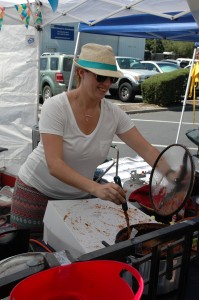 They kicked it up a notch last year and won People's Choice. I guess people like it when you turn up the heat.
While Mark stirred the chili in the big pot, he said with some confidence, "We're here to defend our title today."
I asked if he changed anything or "kicked it up another notch" and he told me "yes." They smoked three kinds of meat and actually added a little bit more spice. He had nine pounds of tri-tip simmering in the big metal chili pot!
It worked. Wow Wow Chili won their second straight Track 7 chili spoon trophy in a row. Perhaps it was the added chorizo, or the crowd also liked their style.
The school teacher team of Derek Perkins and Amy Baldini were on hand serving up chili to the crowd hoping for a win. They called themselves "Backyard Barbeque." It's their second year gunning for the big prize and chili spoon trophy. "We're both teachers, and we have the summer off, so we spend the summer working on our recipe," Derek said.
I bet it's better than the school cafeteria food.
Perkins added, "For the past month we've been really focused on the life of chili."
Backyard Barbeque poured a growler of Panic IPA in the sauce and a not-so-secret ingredient…tequila! They added a block of aged Parmesan cheese to it, too. It smelled good! It had a lot of Track 7 in it.
Another chili cook-off contestant was Brian Guido who was tucked away inside the taproom with his pickle red onion relish and Soulman stout chili. He called it "Guido's lamb and stout chili."
"You know the great thing? I had a group of kids keep coming back and back for the chili. And it was lamb. I've gone through four gallons of chili!" Guido said.
Apparently, kids love lamb.
Guido told me, he loves the chili cook-off because he loves Track 7. "They make great beer. The place is family friendly and pet friendly, too." He likes just cooking and hanging out at the taproom. He added, "What else am I gonna do on a Sunday afternoon?"
The guys over at Das Chili were really enthusiastic about the chili cook-off. One of the chili makers, Shawn Peter, wore lederhosen while he stirred the chili and gave out samples. The lederhosen was a salute to his German heritage.
Shawn Peter and Chad Seaburg were the team that makes up Das Chili.
Shawn said it's a homemade recipe that he created for himself for the last 20 years – a tried and true recipe that his friends and family love.
All the vegetables were from his parent's garden. The peppers, the tomatoes, the works.
Last year he got a bit exotic and used ground kangaroo sausage. I guess kangaroo gives it a real kick.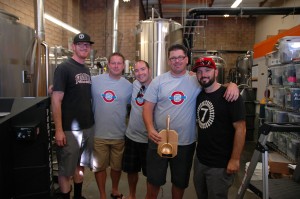 This year he went with ground lamb, pork, and a growler of Track 7's Bee Line Blonde.
He caramelized onions, garlic, along with the Bee Line Blonde for three hours. Organic kidney beans, freshly shucked corn, and finely chopped white raisins along with a little maple syrup were also in the chili. A creative mix of ingredients earned Das Chili third place in the People's Choice category.
I'm sure they got a few extra votes for the lederhosen.
The Brewer's Choice for the best bowl of red went to Underground Chef.
Underground Chef is Nathan Frank, Brian Miller, and Steven Rice. Three friends, plenty of beer, and delicious chili.
"To go through five gallons of chili in one afternoon in little tiny cups…it's insane!" Nathan said. It's their first time entering the Track 7 Chili Cook-off and as a home chef Nathan thought, "I could do that."
Beef brisket and fried pork belly were the key ingredient for Underground Chef. They also added three pints of Soulman Stout.
"It was cool to be able to use their product and make it taste good," Nathan told me.
The team of Underground Chef had the right mix of consistency and spice because they won the top prize in the Brewers Choice category. They got a $200 gift certificate to use on craft beer, Track 7 gear, or rental use of the tap room. The Underground Chef guys have decided to throw a big party with friends at the Track 7 Tap Room.