Local artist celebrates 61st birthday by opening a new gallery
On Saturday, July 18 Gerry GOS" Simpson held a very special 61st birthday celebration. It was on that day he opened up a new home for this artist's huge collection. Called the GOS" Art Gallery Studio, located at 1825 Del Paso Blvd., the new addition to the neighborhood exudes color and energy through the paintings of GOS". The day's event had about 300 attendees celebrating the gallery and Gerry's birthday.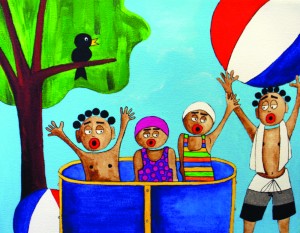 Born in Passaic, New Jersey on July 18, 1954, Gerald Otis Simpson a.k.a. GOS" is a self-taught artist and photographer. At an early age, he developed a talent for the art, music, fashion and photography. He became passionate about anything that was creative… He especially enjoyed painting with acrylic paints which allowed him to experiment with vibrant color combinations. His enthusiasm for Fashion and Music eventually led him to career as a lead singer in a vocal group called the Friends of Finesse in which he became designer and stylist for the group. New York City opened to him a broader world of culture and creativity.
GOS" has worked as a Stylist and Production Person later becoming Visual Merchandising Manager for Nordstrom. He has also had a 10 year stint as a Professor at American River College teaching Visual Merchandising and Fashion Promotion.
However, GOS" paints vibrant, colorful scenarios that are positive characterizations of the African American experience and the world around him along with brilliantly colored abstracts. The lack of African American representation in the visual arts was the inspiration for Simpson to create his very own original imagery.
Art work by GOS" has appeared in numerous solo and group exhibitions in numerous venues throughout the region including The Barton Gallery, The Crocker Museum, The 1910 Gallery, Sacramento City Hall Art Gallery, The African American Museum and Library At Oakland, Capitol Public Radio, The 40 Acre Art Gallery, The Sacramento Philharmonic Symphony, UNDERGROUND Books, Master's Barber and Beauty Shop, The SMUD Art Gallery, The Pence Gallery, Revolution Winery, The Sojourner Truth Multicultural Art Museum, The Brick House Gallery, EVOLVE the Gallery, The 5 Claude Lane Gallery, California State Capitol Building, Muhammed Ali Center and
The Passaic Public Library.
As a photographer, GOS" has had the opportunity to have his work appear for Sacramento News & Review's Fashion Edition and cover and has graced several CD covers for area musical artist.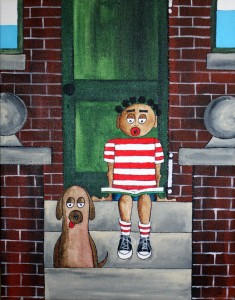 GOS" in collaboration with Master's Barber and Beauty Shop has presented news worthy art events that include most recently HAIRitage. HAIRitage is a fine photo exhibition that captures the essence of the barber shop. A table book and original CD of Jazz and Poetry are also included in the HAIRitage project.
His work and experience in Fashion and Visual Merchandising allows him to bring a sense of style to all that he sees through the lens of his camera. GOS" has said he escapes through his paintings and when realism is what he desires, he achieves it through the lens of his camera. His photo assignments include: event, portfolio, portrait, fashion and art photography.
GOS" was commissioned by the U.C. Davis Medical Center of Sacramento for three pieces of art that have been since included in their permanent collection.
GOS" has appeared as an on-air host for the KVIE Television Annual Art Auction and has also been the subject of interview for the KVIE TV programs Central Valley Chronicles and The Clouds Porcelain Series, KCRA TV 3 and FOX TV 40. The art works of GOS" has also appeared on the television series 90210.
The art piece (There's One In Every Bunch) was selected to be used as the banner for the Living Here Sunday art section of the Sacramento Bee and his show (360o- Coming Full Circle) was chosen by Sacramento Bee Art Correspondent Victoria Dalkey as one of the Top 5 must see shows. Other shows that Simpson's works were included in that were also listed as must see events include: ALI: The Greatest-EVOLVE the Gallery, Sacramento, CA, Made In America- EVOLVE the Gallery, Sacramento, CA and HAIRitage, Master's Barber and Beauty Shop.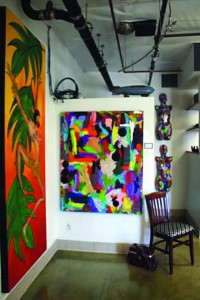 GOS" was selected as a semi-finalist and his art piece titled: You Got Me Goin' In Circles was selected out of 3000 plus works of art. GOS" was 1 of 21 Artist selected to represent the San Francisco Region to present their work in the Bombay Sapphire Artisan Series 2012 in Partnership with The Rush Philanthropic Arts Foundation.
GOS" has recently shown his work in a solo exhibition at the Barton Gallery titled: ½ and Half… An Arnold Palmer Moment.
The art work of GOS" was recently on display with 20 other artist from across the country at the Muhammad Ali Center, Louisville, KY in a show titled; ALI: The Greatest. Recent solo shows include: A Touch of Jazz and Other Sounds at The Brick House Gallery, Sacramento, CA and This Is Dedicated… Passaic, New Jersey at The Passaic Public Library in his Hometown of Passaic, New Jersey.
GOS" was recently interviewed on the Xirrus XM radio program: Inside The Issues with Dr. Wilmer Leon.