William Land Golf Course has brought enjoyment to locals, others for decades
Editor's Note: This is the second article in a series about the history of the William Land Golf Course.
William Land Golf Course at 1701 Sutterville Road in William Land Park has been the site of many enjoyable times for golf enthusiasts.
Its existence as a nine-hole course dates back to its opening in May 1924.
However, there was a time very early in its history when an effort was made to have the course substantially increased in size.
During a Sacramento Golf Club banquet at Hotel Sacramento at 10th and K streets on Sept. 30, 1925, W.G. McMillan, the club's president, stated that Land Park golfers were determined to have the course expanded to an 18-hole course.
McMillan explained that the concentration of golfers on the course at that time was so great on Sundays that it required about six or seven hours to complete an 18-hole, regulation game.
In addition to McMillan's speech, the banquet also included a speech by L. Stuart Upson, who was referred to at the gathering as the community's "granddad of golf."
The theme of that speech was the history of golf in Sacramento.
Upson told the banquet's attendees that the area's first golf course had been laid out in Oak Park about a quarter century earlier.
The next local golf course, which Upson mentioned, was a course that had been constructed in East Sacramento.
Additionally, Upson recalled the development of Del Paso Country Club, as well as the construction of the area's first municipal course – the Arcade course in Del Paso Park.
As for the purpose of the banquet, it had been organized by the Sacramento Golf Club in celebration of the successful team match that was held at the Land Park course on Sept. 27, 1925.
In that match, the "Tough Roughers" defeated the "Sand Trappers." And in being that the "Sand Trappers" lost the match, they were the guests of the victorious team at the gathering.
Certainly, there are many stories to tell regarding the various competitions and golfers that have been a part of the William Land Golf Course's history.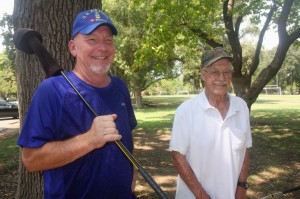 Many notable golfers, including Al "Mr. 59" Geiberger, Bob Lunn, Dick Lotz, Barbara Romack and Kevin Sutherland, have played on this local course.
And of those players, Al achieved the greatest success as a golfer.
On Sept. 6, 1999, in celebration of the 75th anniversary of the William Land Golf Course, Al participated in a four-person scramble at the Land Park course.
The event, which raised funds for the Sacramento Area Youth Golf Association (presently The First Tee of Greater Sacramento), brought back many memories for Al, who had played on the course from 1943 to 1953.
Al, who was born in Red Bluff in 1937 and grew up at 1118 Cavanaugh Way in the Land Park area, would ride his bicycle while carrying his clubs to play golf at this course during his youth.
In 1952, as a Land Park junior club member, Al won the boys' junior golf championship.
Al's mother, Mabel, was also a successful golfer, as she was a multiple winner of the Land Park Women's Golf Club medal play tournament.
Mabel was also a charter member and past president of that club, which was later known as the Bing Maloney Women's Golf Club.
The Geibergers moved to Santa Barbara during the spring of 1953.
After turning professional in 1959, Al won 11 tournaments, including the 1966 PGA Championship.
During the second round of the Danny Thomas Memphis Classic (now FedEx St. Jude Classic) in 1977, Al earned his nickname, as he became the first player to post a score below 60 in an official PGA tour event. And in obtaining his record, he shot a 59, with 11 birdies and one eagle.
Al, who also finished second in the U.S. Open on two occasions, later won 10 Senior PGA Tour (now Champions Tour) titles.
In a recent article in The Sacramento Bee, Al, whose son, Brent, also became a professional golfer, was recognized as "clearly the best golfer in Sacramento history."
During a recent visit to the Land Park course by this paper, several golfers spoke about the course and what it means to them.
Bob Suber, Jr., a third generation Sacramentan, said that he is no newcomer to the William Land Golf Course.
"I've been coming out here since the late 1950s, Bob Suber, Jr. said. "Everybody in Sacramento came out here. This was the old nine-hole course before the big country clubs came around like El Macero and Valley Hi.
"I grew up across the street, basically, in high school and my dad and I used to come over here early in the morning. We would go up across Sutterville (Road to the) course.
"It's (a) fun (course). About the ninth hole, you figure, 'Let's do one more nine.' But it's just enough. But for a public course, in all seriousness, they do a good job. And since (the aforementioned golf-based youth development organization, The) First Tee, started here, they double cut the fairways. We used to call it the goat ranch. It was kind of rough."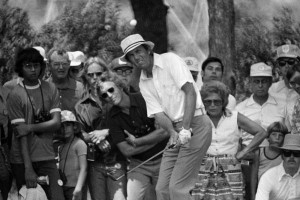 In further commenting about The First Tee, Bob Suber, Jr. said, "One of the older guys who started First Tee here, George Tinseth, he's got George Tinseth Plaza here. He's been putting here for years. He's an old neighbor in the area. The driving range is (primarily) for the kids. It's not (always available) for the grown ups. That's all for teaching the First Tee (kids), and I think they need all the (instruction). That's the future. (First Tee is) teaching them the discipline and everything that goes with the game. And obviously, it works. You see them coming out here with their teachers and everything. We just kind of say, 'Well, I guess we're not putting today.' But that's ok. It's for the kids, and I think it's wonderful."
Bob Suber, Jr. also recalled another change to the grounds: the late 1950s elimination of the old clubhouse in the area of today's Fairytale Town.
The present clubhouse is located just north of Sutterville Road.
Ninety-seven-year-old Sacramento resident Jim Hayes, who has been playing golf since about 1941, also spoke favorably about the Land Park course.
"I came up from L.A. in 1959, and I (started golfing) here (in Land Park) in 1962," said Hayes, a former golf partner of Bob Suber, Sr. (1925-1999) and a present golf partner of Bob Suber, Jr. "The (course) is about the same, really. Well, it's in better shape now. (The course is) easy to get to and they take care of it very good. Anyway, the only thing bad about it is I can't hit the ball."
But that was not always the case, as Hayes added, "I hit a hole-in-one on the seventh hole at par-3 (at the Land Park course). That was in about 1982."
Another local resident who has fond memories of the course is Pocket area resident Eric Pohl, whose wife Linda Pohl is a longtime Valley Community Newspaper employee.
In 1973, Eric won his second consecutive William Land Park Men's Golf Club title.
Following that victory, Eric, who was best known for his tee to green game, was presented that year's trophy by Ed Sabonge, who was then serving as the club's president.
In regard to the Land Park course, Rocklin resident Betty Wicksted, who enjoys golfing at the course with her husband, Tom, said, "It's beautiful out here and the people are so nice out here. (They are) like family."
Also commenting about the course was East Sacramento resident George Wagner.
"The course is very forgiving," Wagner said. "It plays slow, because you get a lot of young people and older people. You have to come out here with the attitude that it's not going to be a fast round of golf. But it's going to be leisurely and you're not going to lose that many balls out here. We like to play nine holes, because it (takes) two (to) two and a half hours."
The William Land Golf Course is presently celebrating its 90th anniversary.
For additional information about this course, call 916-277-1207 or visit the website, www.williamlandgc.com.