Local centenarian is well known in the community
Editor's note: This is part two of a two-part series about Sacramento's newest centenarian, Pete Rossi.
Longtime Sacramentan Pio "Pete" Rossi, who turned 100 years old on Aug. 23, has experienced many things in his long life. And along the way, he developed a great number of friendships with people throughout the community.
And that fact was very much on display during his recent birthday party that was detailed in the previous article of this series.
As mentioned in that article, more than 200 people attended the event, which was held at the Veterans of Foreign Wars Post 67 Hall at 2784 Stockton Blvd.
During the following week after that party, Pete sat down to explain more about his life in an environment that was much less challenging for an interview than a VFW Hall filled with people who were constantly vying for his attention.
That place was Goeman's bar at 7123 Franklin Blvd. in south Sacramento. This local business is owned by one of Pete's many bar owner friends, Steve Pate.
Among Pete's best friends in the Sacramento area are bar owners, since Pete spent many years as a proprietor of various local watering holes.
While sitting down at Goeman's with his son-in-law, Mike Zwack, and his grandson, John Zwack, Pete briefly spoke about his native area of Switzerland.
"It was mostly Swiss-Italians who lived there (in the canton of Ticino, Switzerland)," Pete said. "Switzerland was German and Swiss and French and Portuguese and whatever, and I was the Italian part. I grew up on a goat farm and milked goats. I think the biggest herd that there ever was (consisted of) about 30 (goats). Then it went down to 10 or 12 (goats). Then we went into the cow business. And after 20 cows, there were 13 cows, 14 cows. It was the dairy business."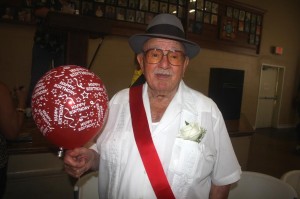 Pete, who was the tenth born of 11 children in his family, recalled how his father would work part of each year in America during the early 1900s.
"My father's name was Antonio Rossi Simonelli," Pete said. "Simonelli was like a second last name. My father was a great man. My dad was a famous chef. He used to go from Switzerland to Atlantic City every summer and he would be a chef for five months, and then he would go back to Switzerland. That was before I was born. He did a little bit of everything, I guess. He was a farmer and then he became a chef. And he had the dairy."
In regard to his mother, Catterina, Pete said, "My mother was a family mother. She waited for Dad to come home."
Following Catterina's death in 1927, Pete came to America with his father and his brother, Livio "Leo."
During that year, they made their way from New York to Chicago to San Francisco, where Antonio obtained work as a chef.
Both Antonio and Leo died in the 1930s.
By about 1934, Pete was residing in the Sacramento area and working at Hart's Lunch restaurant in downtown Sacramento.
From 1938 to 1941, Pete had a forestry job in California. And he also worked for the Western Pacific Railroad as a boilermaker.
In recalling his forestry work, Pete said, "When I was 17 or something, I used to work for the forestry department of the United States. We got paid $20 a month. We would stay the whole month. We went into the forest. We weren't (forest) rangers, because we were only kids. We held jobs and everything on the highways. We stayed there for about six months and then we got a raise. We got $30 a month. We worked 30 days."
Pete, who served his country in the Army during World War II, became an American citizen on Sept. 18, 1942.
Ten months later, Pete married Swiss native Annie Lidia Poncioni. Their daughter, Patricia Annette "Patti" (Rossi) Zwack, was born on June 18, 1943.
Pete, who has three great-grandchildren, said that he actually worked for the Western Pacific Railroad while he was still serving in the Army.
"I worked for (Western Pacific), because after 1943, you only had to report to the Army once a year," Pete said.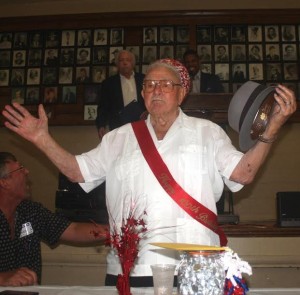 During his time as a sergeant in the Army in September 1945, Pete, who was then 30 years old, completed his military duties.
In his early post-war life, Pete obtained employment as a dishwasher in a restaurant and later obtained employment as a fireman with the Sacramento Signal Depot and as a part-time bartender at Joe Morelli and Frank Franusich's J&T Club tavern at 5701 Franklin Blvd.
Pete, in recalling his early memories as a bartender, said, "While I was working at the Signal Depot, I was a bartender. I would work in the afternoon and the nights in the bar and I would work at the Signal Depot during the daytime."
In about 1952, Pete, who was then residing with his family at 2641 Phyllis Ave., off Franklin Boulevard, joined Dominic "Jack" Salatti as part owner of the Kolonial Klub at 4620 Stockton Blvd. Pete had spent time working as a bartender at the Kolonial Klub prior to becoming one of its proprietors.
At the same time he became an owner of the Kolonial Klub, Pete became a partner in the ownership of the Silver Spur bar in Orangevale.
Pete explained that he spent a lot of time in Orangevale.
"Jack Salatti and I, we were partners, but I ran the Silver Spur and he ran the Kolonial Klub in Sacramento." Pete said. "We were 10 miles apart."
Pete also spent some time during that era as an owner of the watering holes, Broadway Gardens at 829 Broadway and Tropical Cellar at 628 J St.
Pete said that the Tropical Cellar, in being true to its name, was actually located in a basement.
"(Tropical Cellar) was the only bar in Sacramento that was downstairs," Pete said. "Well, there was another place at 2nd and J streets, but it was only a half of (basement area). (At that bar), you walked down the steps only two or three steps, but at the Tropical Cellar you went 12 steps down."
In 1962, Pete became an owner of the Lunar Station bar and card room at 2791 Fruitridge Road. His business partner at that place was Lee Parkhurst.
Pete, whose hobbies have included hunting, fishing and gardening, recalled the Lunar Station, as follows: "It had everything in there, everything you wanted. We had (model) spaceships up there, stars, taxidermy and pictures. I had a famous deer. I had a four-point deer, a whole deer mounted. We had the four-pointer on the corner when you walked in there. A big one, a nice-sized four-pointer.
"The Lunar Station became a card room and we would play cards all night, seven days a week. We would keep going until after 2 (a.m.). The players were playing and not running around any place. We would keep playing until we would get in trouble. Somebody would start talking about something. We would have to close up for a while and then (open) back up again.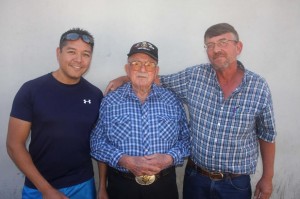 "There was no booze (served after 2 a.m.). But anyone who was to hold a drink on the side, you would never know about it."
In 1968, Pete sold his share in the Lunar Station, and, with Glenn Kiotani, he established a new bar, Swiss Buda, at 2342 Fruitridge Road. The site was formerly occupied by Kiotani's restaurant, Kyo's.
Melvin "Mel" Ah-Yun, Sr. later replaced Kiotani as Pete's business partner.
Pete, who remained an owner of the Swiss Buda until 2007, explained how that bar received its unusual name.
"I was the Swiss and Glenn, he was Japanese, and he was the Buddha," Pete said.
Additionally, Pete mentioned that the change in the spelling of "Buddha" to "Buda" was based on economics.
"You paid so much a letter (for the business's sign), so we (misspelled) Buddha," Pete said. "So, Buddha was to be (spelled) 'Buda.'"
In continuing to reminisce about the Swiss Buda, which is still in operation today and is owned by Melvin "Bull" Ah-Yun, Jr., Pete said, "The Swiss Buda was the best, because we would have a band playing and everything. We would have a Saturday night dance. We would hire a band and we made a dance hall out of (the place). And once in a while we had a feed of some kind to draw business if we had to. If the fishermen would come in with a bunch of fish, we would have a party and if the hunter men would come in with a bunch of ducks, we would have a party."
After being asked to describe his impressions on turning 100, Pete said, "I'm surprised to be here."
And then he added, "I feel great. I had a big party and everybody's happy."