Over The Fence with Greg Brown
Eclectic yard sale in the HP
The annual Hollywood Park Neighborhood Mega Yard Sale is Saturday, Oct. 3. This fun neighborhood event has been going on since 2003. HP residents Kathy Spitzer and Debbie Keller, with help from Dwight Coleman and Mona Royster, launched it back when they were Hollywood Park Neighborhood Association board members.
Bargain shoppers will be trolling the neighborhood looking for deals and treasures at the Mega Yard Sale. More than 50 residents will be participating, hence the Mega.
Hollywood Park is an eclectic neighborhood, which means the yard sale will probably be a bit eclectic, too.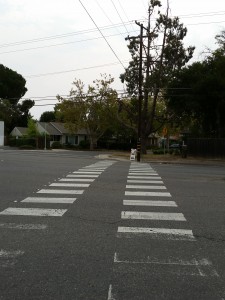 I toured the Mega Yard Sale last year and got to know some neighbors and also sift through all their memories up for sale. You get to know a person by the items they have at their yard sale;
"Oh, I didn't know Kevin was such a big Gnome collector."
I love the yard sale stories on the news where a guy buys a Jackson Pollock masterpiece for a dollar or the painting of JFK that was worth thousands.
Who knows? Maybe you'll get lucky and find a rare art piece for a dollar.
Simple tips for yard sale shoppers: Don't dress like you're headed to the yacht club, get there early, and bring small bills. Oh yeah, and don't forget your haggling hat!
Second Saturday at Panama Pottery
Panama Pottery and the Panama Artists Collective on 24th Street had a steady stream of neighbors, patrons, and customers visit on Second Saturday.
Maria Vargas over at Panama Pottery was having a fall pottery sale to coincide with the 2015 Sacramento Open Studios. She was floating around the yard speaking with customers and friends who came to visit and shop. There were also some cool tunes and a Burgess Brothers Food Truck serving the art admirers. Good que!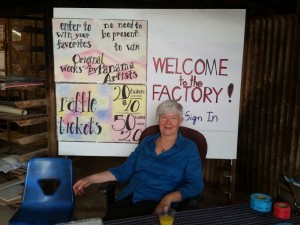 Once I left the Panama Pottery retail yard, I wandered into the Panama Factory where the artists' studios are located. They have added new artists and new studios to the Panama Factory.
The art in Studio 800 was visually stimulating. I couldn't keep my eyes off of it. Unusual artistic ceramic creations by Clarissa Pezone and Marsha Schindler.
I'm not an art critic or an art collector…I just like to look at these cool creations at the Panama Artists Collective. One of my favorite little pieces was Clarissa's blue ceramic mugs with teeth on the lip of the mug.
She did mention a dentist purchased several of the tooth laden ceramic mugs at a previous art show. A drooling mug, perhaps.
The location off the beaten path makes the Panama Artists Collective more artsy, relaxed and stimulating. There isn't the chaotic Second Saturday mob scene that sometimes occurs in Midtown. There's time and space to actually consume the art.
They'll be having another artist open house next Second Saturday in October. Like the sign said, "Welcome to the Factory."


(Editor's Note: See a photo spread from that day's event on page 13.)
Ice Cream and a Movie Under The Stars
There were quite a few things happening over in Hollywood Park over the weekend. The HPNA had their ice cream social and outdoor movie night at Hollywood Park Elementary. Gunther's ice cream, Nathan's hot dogs and Disney's Big Hero 6 were the main attractions at this yearly Hollywood Park event. Some folks even brought side dishes. How neighborly.
There was also a raffle of local prizes that were donated by local businesses including Hollywood Hardware, Spencer's Frameworks, Panama Pottery and Phono Select Records.
After the hot dogs, side dishes and ice cream were consumed, folks wandered over to the large pop-up movie screen on the Hollywood Park Elementary School field. Sitting on blankets and lounge chairs, people munched on free popcorn while enjoying a family movie under the stars.
Crosswalk on Freeport to be removed
Some crosswalks make life easier for pedestrians and some crosswalks seem to be a danger to public safety. There's a crosswalk on Freeport Boulevard and Virginia Way that is being eliminated.
I call it, "The Crosswalk of Death". Luckily, no fatalities have been reported.
The crosswalk on Freeport and Virginia is being removed by the City of Sacramento for public safety reasons.
It's an uncontrolled crosswalk, which means there are no traffic signals or stop signs.
Hector Barren, a city traffic engineer, told me, "We want to make sure that Freeport remains a safe area. What we find, and what studies show, is that having a crosswalk by itself with no treatments, like a hybrid beacon, under certain roadway conditions is not sufficient enough."
It's the type of crosswalk somebody who goes sky-diving might enjoy. There's definitely an adrenaline rush to using it. There are four lanes and two additional lanes coming from the side streets. A stressful situation for a pedestrian trying to get across the street to go to Raley's or the Rite-Aid shopping center.
Nearby residents called the crosswalk "dangerous" and "sketch". One area resident likened it to the video game Frogger, where a player must successfully guide a frog between opposing lanes of trucks, cars, and other vehicles to avoid being roadkill.
I think that explains the problem perfectly.
A good idea by the City Of Sacramento to remove the crosswalk that was a real life Frogger for pedestrians.
Got an item for Over The Fence? Greg@valcomnews.com