Congratulations to movie reviewer Matias Antonio Bombal
The Sacramento Film & Music Festival honored The Arden-Carmichael News' movie reviewer Matías Antonio Bombal for this year's Film Arts Service Award, an honor given out to those who have dedicated their lives to supporting those who have worked in local film production and appreciation. The festival, which opened up with the award ceremony on Wednesday, Sept. 9 and ended Sunday, Sept. 14 at Jean Runyon Theater at the Memorial Auditorium, celebrates and showcases filmmaking from around the world and also fosters the creative works of local filmmakers in California's Capital region.
According to a Sacramento Press article from a past year, Tony Sheppard, co-director of the Sacramento Film and Music Festival, past Film Arts Service Awards recipients include Shawn Sullivan who has a track record teaching animation at Sheldon High School and watching his students go on to great success at companies such as Pixar, Bill Bronston who has directed the Tower of Youth film festival for many years and championed the cause of youth filmmakers, and Ron Cooper, Executive Director of Access Sacramento and the force behind 11 years of their "A Place Called Sacramento" screenwriting and filmmaking program.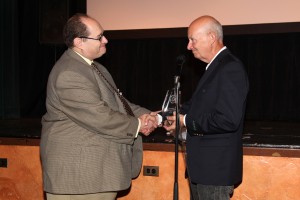 A biography about Bombal appeared in the festival program as follows: "Born in Santiago, Chile in 1967, and a Sacramentan since 1976, Matías Antonio Bombal fell in love with film when he first saw Walt Disney's 'Fantasia' at the age of three. He developed a similar passion for film exhibition and historical movie theaters, and was instrumental in the reopening of the Crest Theatre in 1986, where he programmed film until 1991.
"Numerous other theater associations and revivals were accompanied by a career in television and radio, often introducing or discussing movies, which in turn led to many invitations to emcee regional film arts events such as the Crocker Art Museum's outdoor film series. He is also the producer and director of 'The Sacramento Picture,' a documentary made in partnership with the Center for Sacramento History to showcase the Center's extensive film archives.
"His latest venture is the characteristically timeless MABHollywood.com, where he reviews current theatrical releases in his own unique style, most notably black and white reviews from his vintage-themed studio. He writes for several area publications (Ed note: The print publications include The West Sacramento News-Ledger, Valley Community Newspapers' East Sacramento News, Pocket News, Land Park News and Arden-Carmichael News), is heard regularly on local radio, distributes his reviews internationally, and is a constant proponent of film, film history, and the associated arts that complement it."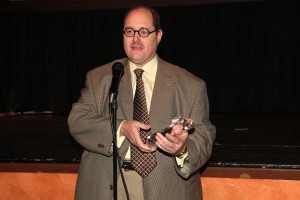 The MAB (Matías Antonio Bombal) Hollywood archives is a collection of videos on YouTube, pieces and recordings of saved work "my old TV work, some of which were horrible. There are around 50 or 60 pieces floating around YouTube," he said. Currently, he is in the process of restoring his interview with great Eartha Kitt, actress, singer, cabaret star, dancer, stand-up comedian, activist and voice artist who many remember her as Catwoman in the final season of the 1960s television series, "Batman."
As a film/music historian Matías has contributed to many books on film history, especially on the silent and early "talkie" era.
Introducing Bombal for the award was photojournalist Mike Carroll of KCRA TV, the award's past recipient, which KCRA has called a talented man behind the camera who has had a unique impact on the creative community.
Carroll sent Valley Community Newspapers' an accolade about Bombal, as follows,
"I first moved to Sacramento in October 1989 for my job as a TV news cameraman at KCRA-3 News. I was working one Sunday and was assigned to go over to the Crest Theater to shoot some footage of people going to see the holiday screening of White Christmas. I went and talked with a number of moviegoers who came to the Crest every year to see either White Christmas or It's A Wonerful Life.
"Then the movie started and I stayed to shoot a few minutes of the movie, fully expecting to see an old, scratched 16mm square print. To my total amazement a widescreen 35mm print was being projected on the screen. I wanted to call the newsroom and tell them I was taking a two-hour lunch break so I could stay and watch the movie.
"Later I learned that Matias Bombal, who was at The Crest at the time, scheduled the best 35mm prints of classic films that he could find. Being a cineaste, I was a big fan of Matias' cinema devotion and dedication ever since.
"Over the years I have run into Matias Bombal at many cinema-related events—film festivals, special screenings, celebrations of filmmaker's works and wakes for filmmakers who have passed.
"And Matias always has kind and congratulatory words of encouragement for everybody.
"I sincerely believe that when Matias has his yearly physical and has bloodwork done that film is drawn from his veins—16mm, 35mm, 70mm, Academy ratio, widescreen, color, black & white.
"I'm exceedingly proud to present the Sacramento Film & Music Festival's Film Service Award to Matias Bombal, a man who is a true lover of film, and who loves to share and spread its wonders and magic to everyone he meets."
In television for more than 25 years, often working as a one-man crew, Carroll has helped write movies and has written about how to succeed in broadcasting with his books, "Naked Filmmaking: How To Make A Feature-Length Film – Without A Crew – For $10,000-$6,000 Or Less Revised & Expanded For DSLR Filmmakers" and "Breaking Into TV News How To Get A Job & Excel As A TV Reporter."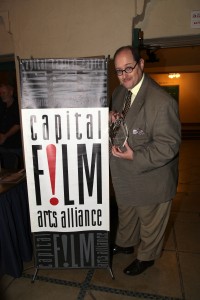 Introduced by Carroll was a very humbling experience for this year's award winner, as Bombal said, "Over the years, (Carroll) would do TV stories about me. He would come to the Crest (Theatre which Bombal managed from 1986 to 1991). He said nice things about me. It was a great introduction. I had no idea he had noticed me and had been watching me over the years."
As KCRA has been preparing for its 60th anniversary, Bombal said he was called to bring a projector because no one knew how to operate the older machines. "I am their go-to guy on how to handle old films."
Speaking about this honor coming from someone as impressive as Carroll, Bombal said "I have been impressed by him from his movies. He teaches classes on how to be one-man filmmakers. He can be on camera, do the camera. He's a one-man film crew and he's been doing it like that for 20-plus years. He's made several movies himself that are quite good. One of my favorite of his independently made is 'Night Beats.' To be held in esteem and given an award by someone who has such an essential and fundamental understanding of the power of images to give me an award, it's a very sweet and humbling experience."
In his nearly four-minute speech, Bombal recognized three influential people in his professional career and he accepted the award on their behalf and influence — Jo Babbitt, assistant manager at Tower Theatre; movie theater projectionists James Homer Criss and Ernie Smith.
"(Babbit and Bombal) worked at the Tower. We were really good friends. He loved stuff about movies I would go about on and on about. We were really close friends. If anyone would have been my No. 1 champion, it would have been him."
"Ernie Smith was at Tower when I just started there. He was a crotchety old man. He used to drink Wild Turkey (bourbon) in the projection room. He had a tattoo on his arm. Ernie died in about 1989-90."
"Criss was a black projectionist in the projectionists' union. He ran 'Gone With the Wind' in its first run. He was at the Crest (when Bombal managed it). He was such a cool character. He would ride a Harley to work. He was the coolest dude, an old black guy. He was one of my favorite, favorite people."
In good company with family at the ceremony his mother, Judy Nevis and half-brother Jeremy Nevis, Bombal said he forgot to recognize his father Antonio Bombal who died in 2009. While most remember Antonio Bombal as the piano tuner for the Sacramento Symphony, fewer know about his work as a professor of comparative literature at U.C. Berkeley, California State University, Sacramento and Sacramento City College. "He was an Old World aristocrat. He wanted to be lawyer; he was a mountain climber. He climbed tallest mountains in Chile. I have pictures of him climbing above the clouds," Bombal said of his admiration for his father.
In regard to a particular film that Bombal looked forward to, he said it was one he did a review for, a 12:11-minute documentary short, "The House is Innocent". Directed by Nicholas Coles, the film is about the Dorothea Puente house and the couple who happens to live there now and who has who cleaned up the house. They posted signs with phrases like trespassers will be buried in the garden and put up a manikin dressed as Dorothea Puente holding a shovel.
Closing his speech with a line from the movie Sunset Boulevard, "I am sure I will see you again very soon, somewhere out there in the dark," Bombal's words of literary wisdom can be seen here within the pages of this publication today and in future editions.