In the kitchen and on stage with neighbor Gabriel "Gabe" Levan Aiello
In the face of a world filled with corn syrup, sugary sodas and preservatives, neighbor Gabriel "Gabe" Levan Aiello goes old school, back to a time when pharmacy soda fountains had drinks to help with people's ailments.
Gabe pops into Valley Community Newspapers for the interview a little sweaty, as he had just biked from his employer, Preservation & Co. He opens up his bag, puts a plastic cup on the table (he managed to find space on it despite the clutter) and stirs ice, seltzer and a ginger-based liquid concoction together, making a most deliciously healthy soda he calls ginger beer. Opaque in color, the drink has only three ingredients as its base: ginger, lime and brown sugar. As he talks about old timey cures for ailments, he speaks on how the combination of ingredients he uses rehydrates the system. "It'll boost you. Molasses, honey and maple syrups. They have a no-crash phenomenon," he says. And Gabe stays true, keeping the ingredients simple and healthy.
According to WebMd, ginger is commonly used to treat various types of "stomach problems," including motion sickness, morning sickness, colic, upset stomach, gas, diarrhea, nausea caused by cancer treatment, nausea and vomiting after surgery, as well as loss of appetite.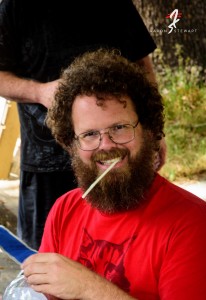 Rewind to a year ago; Gabe was on the hunt for healthy, preservative-free sodas, but he couldn't find any, so he decided to make his own and found he was quite good at it. From ginger-molasses switchel to a sesame-mandarin soda, his list of drinks continues to grow as does his passion and his following.
Currently, he's been producing the beverages out of his own home near Sacramento High School and out of his work, Preservation & Co., but he's been running an IndieGoGo campaign for his line of drinks, which he calls Burly Beverages, so that it can facilitate the purchase of logo and branding materials, equipment, ingredients, and the first round of bottles.
As he explains on burlybeverages.com, "This campaign will assist Burly Beverages in obtaining all of the necessary licensing and permitting required to operate this sort of business."
A humbling experience is watching to see who has contributed to his campaign, noting that some of those people have included some he hasn't heard from in years, like old classmates from junior high and his parents' church friends leaving messages, saying they were proud of him. "I didn't expect those feelings, then you see who it is and you're like, 'whoa, this is so cool.' It's so personal."
As of press time the $1,930 was raised out of the goal of $6,000. Though the campaign ends this week, folks can contribute to that page. "The deadline (was) to set a goal. Even if don't reach the goal, I still get money, though some percentage gets taken out."
With a thick red beard and a well-built stature, Gabe's appearance is an obvious inspiration for the name of the line of drinks. But the term burly, he said, is one he wants to redefine. "Beard plus curly equals burly, but I want to stay away from the masculine. (Burly) is how I am viewed. I like the name (Burly Beverages). It's catchy and it fits my look. A lot of people want me to put my face on the labels." Continuing, he jokes, "What if there's a rainbow behind it?"
Having worked previously at Sun & Soil Juice Company, 1912 P St., he beefed up his knowledge on health foods, kombucha, cold press juice, all of which piqued his curiosity further. Why wasn't there a market for healthy drinks (that weren't juices)? At Preservation & Co., naturally he's learned about preserved foods and shrubs, you know the soft drinks that were popular during America's colonial era, made by mixing a vinegared syrup with spirits, water, or carbonated water.
Sharing some tidbits of advice on how to mix his beverages with alcohol, if that's your fancy, he recommends the following pairings: Black grape with gin. "The booze dilutes vinegar, but vinegar washes out the alcohol flavor. As a soda, it's real grape flavor with molasses." Then there's the lemon jalapeno. "It's good as margarita mix or alone. Some use vodka or gin."
As he's been creating new drinks from his home kitchen and at Preservation & Co., these types of concoctions have been taking off locally at Hock Farm (the Paragary restaurant, located at 1415 L St., that was named after John Sutter's farm), Shady Lady Saloon, 1409 R St.; and The Mill coffee shop, 1827 I St.
Meatless Mondays
Gabe's popular beverages are hitting street fairs, friends' cupboards, and pop-up Meatless Monday dinners at Old Ironsides, where he serves about 150 people one night a month a creative dish for $5 and where diners can purchase his sodas, which if they are so inclined, can mix with alcoholic beverages from the bar.
The day prior to Meatless Monday dinners, which are held every second Monday of the month, Gabe gets all the food prepped, so that all he needs to do is warm it in the ovens at Preservation & Co. and then head over to the bar.
As his beverage inventions grow over time, so do his Meatless Monday meal offerings. "I've always been interested in flavor combinations, and cooking. Even stuff I do at Meatless Mondays is unique."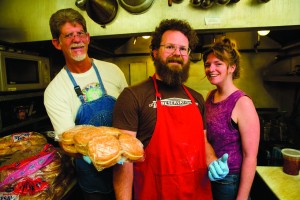 In what grew in attendance from about four friends in his apartment to about 130 people packing Old Ironsides, Gabe's most recent Meatless Monday featured lasagna fagioli, grilled Romaine heart salad (on top of a vegan cheesy puree) and a signature cocktail menu with pear-ginger shrub (which could be mixed with whiskey, bourbon or vodka), and a watermelon-lime shrub (which could be mixed with tequila, rum or vodka).
Talking about the early incarnations of the dinner event, Gabe said friends started bringing friends, and shortly Meatless Mondays got "too crazy with 30 people in my apartment. So different friends would host. We'd go to my friend Ben's; my friend Lauren's… I would prepare the food, and ask for donations. The group then grew to 50 people, then 60 people. Some people wouldn't bring money and I wasn't breaking even. I've always been committed to it, but I wanted to make back at least what I was spending. I started yelling on Facebook that I need an accurate headcount."
As the popularity for Gabe's Meatless Mondays grew, the need for a larger venue became necessary and because he knew of Old Ironsides' Monday dinners, he asked the owner for one Monday a month. "I told him I could guarantee at least 75 people would be there. He said, sure let's try it out. The first time we had 65 people, then 85 people, last time 115 people."
Because in the past he has ended up cooking about a third more meals than he's sold, he said he brings the leftovers back to Preservation and sells them the next day. Even then, he's had to throw some food away. "It's stuff I can't bring to Loaves and Fishes, so I'm just trying to undercut slightly."
A regular to the Meatless Monday dinners, since its near inception, diner James Wade said he really enjoys Gabe's vegan cooking even though he eats meat regularly. "Gabe makes delicious food; it doesn't matter if it has meat in it. Especially since we are in a drought, for once a month you can stand not to eat meat."
Completely genuine about his love for animals and about the health of those he feeds, Gabe encourages – by example – learning about the food people eat. "I try to help people understand where food comes from, not just for personal health but for the health of the planet. If all Sacramentans stopped eating meat on one Monday a month, it could have a huge impact on the cattle industry." Especially during a drought, Gabe talks about the amount of water that a cow drinks each day to survive – not to mention the amount of water needed to grow the food the animal eats.
Backed by facts, his thoughtfulness and passion toward animals is contagious. He's not a vegetarian (anymore – he was for a bit), but the Meatless Mondays event has truly grown, perhaps because of his love for animals, but most definitely for his meticulous cooking techniques. Earlier this summer, he made handmade veggie sausage, baked beans and fresh cucumber salad, again for $5 a plate.
Giving much credit to his innate talent pairing and mixing flavors, he said, "Mom was an early child educator; she minored in nutrition and was always cooking well-balanced meals. Sometimes, she blended nutrition (into our food). She was sneaky." She grew up Mormon, meanwhile his dad, Sicilian Catholic. Marrying the two, they became Methodist. Despite their differences growing up, they came from culinary backgrounds with a good working knowledge of food. "I couldn't say who the better cook is."
Longtime friend of Gabe's, Tom Lake, has had the good fortune of being able to enjoy their home cooking and subsequently Gabe's. Like James, Tom has experienced the low-key Meatless Mondays at Gabe's house as well as the busy Old I monthly events. "I had a little nostalgia of how it used to be. But I am so happy for (Gabe) that it has gotten this big. It's really important to him. He wanted it to get bigger and it has. He nurtured it to where it is today." Speaking about the vibe of Meatless Mondays, Tom continued, "it's young at heart and hip with the times. It fits with the atmosphere downtown. It's definitely a grassroots thing."
Even though he didn't learn to cook until after he left the nest, Gabe continues to eat ramen and burritos if he's cooking just for himself. But when there's an audience involved, be it big or small, he creates meals that are well-balanced nutritiously and look appetizing.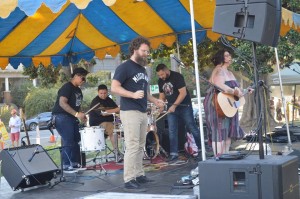 As was mentioned prior about Preservation & Co.'s willingness to let their employee use space to make beverages, owner Jason Poole (who people in the biz refer to as the "brine boss") has encouraged Gabe and other small businesses to follow their dreams. "It's interesting what's happening," Gabe says. "He is nurturing small businesses and getting them off the ground. He doesn't see it as competition. He embraces it and helps others move forward."
From jarring jams, jellies and "pickles" (think outside the box here: cayenne carrot sticks, hefeweizen bread & butter chips, and hickory Brussels sprouts are just a few examples) to bottling citrus rosemary salt and "Hellfire Sriracha," the most sought after items at the store time and again, Gabe said, are the various Bloody Mary mixes, which within a week, they make anywhere between 3- to 20- gallon batches. "I never worked at a place like this, a factory. It's small time but it's really cool. Now we're making 500 jars of balsamic beets. We're trying to get ahead, trying to have backstop." Gabe said customers like Whole Foods, The Natural Foods Co-op, Nugget Markets, bars and hotels are amongst the regulars to purchase in bulk.
While food culture continues to embrace craft this and craft that, people in the music scene sometimes complain there is no music scene (TBD is an obvious exception); but for Gabe who is involved with both – he's the lead guitarist for local band Drop Dead Red – complainers shouldn't complain if they're sitting idly. "We can't complain if we are not helping it move forward."
As you can imagine by now Gabe is a doer, a mover and a shaker and so goes his involvement as lead guitarist with Drop Dead Red, which he has been a part of for 2 and a half years. Joining songstress Carly DuHain, Tony Ledesma, Joseph Castro, and Brittany Vanessa, Gabe said the band is rising to new heights since last summer's performance at the Friday night Concerts in the Park downtown where on opening night the band was the opening act, playing in front of about 6,000 people. "We played our best show. We were getting so much energy; we were pushing energy back. It was a circular motion of energy. Ever since then, we've been having to turn down shows, because if you play more than one show a month, people stop coming."
The band will be opening for country singer Deana Carter, who will playing at the Theatre DeVille in Vacaville on Friday, Oct. 23. Asked to downsize to a trio, Drop Dead Red instilled a fear of being upstaged at that show, Gabe said.
The band recently won the Battle of the Bands at midtown bar, Pour House. Sponsored by Jack Daniels, the winners of the battle get sponsorship by the Tennessee whiskey company, a website, a photo shoot and a video shoot. "We're now getting to know our Jack Daniels' rep. They are excited to have us. Our sound will fit their brand. Carly is so powerful and commanding; she deserves the recognition. It seems like, why did it take so long? But now that it is happening, it's going, going, going."
And that pretty much sums it all up. Gabe is going, going, going too: food-wise, beverage-wise, and music-wise. Luckily, for Sacramento, he's rooted here and our community can enjoy the passion one neighbor puts into everything he does.