Movie Review: Pawn Sacrifice, The Intern, Hotel Transylvania 2
Pawn Sacrifice
The MPAA has rated this PG-13
Bleeker Street Media offers "Pawn Sacrifice" in which one of the most colorful real-life figures in the history of the game of chess, Bobby Fischer, is portrayed in biographical form. He is played by Tobey Maguire in a role like no other in his career. Much in this picture takes place primarily during the Cold War. However, the movie story begins in Brooklyn of the 1950s where the young Fischer lives with his mother, a communist sympathizer who instills in the young boy a paranoia of being constantly watched.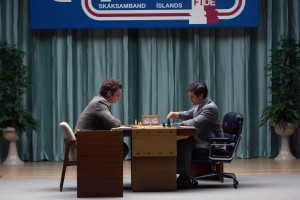 As he grows up we see that he has serious psychological difficulties, but through the game of chess, he finds a focus, or perhaps an escape that channels his brilliant mind to the thin line between greatness and madness. As he rises through the ranks of chess players, he is becoming noticed. Paul Marshall, an attorney, sees a great possibility in him and wishes to act as his agent as the cold war develops.
Marshall is played by Michael Stuhlbarg, and he is the ringmaster of those that surround the erratic chess king. Stuhlbarg, who I first noticed in "Boardwalk Empire", has proven again and again both in features and television work that he is one of this decade's great actors. I savor any performance from him, and look forward to many more. I do hope that his peers will consider an Oscar nomination for him in the category of best supporting actor for this performance.
As the story moves incrementally forward, like chess moves, Marshall enlists the help of a priest, a seemingly unorthodox one, in wrangling the erratic moods of Fischer. The priest is also master at the chess game. Actor Peter Sarsgaard is Father Bill Lombardy. With reservations, Father Bill accepts, and the race to dominate the Russians at chess begin. Although Fischer will match and master several games and players as he ascends in the playing field, there is one man on which he fixates who would become a central obsession of his life, the Russian world champion grand-master, Boris Spassky.
In the movie, Spassky is played by Liev Schreiber, in what may only be called a fantastic performance. As a series of games between the two for the world title progress, with Fischer becoming increasingly erratic, Spassky has an insight that leads him to understand Fischer more than most; Fischer is afraid of winning. Schreiber actually speaks Russian in the movie, which he mastered beautifully.
I was greatly impressed with this picture on so many levels. The periods of the eras in the story are faithfully recreated. The performance of Tobey Maguire is simply the best work he has ever done before the camera in his entire career. In fact, all of the performances are exquisite, and handled with a very human understanding and sensitivity by director Edward Zwick.
Bradford Young's cinematography is perfect for subject and place, using the wide screen anamorphic CinemaScope aspect ratio. The actual photography was on 35mm motion picture film negative supplied by Eastman Kodak, and was then transferred to a 2K digital intermediate for post production, editing and eventual release to theaters in digital format. I was moved by this story illustrating the thin line between genius and madness, and find it one of the year's great movies. Make your move, see this picture.
The Intern
The MPAA has rated this PG-13
Warner Bros. brings us "The Intern", the latest from director Nancy Meyers, who has made memorable movies since 1980's "Private Benjamin" with Goldie Hawn. Now, one of the most iconic of actors of the modern era, Robert DeNiro, returns to comedy in a movie that you will really enjoy.
Anne Hathaway is Jules Austin, founder of an e-business start-up that is growing and successful. Her headquarters are in a re-purposed building that used to print telephone directories, which has the feel of many famous real-life offices of places like Facebook and Google. An assistant reminds her that she had OK'd the hiring of senior interns, which she had forgotten. The assistant reminds her that it would be inspirational to have an experienced executive work with collegiate new hires that have beer pong skills outside of tech experience.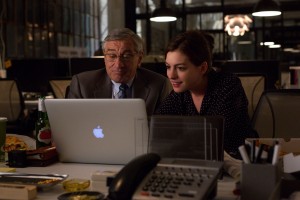 That idea of the beer pong skill set compared to a lifetime of work experience is what is at the heart of this movie, along with fine examples of humanity at both ends of the spectrum separated by years of life. DeNiro's character, Ben Whittaker, a man of integrity, correct manners and chivalry, certainly impresses the millennials that have only seen that behavior in what are to them, old movies.
The brilliance of this study of effective communication and age opposites working together told through the guise of humor makes this one of the year's most enjoyable and charming comedies. It offers a biting satire on modern tech while affirming the value of experience. Rene Russo may be seen in a delightful return to the screen. You'll delight in her time on screen, but I won't tell you how she fits in, you'll have to go and see the picture to find out. The slow realization by Jules of the kind of man Ben is, and how that's totally missing in today's workforce is a joy that unravels gradually as the movie progresses.
This movie has the feel that movies used to have, but rarely do today. In one scene, they even show a clip from "Singing in the Rain" playing on a hotel room television. Not only is it shown in the correct aspect ratio, it brings a tear to DeNiro's eye as Gene Kelly sings Nacio Herb Brown and Arthur Freed's "You Were Meant for Me" to Debbie Reynolds. Director Meyers spent much time working with DeNiro on details of his costume and the actor himself chose a hairstyle in the movie which to me is very similar to Cary Grant's look in movies of the 1950s.
I encourage you to not miss the most charming comedy for all ages that you may see this year. So much is profoundly right about this movie. You'll respond to its truth reflected in your own life no matter what your age may be.
Hotel Transylvania 2
The MPAA has rated this PG
Columbia Pictures offers a sequel to the first movie with this title that came out in 2012 and returns to the screen the animated characters introduced in the first movie. Adam Sandler, who also wrote the screenplay with Robert Smigel, returns to voice work along with known actors voicing parts created in that last movie; Steve Buscemi, Fran Drescher and others.
After establishing a hotel in his castle in the last picture, Dracula (Sandler) and his creepy pals try to bring out the monster side of his half-human, half monster grandson in order that his daughter Mavis (Selena Gomez) will have no cause to leave the castle/hotel. However, she wants to see the human side of her family and how they live in a suburbia in the USA, so off she goes with her husband while her dad, Dracula, babysits. Sort of like leaving a cat in the hen house. Many humorous episodes ensue over the movie's 88 minutes. Although this is really a movie for kids, it does not hold up that well for adults.
The entire feature is a series of one liners updated from Borsht Belt routines to keep them for being stale, and the movie is rather dull. That is until one of the most beloved voices in comedy brightens up the movie as Vlad, Dracula's dad. Mel Brooks is that voice, and his well recognized sound and delivery keep this from being a total waste of time.
One scene made me almost fall out of my chair with laughter. The castle cronies are out with their charge with hopes to frighten him into being able to turn into a bat. As they tool along in their Hearse-like car, they are using a GPS for directions. The ghoulish voice giving the driving directions is no less than a voice actor doing an impersonation of Peter Lorre. Hands down, it is the best part of the movie.
This is a perfect example of what is beginning to happen more and more these days; ideas well suited for television or home markets appearing on the big screen. This is the kind of movie where the big screen is not an advantage, and you wonder: Why am I not seeing this on TV instead? Not a real stinkeroo, but close.