Elementary school building once stood on site of Sacred Heart Church
One of the more renowned architectural structures in East Sacramento is Sacred Heart Church at 3860 J St. And although few people are living today who recall when this church was not located at this site, the property was previously occupied by another institution.
Research for this article reveals that about two decades prior to the 1931 dedication of the present Sacred Heart Church, an elementary school opened at the same site.
That school, which was known as East Sacramento School, began providing instruction for local children in about 1909.
The first and only principal during the school's history was Celia E. Jones.
At the time of the school's opening, Jones was residing at 1623 18th St., and by 1918, she was living at 2215 N St.
Several historic newspaper articles, which were discovered during research for this article, mention East Sacramento School.
One of those articles, which was published in The Sacramento Bee on Feb. 13, 1915, summarizes a PTA meeting that was held at the school during the previous afternoon.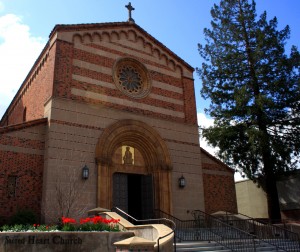 At that meeting, Mrs. Carl Koch, whose husband was a local building contractor, led a discussion regarding motion pictures that had an age restriction, which required their attendees to be at least 17 years old.
According to the article, one of the opinions shared by PTA members at the gathering was that movie houses had been distributing free passes for local students to view films that "were of no benefit, but, on the other hand, most harmful to children over sixteen."
One of the school's teachers, Miss Grace Maxwell, led another discussion, as she spoke about the "handicap" that children were experiencing through being forced to dress in a certain manner.
The article notes: "It is the 'poor, little, rich boy,' who is forced to dress in Lord Fauntleroy fashion, who has a hard row to hoe while attending school. Miss Maxwell pointed out that such a lad is made the butt of jokes among his schoolmates and cannot become one of them in their play. Naturally, he is affected in such a way as to embarrass him in his studies and general school work (sic)."
In the 1923-24 school year, Jones began serving as principal of David Lubin School at 37th and K streets. She maintained that position at that school for about two years.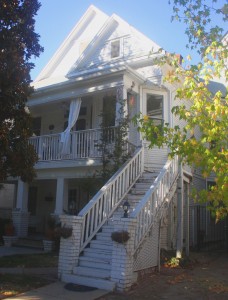 The last city directory to recognize the existence of East Sacramento School at 39th and J streets is the 1923 directory.
In its May 11, 1923 edition, The Bee mentions that "the old East Sacramento School at Thirty-Ninth and J streets" had recently been sold to James Griffith for $10,000.
Also included in that edition is a report that Christian Brothers College – today's Christian Brothers High School – would soon vacate its building at 12th and K streets, as the site had been sold to Weinstock, Lubin & Co., which would occupy that spot with a new, $850,000 department store.
The article mentions that Christian Brothers would possibly be temporarily relocated to the former school site at 39th and J streets until construction on its new campus at 21st and Y (now Broadway) streets was completed.
It was eventually decided that the vacant East Sacramento School would accommodate Christian Brothers' temporary plans.
The dedication of the new Christian Brothers buildings at 21st and Y streets was held on Sunday, Nov. 23, 1924.
The cornerstone of today's Sacred Heart Church was laid on Sunday, March 15, 1930.
Among the members of the parish at that time was architect Harry J. Devine, who had been commissioned to create the plans for the new church and the offices and residence of the priests.
Those plans were completed in November 1930, and William C. Keating was selected as the project's general contractor.
Within a month after the plans were completed, work on the buildings began at the 39th and J streets site.
The church, as previously mentioned, was dedicated in 1931.
During that special, dedication day, Bishop Robert J. Armstrong blessed the Church of the Sacred Heart of Jesus, which had been known as St. Stephen's Church at its previous location.