Live entertainment is not to be missed at this year's Chinese food festival
From pot stickers, curry chicken, baked goods, chow mein, and fried rice to the main focus — barbecue chicken with a Hoisin-based Chinese marinade — much of the food every year for the last 32 years has been made hot on the spot for the Chinese Community Church Food Festival, which will be held this year on Saturday, Oct. 17. Serving up about 300 pounds of noodles and 200 pounds of rice each year, the food is certainly not to be missed.
But the fun doesn't stop with a good meal. Folks are encouraged to bring their food inside and enjoy live entertainment, which includes include Asian Community Center's (ACC) Pocket Pickers, Elk Grove Xaris Church's Worship Team, Elk Grove's 2015 Teen Idol Champions Sam Fuch and Nikki Perez as well as CCC's own ukulele and hula fellowships, The College Fund Street Band (featured in Sacramento Magazine, the Sac Bee, Sac SNR and ABC 10 News; Google them!) and CCC's Worship Team.
For the past five years, Ted Fong has lead CCC's Ukulele Fellowship which has attracted happy and positive people from throughout Sacramento. He explained that most of the performers at the food festival are lifelong artists and usually have performances weekly or biweekly at other venues. "On the average gig, there are about 20-30 ukulele players and 8-15 hula dancers. We do about 2 dozen gigs a year," Ted said.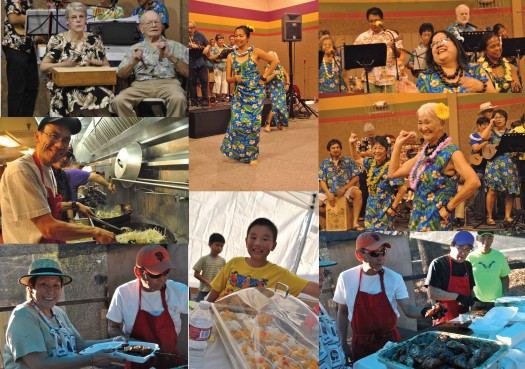 Ted's mother, Ruby Fong, is from Honolulu and instilled a love of music in all her eight kids (Ted being the youngest). "She played piano, guitar, and ukulele. I play other instruments including piano, cello, guitar, and bass, but ukulele is by far the most 'social' of instruments that I play. Ukulele is easily to learn, fun to play, and a great conversation topic for all occasions." Ted has been a volunteer ukulele teacher at Chinese Community Church for five years, and his wife, Marielle, leads the Hula fellowship with their Kumu, Shirley Stassi.
Summing up the Chinese Community Church's upcoming daylong event, Ted said, "The entertainment at our festival is a big draw and, combined with the good food and our hospitality, provides a memorable experience for attendees. It brings our community close together."
CCC Fall Festival Entertainment lineup 2015 is as follows:
11 to 11:45 a.m.: CCC Worship Team
Noon to 12:45 p.m.: ACC Pocket Pickers
1 to 1:45 p.m.: Xaris Church Worship Team
2 to 2:45 p.m.: 2015 Teen Idol Champions: Sam Fuch and Nikki Perez
3 to 3:45 p.m.: CCC Ukulele and Hula Fellowship
4 to 4:45 p.m.: ACC The Dancing Souls (Line dancing)
5 to 5:45 p.m.: The College Fund Street Band
6 to 6:30 p.m.: CCC Worship Team
IF YOU GO
WHAT: Chinese Food Festival
WHEN: Oct. 17, 11 a.m.–7 p.m.
WHERE: Chinese Community Church, 5600 Gilgunn Way
COST: Free admittance, food cost