Sutter Memorial Hospital held liquidation sale
On Friday, Sept. 18, there was a pre-sale that only was available to Sutter employees for that weekend's open-to-the-public Sutter Memorial sale. Many employees were sad about seeing the hospital the way it was with all the clutter stacked and folks carrying off flat screens, coolers, mirrors, clocks, kids toys. The new location is absolutely state-of-the-art, but the memories people had at the old hospital will soon be just that before the wrecking ball takes to the walls and homes start being built.
Luisana Ramirez, a patient service coordinator for Sutter Medical Foundation and husband Jose Ramirez, an ACU tech for the surgery department took a little bit of hospital history home with them that Friday morning. Amongst the items they picked up for $50 included a cooler, cabinet, and a little garbage can. "Stuff was reasonably priced," Jose said, but unfortunately for them they didn't get what they came for – two picnic benches. "They don't want to sell them," Jose said. "We've been waiting for those for a month. I'm not sure what they are doing with them. They said talk to corporate. So, we'll try. I already miss this place. We used to have our yearly Sutter barbecues on those benches. It's sad seeing it this way. A lot of memories. A lot of memories."


Jose said the move has been bittersweet. "We have state of the art equipment now, but I was here eight, almost nine years. At least we have a cabinet that will remind us (of Sutter Memorial Hospital). " Amongst some of his memories working at Sutter Memorial include delivering a baby right outside the maternity ward doors. "I used to be an ER tech. Everything is overgrown now. We had our first baby, Ariana, a year ago. She just turned 1 on Sept. 16."
The Ramirezes used to live two blocks away from Sutter Memorial, but have moved to Citrus Heights a few months ago because of daycare. "But moved (to East Sacramento originally) to be close to the hospital … I used to ride my bike here. It definitely influenced us moving here. But we're no longer here (at Sutter Memorial), so it's definitely okay to move."
Jodean Lake, works over at Sutter Capital Outpatient Services. She picked up a desk, plant and an easel, the last item which she plans on giving to her niece who is an artist. "I think she will get a kick out of it."
Speaking about her feelings about the sale, she said, "it's sort of sad. From '73 to '87 I was here (at Sutter Memorial). It looks like it's an abandoned hospital now. I used to work in the OR. There were lots of nice people."
To get ready for the sale, workers separated items into different areas and rooms holding everything from toys and mini-fridges to folding beds and file cabinets. Wall clocks went for $2, while computer monitors were priced at $10-$50. The sale was "cash and carry."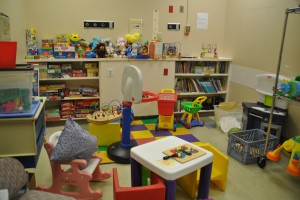 The public sale took place on the former hospital's first floor, and the public did not have access to other parts of the hospital. One Emergency Department patient bay was staged with toys and other items from the pediatric floors. The main dining room was full of computer monitors. The kitchen not only had the commercial kitchen equipment up for sale, but also kitchen refrigerators, mini-fridges, microwave ovens and ice makers. Several office rooms were filled with the likes of computer chairs, garbage cans, artwork and patient end tables.
The sale was conducted by the world's largest medical auction house, Centurion Service Group, which has held hospital sales like this one throughout the nation.
Sutter Memorial Hospital, which opened in 1937, was known as "Sacramento's baby hospital," where nearly 350,000 babies were born. It also was home to the acclaimed Sutter Children's Center and the Sutter Heart & Vascular Institute, where the first Central Valley open-heart surgeries and heart transplants were performed. Sutter Memorial Hospital closed on Aug. 8, when all services moved to the expanded Sutter Medical Center, Sacramento midtown campus that includes the renovated Sutter General Hospital, now called the Ose Adams Medical Pavilion, and the new, 10-story Anderson Lucchetti Women's and Children's Center. Much of the furniture, kitchen, office equipment and other items were not taken to the expanded campus and were being offered to the public during this sale.