Over the Fence: Charles Phoenix brings his retro slide show to the California Auto Museum
Charles Phoenix has been called the Ambassador of Americana, The King Of Kitsch, The Ringmaster of Retro. Who is Charles Phoenix? He's all that and more.
Phoenix is best known for his comedic retro slide shows which showcase his collection of vintage film slides capturing mid-century Americana and culture. He does it all with enthusiasm, humor and style.
Charles had been thrift shopping since he was 14. Growing up in Ontario, California, he loved vintage stuff. "I kinda got started with a vintage eye because I grew up on a used car lot."
That's when he started buying vintage clothes, "It was much more interesting to dress in things you got at a thrift store than at the department store."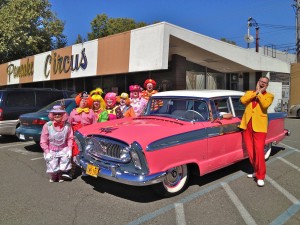 In 1992, Charles was thrift store shopping in Pasadena when he found a box of old slides on the shelf marked "Trip Across the U.S. 1957." It was filled with Kodachrome color slides of a family's vacation at numerous roadside landmarks. He held a few up and each one was "like looking through a window in time," he said.
He's been collecting slides ever since.
Charles Phoenix will be bringing his colorful comedy slide show to the California Auto Museum for a special night of neon, retro, and all things mid-century modern. The event will be hosted and sponsored by SacMod (Sacramento Modern). Welcome to Sacramentoland!
Charles told me over the phone from Los Angeles, "I'm going to be celebrating our capital city like it's a Big Theme Park!"
Phoenix added, "Everywhere I go I'm looking for the vintage, the retro, the old-school, the throwback, the classic, the kitschy, call it what you will. I'm looking for the places in every town that are unique to that town."
And Charles has a long list of classic Sacramento spots he'll be visiting and highlighting in his Sacramentoland slide show on Friday, Oct. 16. He'll arrive four days before the show to explore some of Sacramento's landmark gems.
A real "one of a kind unique in the whole wide world gem is Pancake Circus," Phoenix said.
Charles told me, "I love time warps because in this corporate world that we live in time warps are unique, and they're special, and I love them, I look for them." Pancake Circus is a prime example of a time warp with the classic googie architecture, neon sign, and circus clown themed interior.
Phoenix puts some of our local landmarks up on a pedestal and has "kooky good time fun along the way."
Then he asked me "Have you ever been to Sam's HofBrau?"
I said, "Of course, Charles. C'mon now." (I'm a freak for Sam's.) The neon sign. The dancing Germans on the wall, the meat carvers with the big white chef hats. That's Sacramento!
Charles excitedly said, "That place rocks my world! It's so honest to goodness and it's fresh. They roast the meat right there; it's not some frozen freezer bag treat or whatever."
Plus, the ambiance of it. Charles loves the big murals and the paintings, and of course, the outside neon sparkly signage.
"I mean. Where. Do. We. Begin?" Charles asked.
The last time Charles was there at 3 in the afternoon he said, "The place was jammed."
And it always is. Because Sam's Hof Brau is a Sacramento institution that should be treasured. And it will be treasured and enamored at the Sacramentoland slide show.
Another local legendary landmark Charles will be touting and treasuring is Iceland Skating Rink in North Sacramento. (Editor's Note: Opening day for the rink is set for Nov. 20.)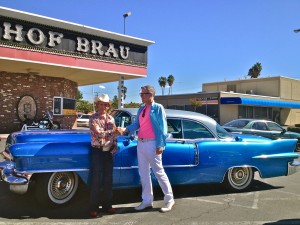 Iceland is "homespun and family run." That's what Charles Phoenix loves about it, as well as the iconic neon sign along Del Paso Boulevard.
Against all odds Iceland has come back after a devastating fire. Phoenix said, "That is community spirit. It's the same family since the beginning, so I wish I had the opportunity to actually have crowns from the Party Store, place them on their heads and tell them, "You're Americana royalty."
No word on if Iceland owner Terrie Kerth and her family will take Charles up on the crown wearing, but they definitely should be commended for keeping Iceland alive.
Charles Phoenix will be running loose all over Sacramento going from local treasure to local treasure including Fairytale Town in Land Park. Phoenix excitedly said, "That place is SO unique, SO one of a kind, SO special, SO charming, SO whimsical, SO playful, SO colorful. I'll be telling the story of that place."
He'll also be visiting Sacramento Sweets in Old Sacramento. They have been making handmade peanut brittle since 1964. Charles told me, "It's rare to find a peanut brittle kitchen. I've been all over the United States and I've never been to a peanut brittle kitchen." And of course, it's homespun and family run.


Other Sacramento landmarks Charles will be touring are the iconic Tower Theater, Crest Theatre, as well as the Tower Records jitterbug neon sign above the Tower Café. "A national treasure," Charles added.
Gunther's Ice Cream shop, with its Juggling Joe neon sign, as well as Vic's, too. (There will be an ice cream social after the presentation.)
He also discovers things along the way like odd buildings, or some crazy incredible car on the driveway. "There's always stuff along the way," he told me.
I asked Charles what he looks for when he's exploring a city and he said, "I'm looking for greatness. I'm looking for uniqueness. I'm trying to preserve our culture. I'm putting things up on a pedestal that might be fading in the background a little bit, but they shouldn't because they're special."
There will also be an ice cream social party after the show. Meet Charles following the performance, while enjoying an ice cream cone or cup from Vic's Ice Cream, courtesy of Sacramento Modern.
Admittance to the exhibits in the California Auto Museum, performance and ice cream all are included with ticket purchase.
If you go:
What: Sacramentoland slide show presented by Charles Phoenix
When: Friday, Oct. 16; doors open at 7 p.m. Show between 8 and 9 p.m. Ice cream social party 'til 10:30 p.m.
Cost: $29
Event sponsor and host is Sacramento Modern.
On the web: http://sacmod.org, www.charlesphoenix.com