Former Arden area resident speaks about his lengthy career in film and video production
Note: This is part two of a two-part series about local cameraman George Nyberg, who filmed the assassination attempt on President Gerald R. Ford in 1975.
George Nyberg, who grew up near Town & Country Village and Del Paso Country Club, has enjoyed an eventful life that extends well beyond his featured experience as the KOVR-TV Channel 13 cameraman who shot footage of the assassination attempt on President Gerald R. Ford at Capitol Park in 1975.
Overall, George dedicated 41 years to his career in film and video production.
Prior to that time in his life, George had been raised as one of the three children of Robert and Claudia Nyberg. He grew up with two brothers, Brent and Kent Nyberg.
In speaking about his father, George said, "(Robert) was a mechanic at Proctor and Gamble and (he) worked (for that company) for 30 years. He worked the 7 a.m. to 4 (p.m.) shift. And I had a lot of admiration and respect for my father, because he was a hard worker. I mean, in the 30 years he was there, I bet you he didn't have more than five sick days. I mean, he had to really be sick to call in sick."
After attending Pope Avenue School at 3001 Pope Ave. for kindergarten through 6th grade and Arcade School at 3500 Edison Ave. for the 7th and 8th grades, George moved on to Mira Loma High School, where he graduated in 1967.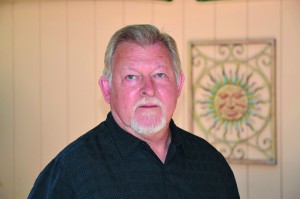 George Nyberg's many years working in film and video production presented him with the opportunity to travel to many parts of his native state of California. / Photo courtesy of George Nyberg
In continuing his education, George attended Chico State College – today's California State University, Chico – where he would earn a bachelor's degree in cinematography and broadcasting in June 1971.
George then returned to Sacramento and began applying for employment with the local television stations. But he would soon discover that those stations were not hiring.
Eager to obtain some kind of post-college employment experience in his field, George accepted an offer to work a nonpaid internship for KTXL-TV Channel 40 in September 1971.
In recalling an important moment during his time with that station, George Nyberg said, "After working hard and proving myself (at KTXL), I was hired full time in January of 1972 as an assistant director/producer and officially began my broadcasting career making $75 a week."
Beyond his main work of shooting 16mm color film for television commercials that were shown on KTXL and other stations, George also worked as a studio cameraman for several shows, including an afternoon talk show, Cap'n Mitch's kiddie show, Big Time Wrestling and Bob Wilkins' horror film show.
In 1973, George left Channel 40 to begin working at the aforementioned KOVR Channel 13, where he would eventually shoot news footage on more than 1 million feet of 16mm color motion picture film.
George fondly recalled his experience working for local TV stations.
"When I worked in TV news, it was a very exciting time, because you had the Zodiac Killer going on, you had the SLA – the Symbionese Liberation Army, and Donald DeFreese and the kidnapping of Patty Hearst," Nyberg said. "I got in this rotation (after) she had been abducted (on Feb. 4, 1974). Every day at Hillsborough, Randolph Hearst would come out and make a statement at first. That happened for the first maybe week or so and then they got a spokesperson that would come out and speak to us. I had the rotation of Mondays and Fridays. And then when she robbed the bank, I remember I was in there waiting for the press conference to start outside the residence. Sometimes we would be out there for four hours. It was just hurry up and wait. It was just one of those deals."
George also recalled how after he obtained the footage each time for the SLA-related coverage, he had to hurry back to Sacramento, which was about two hours away, and then prepare the film, so that the desired portions of that footage could be placed on the air.
Following the SLA's infamous robbery of a San Francisco branch of the Hibernia Bank on April 15, 1974, a portion of the bank's security camera film showed Patty holding an assault rifle, as she had joined the SLA in its crime.
George described his involvement in providing film for that news, as follows: "When the Hibernia Bank robbery came down, they go, 'Get over there.' And of course, it had already happened, so what do you get? You get shots of some of the cop cars in front of the bank, (close-up) shots of the yellow tape, cops walking around and that kind of stuff."
And after being asked if he covered the SLA's Crocker National Bank robbery in Carmichael a year later, George said, "The Crocker went down definitely when I was at Channel 13. You know, Patty Hearst, she was involved in that (as the getaway car driver). Again, most of the time, you would come in the morning and you would pick up your assignments and go out and do them. And sometimes, it was covering a press conference or there was a grand opening. You know, those kind of daily, nonbreaking story news events. Whoever ended up covering (the Crocker bank robbery) was probably close to the area and they got the call."
George explained that his next place of employment was the California Farm Bureau, where he provided camera, editing and production work.
After being asked to speak about that experience, George said, "After I left Channel 13, I went to work for the California Farm Bureau for three and a half years, and it was when they had just moved to the Cal Expo site. California Farm Bureau used to be in Berkeley. And they produced a show called, "Voice of Agriculture," and basically what they used to do – and keep in mind we're talking 1980 – if you had a strawberry farmer from Salinas, he would bring in a pallet of strawberries and he would sit in the studio and he would talk to you and tell you how he would grow strawberries.
"Well, that doesn't work very well. So, what we did in my three and a half years, I went to 200 different farms and ranches, where we show (viewers) how their food is actually grown and processed. And so, I got an incredible amount of knowledge learning about agriculture, doing that. I became a reporter when I became a producer. You know, you have to become kind of a content expert if you're going to write on a particular subject. So, at least learn as much as you can."
And in speaking about some of the many places he visited in California, George said that he spent time in "little agricultural towns that some people have never even heard of," such as "Wasco and Button Willow (in San Joaquin County) and Sanger and Orange Cove (in Fresno County)."
After leaving his position with the Farm Bureau in mid-1983, George began working for the Aerojet Strategic Propulsion Company, which produced solid rocket motors.
And in speaking about that job, George said, "When I went to work at Aerojet, by that time I had definitely made the transition from film to video. And because I had been to the Ampex broadcasting school in Redwood City for some classes, and the Sony Training Institute in San Jose, I had gotten a really firm background in analog video production. And these two guys – one had 25 years seniority on me and one had 20 – had made the transition at Aerojet, but they were insulated and they really didn't know what the hell they were doing. And they loved me, and so, anyway, we would do a whole bunch of different kinds of projects. Sometimes a marketing video, because all of their contracts were with the government – you know, the Marines, the Navy, Air Force, whatever. So, I worked out there for two and a half years and really enjoyed the experience. But I ran into somebody one day at Nakamoto (Productions in Rancho Cordova/now at 2701 Cottage Way). I was picking out music for an Aerojet production and some guy handed me something and he goes, 'Hey, you know, somebody at the (California State) Lottery, they're looking for somebody that has really broad experience like you do. You ought to call this guy.' And I did, so that's how I ended up getting on with the state."
George was involved in a wide variety of projects during his time as the director of the California State Lottery's television communications center from 1986 to 1993.
And then, for the following two decades, George worked as the director of the television communications center of the state's Department of Corrections and Rehabilitation.
Among George's responsibilities in that position were directing staff, shooting and editing more than 300 video productions and recording and maintaining the stock footage library of 33 prisons for distribution to news media throughout the globe.
During this last stop of his career, George revisited many of the places he had worked in during his Farm Bureau days.
In discussing that point, George said, "I'm going back to some of these same towns like Wasco, where we have a prison, or Delano, where we have a prison, or Coalinga or some of these other places," George said. "Corcoran (which also has a state prison is the self-proclaimed) cotton capital of the world. At one point in time, cotton was the number one crop in California (in regard to planted acres). But you talk to people up here in an urban setting, some people don't even know we grow cotton in California. But you get down south of Fresno, there's a hell of a lot of cotton down there.
"But anyway, going back into the same towns that had started to kind of dry up and all of a sudden you put in a prison with 2,000 employees, now you've got a big tax base, you've got people buying homes near the prison, so they don't have to drive big distances. In going back to the same places, that was a very interesting experience to see that kind of transformation. But overall, because I've been able to travel so much, in general, relative to my career, just being able to see this state and the parts of it and how it works together and how it's grown, this has been very educational and entertaining. Because of the extensive statewide travel that I did during my 41 year career, I feel I was given a unique opportunity to see and appreciate our great state from the Oregon Border to Mexico and parts in between."