Blind golf has been hitting strong for 30 years at William Land Park
You don't have to be a professional golfer to enjoy playing nine holes at William Land Park Golf Course. In fact, you don't even have to be able to see. That's right! The Sacramento Society for the Blind, in conjunction with the current management of the golf course, The First Tee of Greater Sacramento, sponsors an opportunity for vision impaired individuals to play golf once a week at WLPGC.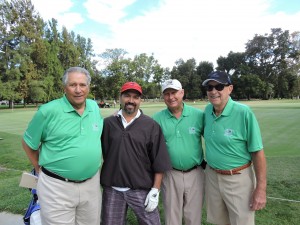 For the past 30 years, an organized group known as the "Swing Club for the Blind" has put blind people with an enthusiasm for golf together with local, sighted volunteers so they can be assisted in their enjoyment of the game.
Paired with a volunteer who drives the golf cart and helps coach each vision impaired player with every shot, this group meets weekly on Monday mornings for a two-month period in the fall and spring.
The golf professional, who is also the First Tee Manager of WLPGC, provides an hour long lesson to the Swing Club members each Monday before the group goes out on the course. Putting, chipping, pitching and driving are all included in the weekly lessons. The Swing Club includes about a dozen blind players, both men and women, young and old, learning and playing golf in spite of their obvious handicap. Some are blind from birth, others have played golf for years but due to injuries, accidents, or disease have lost some ability to see, yet don't want to give up the game. Over the years of playing together this club has developed a genuine camaraderie between players and volunteers whose combined sense of humor and relentless kidding of one another frequently makes playing nine holes extra special fun for all involved.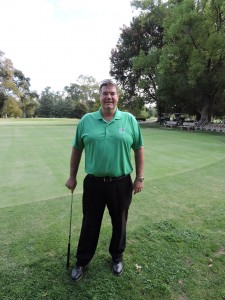 For example, when on the putting green the flag pin is left in the hole and one of the volunteers taps the pin (usually with another golf club) to make a clanking noise so the blind player who is putting can get a sense of the right direction in which to hit the ball. One player in particular is so good at this technique that he often putts his ball within two or three inches of the hole, if not into it. When asked how he does it, he replies, "It's easy. Just close your eyes."
I've been a volunteer with the Swing Club since retiring from work six years ago and continue to find each outing with these vision impaired folks to be always rewarding and enjoyable. This is a worthy endeavor and as such deserves some recognition. Recent improvements to the WLPGC Club House have included the installation of a new plaza for tables and seating. The perimeter of this plaza is lined with decorative red paver style bricks inscribed with the names of clubs, families and individuals. As a special tribute to the Swing Club for the Blind, I'm happy to report that one more brick will soon be installed in the new plaza to commemorate the many years of enjoyment this group has had playing blind golf.