City-owned Chicory Bend beach often a trash-out area
It's a beach where soft, white sand gets underneath the toes, dogs run free and boaters venture inland to enjoy. To some, it feels like a hidden secret – a beach that not many people know about; and some have wanted to keep that secret to themselves. So a gate was put up early last week, only to be taken down by city staff days later.
Jointly owned by the City of Sacramento and the State Lands Commission, Chicory Bend is only publicly accessible by water. The property underlying the levees, which extends on either side of the park, is private property, and there is no public access on the levees. Private property includes the levee that extends from the intersection of 35th Avenue and Riverside Boulevard to Chicory Bend Park. Without the individual property owner's permission, people accessing Chicory Bend Park using the levee are considered trespassing.
"The gated vehicle access ramp located at the end of Seamas is locked, and there is no public access to the park from this point. In order to develop public access from the end of Seamas, capital improvements would need to include the addition of a pedestrian gate, trail construction and signage, at a minimum. Such improvements are not financially feasible," Maria C. "Marycon" Razo, media and communications specialist for the City of Sacramento, Office of the City Manager, told the Pocket News.
Chicory Bend Park was acquired in 1998 as part of a settlement agreement between the former owners, City of Sacramento and State Lands Commission. Purchase price was $1.1 million with city and SLC each contributing, $550,000 equally, the property under SLC ownership, and the city is responsible for its management via a 49-year lease agreement with the SLC.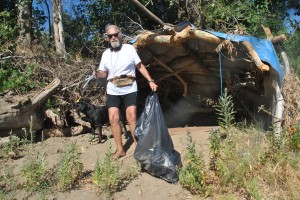 For the past 10 to 15 years (maybe more), Michael Derrick, assistant cross country coach at John F. Kennedy High School, has been coming out to the area and has seen wild turkeys, owls, beavers and even a fox. "This is, or was, a lovely wildlife area … It was an urban jewel," he says as he's giving an impromptu tour, pointing out spots along the way where homeless have camped and left mounds of trash and where people have been leaving cat food for ferrals. "Now it's continued to be trashed out. It's a sad story. "
He says it's just in the last two years that the area has gotten out of control with litter. Gracious to property owners for allowing him to walk his dog along the levee, he says there should be more effort on the city's part to help clean the area. "Property owners – I am gracious to them, but the city has not done the constant sweeping to clean the area. It's a shame the city has let it get this bad. The city has said it's your problem. It's your land."
Cleaning up the area would require tough law enforcement and clean-up effort, he says. "It's a major, major job." For those who boat in and party on the beach, there's no place for them to dispose of their trash. "You should bring back what you take in, but perhaps they could put a small dumpster toward the back of the beach that could be collected, assuming people would use trash cans. You can't assume one time in four months (of patrolling the area) is enough. Is it possible to hire security guards? Lack of resources is always the mantra, but I think this is a real shame what has happened to this area."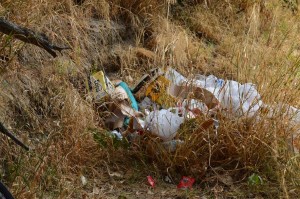 In response to the call for city staff to help clean up Chicory Bend, Razo explained, "Chicory Bend Park is a city owned natural open space, and is not considered a developed park; there are no trash cans for regularly pick-up, nor funding available through Measure U for increased maintenance. The city's maintenance staff monitors, cleans, and inspects the area three times a year, and will come out to address complaints of illegal dumping."
"Without the individual property owner's permission, people accessing Chicory Bend Park using the levee may be cited for trespassing if the person refuses to leave when a police officer requests them to leave the area. Under those circumstances, if the District Attorney decides to prosecute the violation, it is a misdemeanor and the fine can be as much as $1,000."