100 years of history shared at old Sutter School building event
Editor's Note: This is part two of a two-part series about the Cabrillo Civic Club #5 building, which was originally home to a public school for children in the then-rural Riverside-Pocket area.
A special event was held at the Cabrillo Civic Club #5 building on Sunday, Oct. 4, as many people from in and outside the community celebrated the 100th anniversary of the structure.
The Spanish mission-style building, which is located at 4605 Karbet Way, was established as a public school known as Sutter School. And the majority of its students were local children of Portuguese and Japanese descent.
Prior to the beginning of the 1 p.m. gathering, guests, many of whom were former students of the school, signed a page of a large book, which rested on a table next to a small bust of the Portuguese navigator, John Cabrillo (João Rodrigues Cabrilho), who discovered "a very good enclosed port," which later became known as San Diego Bay, on Sept. 28, 1542. Cabrillo is also recognized as the first European explorer to navigate the coast of present-day California.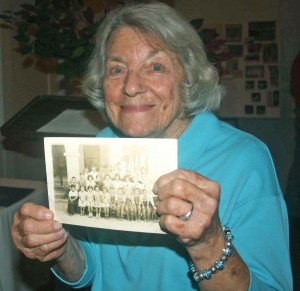 Above the signatures on that featured book page was the heading, "100-year celebration, Oct. 4, 2015."
The program for the day was led by Scott J. Costa, the event's master of ceremonies.
Boy Scout Troop #236 performed a presentation of colors, which was followed by a welcoming by Cabrillo Civic Club #5 President Janet McKay and an introduction of Cabrillo Civic Club state officers, including President Cheryl Borba.
A special recognition of the event from the office of Rep. Doris Matsui was presented by Daniel Lightstone.
Additionally, Rep. Jim Costa acknowledged the event through a presentation by Ken Costa.
One of the highlights of the program was a history of the building and school by Lynette Bell and her mother, Dolores (Silva) Greenslate, whose mother, Mary "Mamie" (Machado) Silva, was one of the first two graduates of Sutter School.
Bell, who described various historical features of the building and school, marveled at the language barrier challenge that was faced by early Japanese students at the school.
"Nobody (at the school) knew Japanese," Bell said. "And then when (the Japanese students) came to school, it was very difficult, because these poor kids didn't know English at all."
Greenslate, who attended the school from 1929 to 1934, spoke directly to some of the former Japanese students of the school who were in attendance at the event.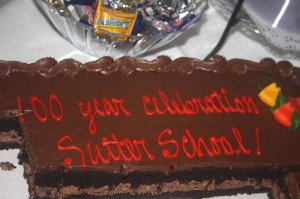 "It's great to see you all here today," Greenslate said. "We haven't seen each other since we attended this school together, then you were sent away because of the war. We got along so well then and even fought a little and learned each others' bad words. Our homes were welcome to each other, as if we were all family, and I loved you then and I still love you now."
Bell and Greenslate's presentation was followed by an open microphone period designated for the sharing of memories of former students of the school.
Among those who shared their memories of the school during that time were Aiko "JoAnn" (Kimura) Nomura, who attended the school from 1945 to 1952; and Adelaide Jones Caetano, who was a student at the school from 1949 to 1952.
Nomura, who grew up near Southside Park, spoke about both her time at the school and her experience during the Japanese internment of World War II.
During an interview with this paper shortly after her speech, Caetano recalled attending Sutter School.
"I graduated (from the school) in 1952," Caetano said. "We had moved into a new housing area. At that time it was called Riverside Village. My parents built this cement block house. There were four of us (kids). My brothers were too little at that time (to attend Sutter School), but my sister and I came here. And we rode our horse and put her in the lot across the street. (The horse's name) was Ladybug. We ended up selling (Ladybug), which was one of the worst things I ever did in my whole life. Yeah, my mom talked my sister and I into selling lady bug. It was one of the most traumatic things we ever did. It was awful.
"I was a good student, loved school, loved the area, loved the kids, and we were in 4-H. It was a farm community."
While Caetano was sharing her memories of the school for this article, Julian Wood greeted her at her table.
Wood commented that he had also attended Sutter School in "probably 1953, 1954," and that several other members of his family were also students at the school, which was relocated to 1141 Seamas Ave. in 1952.
The school, which was then known as Sutter Union School, was annexed into the Sacramento City Unified School District in 1958. And the name of the school was changed to John Cabrillo School (later John Cabrillo Elementary School).
In commenting about one of the school's longtime teachers, Wood, who eventually spent 40 years working as a carpenter, said, "I remember Emma (Fortado) James. She even taught my brother-in-law, (Ed Mauricio), and he turned 93 just the other day."
Another former Sutter School student, Emmie (Kato) Makishima, expressed her appreciation for the event, which also included a dancing performance by the Luso American Youth Council #4 Dancers, and a lunch.
"I think it was a great celebration," Makishima said. "It was a good thing to be a part of. I'm glad they decided to have it, otherwise we wouldn't even know of (the anniversary). I didn't even know (the building) was 100 years. All I know is I came here (to Sutter School) in the 1930s."
Makishima, who said that most of her first grade classmates were of Japanese descent, also recalled her modes of transportation to the school, as she said, "Sometimes I would ride a bicycle to school. That's when I was older. Other times I would roller skate, but most of the time, I would walk to school."
And as for the old school structure itself, Makishima commented that the building seemed smaller.
But she added, "Everything seems bigger when you're small."
Following the event, Scott J. Costa, who is a past president of Cabrillo Civic Clubs of California, mentioned that it was important for the club to honor the history of the building through last Sunday's event.
And he said that efforts are presently being made to continue that history for many more years through an ongoing remodel of the structure.