Locally famous mansion was home to successful laundry owner, photographer, others
Many historic homes can be found in Sacramento, and one of the grandest of these homes is a palatial, 11-room structure at the northeast corner of 21st and T streets.
It certainly is not easy to miss seeing this well-preserved Queen Anne shingle-style, brick and wood Victorian residence, as it towers above this section of the historic Poverty Ridge/Sutter Terrace area.
But this four-level building's height, which is accentuated by its setting on elevated property, is only one element that draws the attention of those traveling by this structure.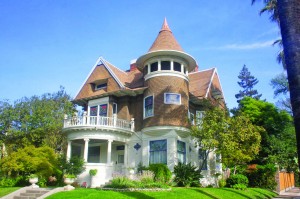 The mansion's distinctive turret, oval windows, stained glass windows, balconies, columns and semicircular porch are also among the home's attractive exterior features.
Additionally, tall palms and a rich, green lawn add to the allure of the structure.
Inside the house, one can view hardwood floors, hand-painted ceiling designs, detailed architectural moldings, historic carpets and wallpaper, three fireplaces, chandeliers, marble wash basins, ornate corner posts on a decorative staircase, a small musicians' loft and many other features.
This grand house, which was recently placed on the market for the first time since 2007, when it failed to sell for $1.8 million, has been a part of this community for well more than a century.
Research for this article resulted in the discovery of a reference to the construction of the building.
That reference, which was found in the Sept. 7, 1899 edition of The Sacramento Union, reads: "A new dwelling: Fred Mason has commenced the erection of a fine dwelling-house on Sutter Terrace, corner Twenty-first and T streets."
A 1907 advertisement for the local general contractors and builders, Dailey & Rogerson, includes a photograph of the 21st Street mansion, with a caption, which reads: "Mason home, built by us."
Prior to 1907, the existence of Dailey & Rogerson, which was located at 1822 M St. (now Capitol Avenue), had not been recognized in a city directory. The owners of that firm were William H. Dailey and Robert Rogerson.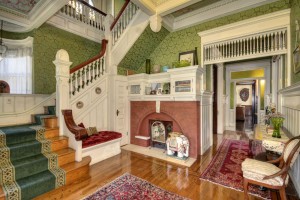 Although Dailey had worked as a local carpenter for at least 11 years by 1906, that year's directory is the first such directory to recognize Rogerson as a resident and carpenter in Sacramento.
Based on that research and other research regarding Dailey & Rogerson, it seems likely that the 1907 advertisement refers to the roots of the company before Rogerson became Dailey's business partner.
At the time when Fred made arrangements to have his 21st Street home built, he was an established local businessman.
As early as 1878, Fred, a German immigrant who was then residing at 118 3rd St., was operating a custom shirt-making business.
By 1882, Fred was running the business – then known as the Sacramento Shirt Factory – at 528 J St. His residence at that time was located at 721 N St.
About two years later, Fred, married Caroline Nichols, who was born in Moline, Illinois to German immigrant parents in 1858.
As early as 1887, Fred was operating Mason's Steam Laundry at 528 J St.
By the following year, Fred was living at 1801 J St. and operating his laundry, shirt manufacturing and a men's furnishing goods business at 12th and D streets.
Among the employees of Mason's Steam Laundry at various times were Conrad Mason and Lillie Marvin.
The laundry business was located at its final site of 2030 O St. by 1897.
It was also during the 1890s when Fred was running a towel service.
Fred and Caroline were recognized in the 1900 U.S. Census – documented in June 1900 – as then residing at 1715 N St.
During research for this article, the earliest discovered reference to the Masons living in their 21st Street residence was found in the 1900 city directory.
Unfortunately for Fred, he was unable to enjoy that home for long, as he died on Dec. 17, 1901, after having surgery for stomach cancer.
The 1903 city directory recognizes Caroline as a resident of the same house at 1931 21st St.
That directory also lists her as the proprietor of Mason's Steam Laundry at 2030 O St. and a co-owner (with her brother-in-law, Henry E. Dorman) of Mason's Haberdashery at 622 K St. She would not retire until 1938.
Caroline, who was an equestrienne, a cocker spaniel breeder, the owner of one of the city's first electric cars and an active member of the Sacramento Chamber of Commerce, died in her 21st Street home on Saturday night, Nov. 7, 1942. She was 84.
Following Caroline's death, an appraisal of her estate's real and personal property was valued at $16,118.74.
The 1943 city directory recognizes Nebraska native Seymour S. White (1875-1956) and his wife, Nellie L. White (1877-1954), as then residing in the 21st Street home.
By 1945, the Whites had moved to 2414 27th St., and Edwin P. Fraser, who was employed as a poster hanger by the Foster and Kleiser Co. at 1330 U St., and his wife, Murle H. Fraser, were living in the 21st Street mansion.
The Frasers were mentioned in the Aug. 5, 1946 edition of The Bee in its "divorce actions" section under the heading, "interlecutory (sic) decrees," as follows: "Murle H. from Edwin P. Fraser, cruelty."
In the 1947 city directory, the 21st Street mansion is listed as "vacant."
About a year later, Pembroke S. Dyer, a realtor who then had his office at 1506 Broadway, and his wife, Agnes K. Dyer, moved into the former Mason house.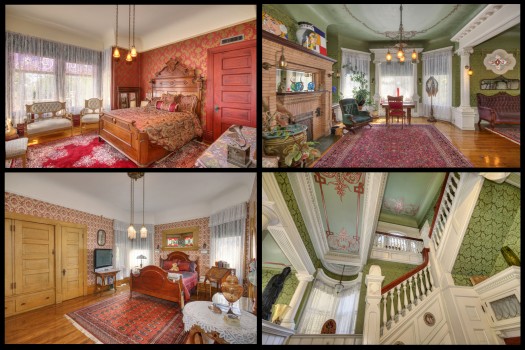 Pembroke died at the age of 80 on May 7, 1963, and his widow, who was a local real estate broker, lived alone in her 21st Street home for several more years.
William A. "Bill" Smith (1921-2008), who came to Sacramento with his wife, Alice, in 1942, and founded the locally renowned Bill Smith Photography, moved into the 21st Street mansion in about 1969.
During the 1970s, Bill and Alice began having their 21st Street mansion renovated.
The first phase of that restoration involved giving the structure a new foundation, steel beam supports, new plumbing and wiring.
The house was also repainted and reroofed.
A building inspector's card, dated April 9, 1974, notes that the house was reroofed by Superior Roofing, of 7500 San Joaquin St., near Hiram W. Johnson High School, at a cost of $2,500.
Altogether, the Smiths spent 14 years having their home restored and refurnished.
Alice died in 2007, a year prior to the death of Bill, and the mansion, as previously mentioned, was placed for sale at a cost of $1.8 million.
The house, as also noted earlier in this article, was never sold, and the Smith family continues to own the structure.
And once again, the Smith family has opted to attempt to sell this classic Victorian mansion, which sits on a 9,147-square-foot lot.
This time around, the house is being offered for a bit under $1 million, at $999,000. And the neighboring structure and property at 1921-1923 21st St. is also for sale.
As one of the all-time most photographed residential buildings in the history of the city, the old Mason/Smith mansion continues to stand as one of the city's grandest classic homes.