College Cyclery was established in former Safeway building in 1945
College Cyclery has a long history in the capital city – a history that includes its establishment in a building that had formerly housed an early Safeway grocery store.
Furthermore, this popular bicycle shop, which is located at 2760 21st St., has the notoriety of having spent many of its years sharing space with a hardware store. And because of that fact, the business was originally known as College Hardware & Cyclery.
Prior to the 1928 construction of the building that presently houses College Cyclery, a separate structure was located at the same site and utilized the address of 2760 21st St.
That earlier building was built in about 1920 and was originally the residence of William B. O'Neal, a yardman for the Southern Pacific Company.
In about 1923, William H. Westlake, a salesman for Howard D. Kerr's real estate, insurance and loan company in the Nicolaus Building at 8th and K streets, became the next resident of this home.
The final resident of the original 2760 21st St. building was Laud S. Fraser, manager of the Valvoline Oil Co. at 1108 R St.
Fraser, who moved into that 21st Street structure in about 1925, was residing at 2101 4th Ave. by 1929.
The 1929 city directory does not recognize the existence of a building at 2760 21st St., as this former residence was likely demolished in 1928.
A building inspector's card, dated July 7, 1928, details the construction of a 40-foot by 95-foot, single-story, brick building at 2760 21st St. at a cost of $4,000.
Frederick H. "Fred" Betz (1885-1974), who operated his business at 1527 21st St. and resided at 1027 43rd St., was the structure's contractor.
The building, which was completed on Oct. 22, 1928, was home to a Safeway grocery store by the following year.
In 1932, Sacramento was home to 19 Safeway stores, including the 21st Street store.
The other stores were located at 3216 Folsom Blvd., 2900 Franklin Blvd., 1306, 2430, 2718 and 3920 J St., 731 and 2103 P St., 1918 and 3700 Stockton Blvd., 3400 3rd Ave., 2900 4th Ave., 501 12th St., 615 and 2030 16th St., 2716 24th St., 1010 25th St. and 1930 28th St.
The May 1938 Pacific Telephone and Telegraph Company's telephone directory recognizes the 21st Street Safeway as Store No. 360.
Safeway's 21st Street store remained in operation until 1939, when the building began a period of vacancy.
Two listings for the Thrifty Five, Ten and Twenty-Five Cent Store at 2760 21st St. appear in the March 1941 Pacific Telephone and Telegraph Company telephone directory.
City directories for the years 1941 through 1945 recognize the 2760 21st St. building as housing a variety store owned by Joseph Ivazian.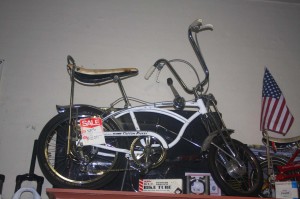 However, Ivazian's business is referred to on a building inspector's card, dated May 8, 1940. The card mentions that Ivazian had acquired a permit for the Electric Sign Service Co., of 817 12th St., to hang an electric sign at 2760 21st St. at a cost of $250.
On the same day, The Sacramento Bee ran an advertisement, which reads: "Visit the new Thrifty Stores, 5-10-25 (cents). 2760 21st Street."
The first city directory to recognize the existence of College Hardware & Cyclery at 2760 21st St. is the 1946 directory.
But College Hardware & Cyclery actually dates back to 1945.
A very early advertisement for the business was published in the Dec. 1, 1945 edition of The Bee, as follows: "Power lawn mowers. College Hardware & Cyclery, 2760 21st Street. Dial 6-2042."
In another College Hardware & Cyclery advertisement, in the March 18, 1946 edition of The Bee, lawn mowers were once again mentioned, along with rubber tires ($1.15 per pair), grass catchers ($2.85 each), hoses, sprinklers and tools.
The advertisement mentions that its customers could find "everything for the yard and garden."
At the bottom of the advertisement are the words: "Expert bicycle repairing. All work fully guaranteed. Also tricycle and wheel goods repaired. Complete line of bicycle parts and accessories.
A building inspector's card, dated July 2, 1970, recognizes Fred Betz's longtime association with the 21st Street building.
The card, which refers to a project to reroof the building at a cost of $1,800, mentions Betz as the building's owner at that time.
In regard to the original proprietorship of College Hardware & Cyclery, the 1946 and 1947 city directories mention the store's owners at that time as James Michael Dritz and Herbert Carroll Melvin.
Dritz was first referred to in a city directory in 1937, when he was recognized as a salesman for the Star Bread Co. at 701-707 12th St. And the following year's directory also mentions him as a salesman.
By 1939, Dritz was working as a mechanic at Thomas Voulgares' bicycle repair shop at 2218 ½ Del Paso Blvd. in North Sacramento.
Dritz opened his own bicycle shop, known as Dritz's Cyclery (later Dritz Cyclery), in about 1940. The business, which was located at 2209 Del Paso Blvd. in the former location of the restaurant of William R. Conn, is listed in the city directory for that year.
A 1941 advertisement for that business reads: "More than 100 wheel toys at special prices. Bicycles, tricycles, scooters, automobiles, wagons. Open evenings till (sic) 10. Dritz's Cyclery, 2209 Del Paso Blvd., No. Sacto. (Telephone:) 9-9839."
As for Melvin, he was first mentioned in a Sacramento city directory in 1934, as a clerk for The Thomson-Diggs Co. at 1800 3rd St. He was then residing at 1514 T St.
By 1938, Melvin was serving as the company's department manager. And from about 1940 to about 1945, he worked as a salesman for the company.
Melvin became the sole owner of College Hardware & Cyclery in about 1950, and Dritz maintained ownership of Dritz Cyclery, which would eventually be run under a different proprietorship until about 2005.
Dritz, who was a native of Greece and a 65-year resident of North Sacramento, died at the age of 85 on Sept. 14, 1979.
In its Sept. 16, 1979 edition, The Sacramento Union mentioned that Dritz had owned his North Sacramento bicycle shop for 24 years – or until about 1964.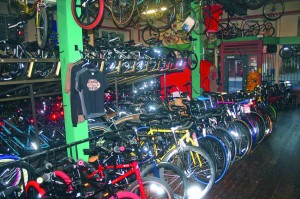 However, an article in the same day's edition of The Bee notes that Dritz retired in 1962.
Melvin's longtime operation of College Hardware & Cyclery was celebrated in an article in the April 5, 1985 edition of The Bee.
The article, which has the headline, "Bike shop and owner fixtures since '45," mentions that Melvin had opened the store in 1945 and, at the age of 82, was still dedicating himself to 60-hour work weeks.
Melvin, whose family history in Sacramento dates back to 1852, was quoted in the article as saying, "I like to work. When I get up in the morning, I like to have something to do, you see. And anything I do, I like to make a profit. I guess it's the Scotch in me."
Although the same 1985 article mentions that Melvin dismissed any suggestion that he was ready to retire, he sold the shop to Chuck Meyer in 1986.
Melvin, who also founded the Melvin-Smith Learning Center for learning-disabled children, would continue to reside in the capital city until his death at the age of 87 on Feb. 2, 1991.
After acquiring College Hardware & Cyclery, Chuck shortened the name of the business to its present name. And from 1988 to 2006, the shop ran a local yellow pages advertisement with the words: "College Cyclery. We've been around since 1946."
Considering that the business dated back to 1945, the reference to 1946 was a technicality that perhaps went unnoticed by those who saw the advertisement during those years.
The business was mentioned in an article in the June 12, 1995 edition of The Bee, as follows: "Meyer's store is one of the oldest (bicycle shops) in Sacramento, having been founded in the 1940s by H.C. Melvin, from whom Meyer bought the store 10 years ago. The shop, with two employees, has an eclectic mix of several lines of the latest bicycles on the market, along with a few old-fashioned oddities tossed in for variety."
Chuck and his wife, Lorene, sold College Cyclery to their daughter, Allison Cox, and their son-in-law, Terry Cox, in 2006, and the business has since continued to build upon its notoriety of providing fine merchandise and quality service.
Soon after the Coxes' acquisition of College Cyclery, Terry began advertising the business as having been established in 1935, and recently, the shop was advertised in this paper as celebrating its 80th anniversary.
But as research for this article revealed, the business did not open until 1945.
In becoming aware of that fact last week, Terry said that it was important to him to publicly comment about his business's nearly decade-long belief that the shop opened in 1935.
Terry explained that a particular website led him to that belief.
"I guess you can't believe everything you read on the Internet," Terry said. "At one point, we thought we might have been founded in 1932."
Unfortunately, a little misinformation can go a long way, as the business's neon sign includes the wording: "Established 1935."
In further commenting about that topic, Terry said, "We tried to do our research, so that's how we came up with (the establishment year of 1935). Now we can look forward to doing an official party. But whether it's 70 or 80 years, it doesn't change the fact that we are the oldest (operating) bike shop in Sacramento and in Northern California in the same location."