Rules of Engagement: The Work of a Peace Warrior
Special to Valley Community Newspapers
(Editor's Note: Major Reneé Marie is an East Sacramento resident, and as a major in the military, she truly believes that "peace is patriotic." To that end, she has brought peace poles to schools around the world from Afghanistan to our local, Theodore Judah Elementary School. What follows is what she has entitled "Rules of Engagement" and summarizes her efforts and the reasons behind them.)
I decided when I was about 17 years old that the only way to be truly happy in life was to be of service to others. The "rules of engagement" – develop my abilities to meet this responsibility!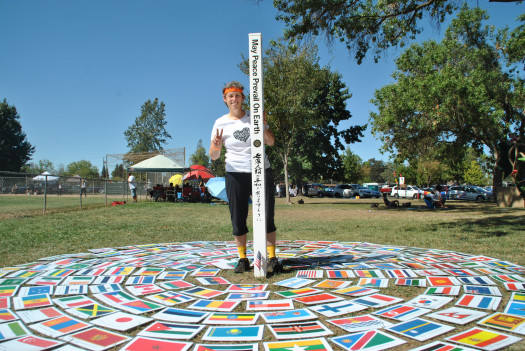 Like any young person, I was filled with idealism and ambition. I left high school early to accept an early admissions offer at a small, private college in Pennsylvania. I arrived with about $100 and a borrowed, tattered, pink suitcase, July 1977. Just 16 years old, I had traveled from the Waterbury, CT housing projects, through Port Authority, NYC (using my "street smart" caution) and on to King of Prussia, PA where a stranger met me and drove me to the historic Strawbridge & Clothier mansion-estate campus in Villanova. I finished my Associates Degree there in 1979. With lots of adventure and derailments along the way, I finally earned a Bachelors Degree in 1983 and a Masters in Speech-Language Pathology, 1994. Laced in-between these years is a deeper story of yearning, heartache and success.
My biological family had been so fractured that the scars on my psyche often pinched deeply and prolonged. This prevented me from making the best choices. However, I kept coming back to a fundamental awareness that improving the quality of life for others gave me a sense of belonging and the best comfort I could ever experience. In 1983, I had been drawn-in by the "Madison Avenue" advertising campaign, "Be all you can be, 'cause we need you"… I entered the Active Army as an Enlisted Soldier. I was accepted to Officer Candidate School but was too intimidated to start out with that level of leadership expectation. I won't bore you with all the ways I did excel in order to prove myself "worthy". I left Active Duty and Reserve service in 1991 to begin the Masters program at West Virginia University, Morgantown. By this time, I was also single parent with one very energetic son to raise. Between 1994 and 2006, helping students with communication and language processing challenges, was very satisfying.
On Sept. 11, 2001, life changed for all of us! "Be all you can be, 'cause we need you", banged on my heart, again! I called the local recruiting office and was Enlisted into the CT Army National Guard after a 10-year break in service. By 2003 I received a Direct Commission as a 2nd Lieutenant in the Medical Service Corps.
Two other life-changing events occurred, before 9/11, which filled me with a unique sense of urgency to DO SOMETHING positive to make a difference; The Columbine High School massacre, April, 1999 and my first exposure to a World Peace Festival at The World Peace Prayer Society Headquarters, Wassaic, NY, August 1999. After Columbine, I wrote and published a poem titled Peace is a Verb and then, it was during my walk along the Peace Pole Path at the outdoor Peace Sanctuary that filled me with conviction; this work of love and respect was my call to action! After reading the 192 Peace Poles representing each of the U.N. member nations in the world, I felt that every public school should have a seven-foot Peace Pole bearing the Universal Wish, "May Peace Prevail On Earth" and that it should be visible near the school's main entrance.
In the fall of 2002, I completed the first of 22 Peace Pole Gardens which I have helped to create in: CT, VT, CA and Kabul, Afghanistan.
During a dedication ceremony, September, 2009, one fourth-grade student at Theodore Judah Elementary School in East Sacramento was quoted "from all the words I have heard here today, I promise to never bully again". I firmly believe that this student's reaction is exactly why this work is so necessary! Our children deserve images of optimism and encouragement at school.
This year, The Mercy Springs Foundation and Compassionate Capitol Region have come together to assist me in creating a sustainability plan for The Peace Pole Garden Project in our area. Together we hope to attract requests for Peace Pole Gardens on school campuses as well as other public or private lands and additional volunteers to assist in realizing this dream.
The history of the World Peace Message:
"May Peace Prevail On Earth" is an all inclusive message and prayer conceived in a moment of personal retreat and inspiration by Masahisa Goi, 1955, Japan. Mr. Goi encouraged creative ways to carry the message to public view. In 1976, the idea of placing this Peace Message on poles gained momentum. This led to the beginnings of The Peace Pole Project. Today, there are over 200,000 Peace Poles planted worldwide. These simple yet profound words, reach deep into the hearts and lives of global citizens everywhere. A Peace Pole Garden anchors our hope and compassion toward peaceful collaboration.
While serving as a Casualty Assistance Officer, from August, 2011 to January, 2012, one Gold Star Mother came to learn about my Peace Pole Garden vision and through our work together in honoring the service and sacrifice of her Son, PFC Rueben "Boy" Lopez, Williams, CA, KIA 10 AUG 2011, her love of country and peace compelled her to purchase eight Peace Poles which have been placed on school campuses and the Williams Post Office. We are reminded that praying and working for peace is patriotic as we reflect on the words of General Douglas MacArthur; "The Soldier, above all other people prays for peace for it is the Soldier who must suffer and bear the deepest wounds and scars of war."
My current "Rules of Engagement" are derived from quotes I hold near: "Be the change you wish to see in the World, Ghandi; "Optimism is a force multiplier" General Powell, Retired; "know yourself and seek improvement", (Principle #1 of The 11 Timeless Principles of Leadership (US Army 1948).