Ann Menebroker, East Sac Poet
Tucked away in East Sacramento, a poet quietly works her craft.  Ann Menebroker, long-time resident of East Sacramento, says she began writing poetry "probably" in her teens.  Her contributions to the Sacramento poetry world and beyond indicate she never looked back.
In the late 1950's, with a two-year course in poetry composition under her belt, Menebroker joined the California Federation of Chaparral Poets.  With Joyce Odam, another established Sacramento writer, she helped start a local chapter, The El Camino Poets.  This was followed by joining The Sacramento Poetry Center,  originally known as The Poet Tree. Menebroker recalls, "We were always struggling for money to keep going, through grants, membership dues, and such.  Poetry is the low guy on the totem pole of the arts. We were grateful for whatever we received."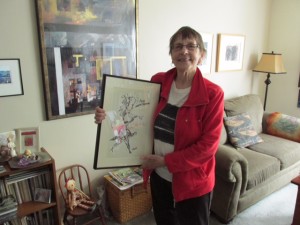 Menebroker's style has been described as "no apologies asked" and the "anti-love" poet. "Mostly I'm talking about experience in living."  The overriding quality in her poetry is one of presence to the slightest detail, regardless of seeming insignificance.  With a droll sense of humor and slight impishness, that presence brings the reader directly into her experience.
Menebroker has written over 20 collections, numerous broadsides and has been published in small magazine publications of poetry. She has participated in many projects including.  anthologies, marathon poetry readings and collaborations   The first collaborative effort was published in 1985, titled Landing Signals.  It accepted "poets who were born here or had lived in Sacramento at some point and contributed to the poetry scene."  Menebroker is quick to share credit with many other members and supporters of the Sacramento poetry scene, including former Mayor Anne Rudin who designated October 26th as Sacramento Poetry Day.
In a one-time venture, Watching From The Sky was published in 1988 by Menebroker and fellow-editor Martha Ann Blackman under their own publishing name Pinyon Pine Press.  Menebroker explained that the small anthology "contained work directed against war, and caring for environmental issues.  We dedicated the anthology to Grandmothers for Peace, an organization begun in Sacramento by Barbara Wiedner, in 1983."
"One of the most exciting anthologies  I appeared in was The Outlaw Bible of American Poetry  because one of my grand kids was impressed with my poetry." Also featured was Tupac Shakur, her grandchild's favorite musician. "I was lucky to be part of it, for as I understand it, it was about ready to go to print when someone presented my name and I squeezed in with one poem.  I had no idea who would be included in it.  It was incredible!"
Menebroker tells of participating in The Tough Old Broads reading in June, in 2014, that made her "soar.  The reading was held at the Verge Center for the Arts in downtown Sacramento.  "Usually I'm an anxious reader, but on that occasion, all of that was swept away due to the audience, which I felt was suddenly part of my family; remarkable, satisfying in every way.  I read with Viola Weinberg, one of the two poets laureate, the first, for Sacramento; Kathryn Hohlwein, a retired professor from CSUS; and Victoria Dalkey, well known as the art correspondent for the Sacramento Bee."
Although she doesn't have any projects pending, a 16-poem portfolio was recently published by Sore Dove Press, Soheyl Dahi, the publisher, out of San Francisco. A minimal  amount of the portfolio was printed. The title is "The Fish Who Swallowed the Stars."
What is a poet's greatest challenge?  "Personally,  I think the most significant challenge for a poet is to remain true to his or her own style and need in writing…to be aware of what goes on around you. To be open to other points of view, and to be okay with getting a little crazy around the edges. My greatest joy is in the friendships I've had over all of these years with the poets, not just here, but across the country and outside of it.  These people became an important part of my life, a direction and goal, a harmony that kept me from a lot of sour notes. I love them."
Al's in Locke
an old river restaurant
with ketchup on the table
order up rare or medium steaks
the anchored house boats
and sailing boats spill out
their cocktail people, who
look for a "Mexican taxi"
to get to Al's
I'm driving a pale blue ford
pick-up truck, full of deeply
tanned bodies, all laughing
and pressing together
the fish are so far below the river
you could swear they didn't
exist, or even the town itself
just the people, oiled and hungry
© Ann Menebroker, Rattlesnake Press
<a href="mailto:editor@valcomnews.com">editor@valcomnews.com</a>