Borrow Musical Instruments at MusicLandria.com
We used to share most all of our things all of the time.  Back before we became whatever it is America has become, paranoid and constantly consuming, compelled to each own one of a thing that we may use only once and then store in a dark corner.  I bet we were happier then.  We see this in less consumptive communities and cultures today, and all the studies and movements are reflecting that we want to share, and it's most efficient and socio-psychologically satisfying when we do.  We see shared Zipcars, Portland's Car2Go, AIRBNB style home sharing, Cooperative Housing…  and the timeless institution of the Library.  Sacramento Library has its "Library of Things" at the Arcade Branch (a small selection of musical instruments, hopefully to have Tools soon).  AND NOW, more conveniently located in the downtown, we have the region's largest public library of musical instruments in Buddy Hale and Rachel Freund's Library of MusicLandria.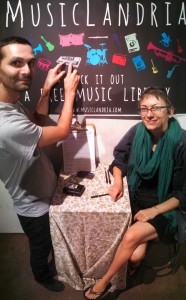 A few years back, Buddy Hale frequented Berkeley Public Library's "Tool Lending Library".  Being a musician (currently drummer for local project "Deep Pools" fka Cove, while his year-long partner, in love and MusicLandria, Rachel Freund, is a clarinetist), the brain-seed had been planted to apply that successful lending model to "musical instruments and other music-related resources".  Buddy moved to Sacramento in 2014, found Rachel and their 11th and S downtown apartment that currently houses MusicLandria, and enrolled at CSUS.  Says Hale, "I decided to make MusicLandria my thesis and the focus of my time at school. Studying business with an emphasis in Entrepreneurship has been a fantastic way for me to apply my class projects and assignments to the growth and development of MusicLandria."
The MusicLandria Mission contains the best of what we want our community libraries to offer:  Providing Instruments at your disposal (some prohibitively expensive, ensuring poor and rich alike can come together to ROCK) and "Musical History Preservation" of non-mainstream musical technologies (analog synth instruments, folk instruments, etc.), providing things with which to Musically Educate and Inspire.  They have held several "Musical Instrument Petting Zoos" at ArtBeast and The Crocker Museum (and recent fundraisers for homeless-children-aiding Tubman House), where kids of all ages engage and are inspired by musical instruments they may have never touched otherwise.  When I stopped by the Library to donate an AutoHarp ("which I can go back and check out anytime" I kept reminding myself), I noticed a new looking Theremin… people go their whole lives not knowing what a Theremin is.  It's apropos the naming of MusicLandria references Ancient Egypt's Library of Alexandria, erected to house history and grow boundlessly (a branch of which was open to commoners, unheard of 2200 years ago).
Bring MusicLandria your unused instruments! – they'll store them, and you can check them back out anytime.  Luthier/instrument-repair donated services would prove valuable to anything returned broken (although local genius Drew Walker reports an amplifier he recently borrowed was clean and in perfect working order).  And MusicLandria will inevitably need a non-residence shopfront, so any angel investors or donors of warehouse or storage space would be greatly appreciated.  Get your Library card and/or donate anything you like at www.MusicLandria.com, or contact Buddy@musiclandria.com.