Duck season is here and so is the California Waterfowl annual dinner at Portuguese Hall
As hunters are getting their ducks in a row, California Waterfowl volunteers are gearing up for the 22nd annual dinner to be held this year at Portuguese Hall on Thursday, Dec. 3.
The dinner normally serves 275 people. For $60 per person, diners get to enjoy hors 'd'oeuvres, tri tip, shrimp, prawns, caesar salad, pasta and dessert. All the profits go to restore wetlands for the migratory waterfowl.
Primarily a duck hunter, Pocket resident Manuel Perry is 84 years old and has been active in the organization since the beginning. He continues to hunt and enjoy the season with his family and friends. Soon he will be going to Washington state with his son, Kenneth Perry. "I hunt in California, but also Canada. I try to hunt as much as possible during the season, and the season goes from the middle of October until the end of January. I hunt primarily ducks and geese. I only hunt what I eat. If I don't eat it, I don't hunt it. I used to hunt elk and deer, but I don't do that much anymore; it's too tough on the legs."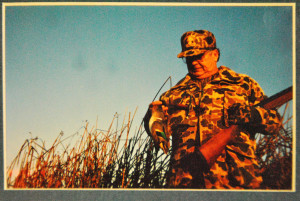 Manuel Perry said basically the dinner has been about the same since its inception 22 years ago except for the fact the cost was a lot lower, the menu might have changed a little and it was held at a much smaller venue, the old Red Rose restaurant on 43rd Avenue that was owned by the boxer Joey Lopes. "We've changed the menu and have done different things to try to increase membership. There are a lot of these dinners that go on throughout state of California, all for the same purpose to restore wetlands."
Perry reminds readers it's not just ducks and geese but all migratory water birds that benefit from the efforts of California Waterfowl.
According to the stated mission on the organization's website, the California Waterfowl Association is a statewide nonprofit organization whose principal objectives are to conserve California's waterfowl, wetlands and hunting heritage. In order to fulfill that mission, CWA has carefully thought out the following goals:
"Generate sufficient abundance and dispersion of waterfowl throughout California and the Pacific Flyway.
"Protect hunting rights, shooting sports, the use of dogs, and related recreation activities for all Californians.
"Expand hunter opportunity, recruit new hunters, and teach skills and behaviors that will help sustain hunting into the future.
"Communicate the importance and benefits of hunting.
"Increase membership and funding for CWA to increase our capacity to achieve our mission.
"Ensure the long-term viability of CWA and plan for its growth.
"Maximize volunteer effectiveness."
In addition to the meal and drinks served at the Dec. 3 dinner, Perry said women and children under age 15 are eligible for special prizes. "There are special prizes for females, like jewelry, plants, flowers. For kids, they get a hunting type of equipment. Kids could win bb guns as long as parents are with them. They could also win camping equipment, that kind of stuff."
Portuguese Hall is located at 6676 Pocket Road. Remember it's a sell-out event and only 275 tickets are available. Cocktails begin at 5 p.m. ($10 will get you unlimited bar drinks and entered into a raffle for a gun); dinner will be served family style at 7 p.m. Register online by visiting www.calwaterfowl.org. Purchase raffle tickets by Friday, Nov. 20 and get "double progressive tickets."
<a href="mailto:editor@valcomnews.com">editor@valcomnews.com</a>