Freeport Boulevard gets art resurgence
Cruising down Freeport it's hard not to notice two major pieces of public art – the "Balancing Act Too" Tony Natsoulas sculpture that was saved from the wrecking ball at Downtown Plaza and a mural covering the side of the new location of Awesome Video, 4524 Freeport Blvd.
Gracing the wall are Princess Leia, Spiderman, the Enterprise from Star Trek, Pam Greer as the foxy Cleopatra, Herbie the Love Bug, Dirty Harry, the robot from Metropolis, King Kong, the rocket from Guardians from the Galaxy.
"A labor of love" for muralist Shaun Burner the project took about three days to complete which was done just in time for Halloween. "I feel like it's one of the last video stores I've known about. The fact they moved, people thought they closed down. When people saw us (he and his partner Franceska Gamez) do it, it put the store back on the map." Shaun even got a membership during the process.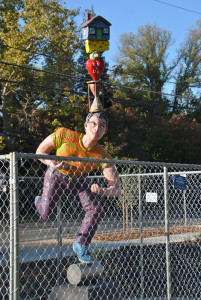 As Franceska wrote on Facebook, "It's a fun one for sure. Awesome Video is one of the last video stores in town; we had to come support."
Shaun's brother, Chad Burner, a regular customer at Awesome Video and a nearby homeowner was told by store owner Maitu Bai about the desire for a mural on the side of the wall and naturally recommended his brother.
Speaking about the process of how the design for this particular mural came about, Shaun said when he was laying out the concept, he wanted to feature older films and keep the composition symmetrical by placing The Shining twins in the middle as a focus and putting Spiderman up in the top left corner as a balancing act. Using photo references from movie scenes during the painting process helped make the images true to the scenes.
Meanwhile up north on the boulevard, a celebration of the completion of Plaza Cervantes (2115 11th Ave. — think of it as the green space between Cafe Espresso and the old Crepe Escape) and the relocation of "Balancing Act Too" by Tony Natsoulas was held on Monday morning. The life-sized bronze figure, "Balancing Act Too" was originally located on K Street in downtown Sacramento, but was removed to accommodate the Golden 1 Center construction.  A new home was found for the sculpture this year.  The sculpture is now the center piece of a new plaza, Plaza Cervantes, constructed this fall on Freeport Boulevard next door to the soon-to-be-open Meet & Eat restaurant, a transformation from the ashes of the old Crepe Escape to a snazzy healthy food hangout.