Helen Jones to retire from 27 years as an Arden area gallery owner
After 27 years as a Sacramento gallery owner, Helen has decided it is time to retire. The Helen Jones Gallery will be closing the end of December 2015!
Helen's eclectic blend of art by local and national artists includes original oils and acrylics, watercolors, etchings, bronze sculpture, serigraphs, lithographs, prints, porcelain figurines, ceramics, vintage items, jewelry, gift items and more. Pricing on everything in the gallery has been reduced significantly. If you have any interest in items for yourself, a family gift, an upcoming wedding, Christmas, etc., the Helen Jones Gallery is a must see!
Helen Jones Gallery is one of the most eclectic galleries that Sacramento has to offer. To understand where this eclecticism comes from, one only needs to get to know a little about Helen herself.


Helen Jones is a native Sacramentan, who was married to her high school sweetheart Gordon Jones, who later became a major league baseball pitcher. Being the wife of a ball player took Helen across the United States as well as Cuba and Venezuela. On those adventures, she was afforded the opportunity to dance with Dezi Arnez, sing with Keely Smith, and swim with Ester Williams. Before starting Helen Jones Gallery in 1988, Helen worked for the California Legislature, beginning as a messenger and retiring thirty-one years later as Chief of Staff for Senator Waddie Deddeh. Her greatest achievement, Helen says, has been the rearing of her three successful children: Gary Jones who owns ATV, a video production company in Sacramento; Greg Jones who is a publishing consultant and is sought after in North America for his circulation expertise; and Janet Berry who recently became the first woman Judge of the 2nd Judicial District Court of Reno, Nevada.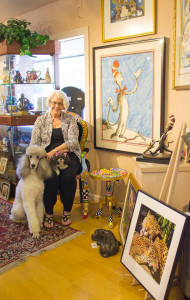 After retirement Helen plans to spend time with her son Gary enjoying the sunsets in Cabo San Lucas. Her daughter, Jan, will also be retiring and they will be able to enjoy life together, including spending time with her grandchildren.
David Markle, the gallery's framer has been with the Helen for 18 years and is currently reviewing his options. David may or may not open his own frame shop. And, the gallery's popular and knowledgeable sales associate, Cary Parrotte, retired in July due to ill health.
Helen Jones Gallery is at 588 La Sierra Drive in the Arden Town Center (corner of Watt Ave. and Fair Oaks Blvd.). The gallery is open Tuesday to Saturday, 10AM – 6PM, and they can be reached by phone at 481‑1118.