Surrealist art covers walls at DADAS, a new art gallery in East Sacramento
The spirit of Salvador Dali is alive now in East Sacramento. DADAS Art Gallery Boutique opened Nov. 14.  Just as the dada artistic movement paved the way for surrealism, great hopes ride on DADAS paving the way as a new venue to embrace the arts.
The creator of this space is the very ebullient Yvette Ewell.  Ewell worked 30 years in IT for UC Medical Center and decided that she had "done everything in IT that could be done."   During her career she dreamed of owning her own business. For over 20 years she has also been a dedicated enthusiast of Second Saturday venues across the greater Sacramento area.  This high energy visionary was on a personal quest to create the next chapter of her life.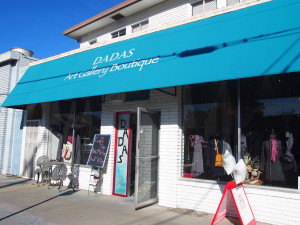 Although Ewell didn't have a precise image of the business in the beginning, her multi-year exposure to the Sacramento art scene and working at a gallery boutique in Folsom, forged the final concept. Ewell realized she had found the business model.  Ewell recalls, "The minute I saw it [art gallery/boutique model] I knew this was the business I wanted."  Having two brothers who are artists sealed the deal. It took a year but she found the "right spot"…the vacated space at 3655 J Street, formerly occupied by Shabby Chic.
Ewell's brothers, Dwight and Todd Head, coordinate artists, exhibits and classes. Artists in their own right. Dwight's focus is surrealism; his media are pencil, pen, ink and watercolor. He has been on the Sacramento art scene for 25 years. Todd is a graduate of the California College of the Arts. He has participated in Bay Area cafe shows for 20 years. His focus is visual arts using oils and multi-media.
Use of light and unusual props throughout this wonderfully open and bright space provides the perfect environment for exhibiting works of art and merchandise.  Mannequins are painted bright yellow, blue and sienna, their hands cleverly used to display wares. Unusual scarves are suspended from empty gilt frames. While the majority of boutique wares are displayed in the interior of the space, artwork is hung on the external walls, arranged by artist. Ewell says she can "see artists gathering around their exhibits, deeply engaged in conversation."
The art gallery boutique currently serves three purposes: a place for local artists to exhibit their art, a place to sell eclectic wares (clothing, accessories, greeting cards, yoga shoes to mention a few), and a place where artists meet. In the future Ewell and her brothers hope to add classes. Currently the gallery exhibits nine local artists featuring a wide variety of media: ceramics, multi-media, oils, surrealistic poster art, wood-carving (canes and walking sticks), photography and jewelry.  There is a special exhibit dedicated to artists from the Developmental Disabilities Service Organization.   Ewell travels regularly throughout northern California seeking clothing and other items from small vendors and individual artisans for the boutique.
Ewell says she will place special emphasis on Second Saturdays and hopes to host classes for ceramics, photography, painting and upholstery.  "I want all the walls covered with the works of local artists, and I want them to build a community here at the gallery."
DADAS is open Tuesdays through Saturdays 10-6. "Second Saturdays we may stay open a bit later," smiles Ewell.  The store will open for a few hours on Sunday, Dec. 6 for California International Marathon spectators, as well as other Sundays during the holiday season.  There is street parking and also parking behind the store.
For more information contact DADAS at 307-9686 or on Facebook, DADAS Art Gallery Boutique.