Forgotten Sacramento: Vintage vehicle renovations revisited
(Editor's Note: In July, 1994, the writer of this article went on a cross-country walk known as the Walk for Justice. What follows are some memories of his journey.)
A tanned young man with cheap looking clothes steps off the bus near the Downtown Plaza, and walks through the posh clothing racks and strong scents of perfume of Macy's. He notices how his friend has changed in six months and walks by. "Hi, Mark." He says. Cars. Buildings. The hustle and bustle of Sacramento. Twenty minutes pass, and again the tanned young man is still walking, has a pair of tennis shoes, a black jacket, a red bandanna, and a feather tied into his long hair.


The Sacramento Bee. He passes by a long, worn building of silver aluminum siding, lain empty for years, and stops at the corner. Out comes a feather, and a prayer. And a memory. Having left the feather behind near the building, he walks on, never stopping until past Mack Road in South Sacramento. After all, after having walked across the country, what's a few more miles?
This is Forgotten Sacramento. That young man was me.
That forgotten place is 2101 S St., now a typical Rite-Aid. But in former days, it was called Vintage Vehicle Renovations. The garage-like door opened onto S Stret with its large green sign of a classic car and its separate green piece with the address numbers in the same font.
When you walk in,  you smell the oil and grease and see the many cars waiting their turn to be restored. Here's a Model T, there a Model A. Oh, there's a Packard, a Dodge, a Studebaker, even a Rolls Royce. There were cars from the 1890s to the 1940s. Some looked like a Victorian couch on a set of wheels. Don't forget your electric and steam cars from the early 1900s, or before. There were Cadillacs, Buicks, several Pierce Arrows, Fords, etc. At one time, President Lincoln's wooden horse carriage was even worked on here. Some highlights of cars that came through were a 1909 Hupmobile, 1911 Hupmobile, 1913 Cadillac, and a 1919 Buick sedan. The boss had his own work vehicles and/or truck with the license plates VVR1, VVR2, and VVR3.

You pass the familiar glass case with the picture of Humphrey Bogart always there, and the antique gold cash register, which was used as the actual register. On the grimy desk in the office are littered scribbled receipts and papers, Chilton and various car manuals line the grimy shelves, and car signs and car paraphernalia are all over. There were signs for Oldsmobile, Dodge, and Pierce Arrow, among others.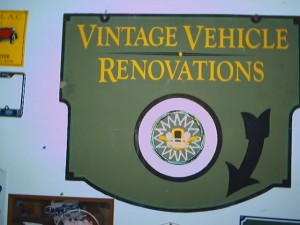 There were even model cars,  some with liquor in them in the glass case at the boss's home. Looking up near the ceiling are the giant metal wrenches and tools hung on the wall, looking far too big for any human to handle. These were actually big truck and airplane tools, and one tool for adjusting bridge knots. Over there is the glass box case with the rubber gloves in it, where you would imagine someone working on radioactive materials or some such. Down the aisles of shelves on the side wall are the Thomas Edison brand spark plugs, various headlights and light bulbs, and an assortment of other boxes and car parts. In the small bathroom covering almost every inch of the walls would be the nudie pictures and calendars, a little too hot for young eyes. You could often hear some very typical male talk and beers being cracked open. You touch the wall and get oil and grease on your hands.
What was this ambiance? What was this place?

This was the establishment of one Jerry Dewsnup, owner of Vintage Vehicle Renovations. Jerry restored classic and vintage old cars back to good shape and good condition. I remember as a child spending many a day here, as my dad spent time with his best friend "Jer". Some of the other regulars and car people were Caroline Dewsnup, Mike Solacki, Art Matranga, Mike Solacki, Mike Burnett, (Mike later married Caroline), and Dave. One time, Dave drove me to Reno, and Jerry and my Dad would go down there for things like "Hot August Nights".
According to the Friday, May 13, 1988 edition of The San Bernardino County Sun, page 21, "Jerry Dewsnup, who owns Vintage Vehicle Renovations in Sacramento, said he is seeing a lot of customers with big cars from the late 1950s and early 1960s. "Take that Lincoln," he said, gesturing toward a four-door convertible in the early stages of restoration. "You can't get anything today that will have as much power and ride as well at highway speeds as that car did when it was new."

Jerry started mysteriously selling a lot of his stuff at the shop. A few months later, Jerry died on the side of the road coming back from Hot August Nights. After Jerry died, his son Tim Dewsnup took over and the place soon went out of business. The building sat empty behind the Sacramento Bee Newspaper for several years, before it was demolished. Now, you'd never know it was there. Globalization and corporatization have a way of turning a diverse world into one homogenized sameness. Almost anywhere you go in the world, there is now a McDonald's and a Starbucks. But every one of them used to be someplace else, each with a story. Next time you go shopping, see if you can still smell the oil, or even hear the sound of a 1930s Mercury starting its engine. Now isn't that a little more exciting?