Will Work for Food: Local photographer trades photos for food for the homeless
"If you can only make a couple of people feel a lil better each day then do it." – Scott Duncan
Sacramentan Scott Duncan loves the art of photography and especially enjoys taking pictures of food for restaurants. Recently his talents have afforded him to trade photos for food for the homeless. Earlier this fall, he photographed a bunch of food at restaurants and they sent him home with extras, which he gave to homeless people in town. He says the result of seeing their faces as they get free amazing food has spawned a group Facebook page, "Will work for food".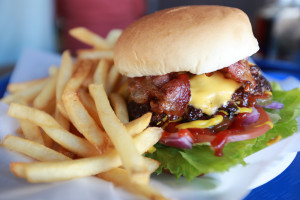 His Dec. 2 posting described a lunch he shared in Sutter's Fort Park with a man named Eric. "We had a few good laughs while he demolished a salmon BLT from INK. His buddy Pat woke up and joined us dancing around laughing at how good the food was. If you can only make a couple of people feel a lil better each day then do it. I'm just glad that my life is exactly how it is so I can make the time to do simple little things like this," Scott wrote.
Sober since 2004, Scott quit his job to pursue photography, which has been also possible since he manages the building he lives in, giving him a free apartment and enough money to live on. "Photography is my passion and I'm glad I found a way to use that to help people when I can," he said.
From salmon BLTs, to a tostada salad, fish tacos, some nachos from INK, to prawns, fish 'n chips, popcorn shrimp, "etc etc etc" from Railroad Fish 'n Chips, Scott has maybe a dozen or so business owners hitting him up to contribute to this side project.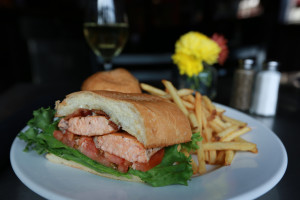 He photographs food anyhow for Downtown Grid and other freelance work, but with "Work for food" he'll go in and shoot up to three food items they'd like to showcase on a website for specials in trade for the food which he drops off wherever he find some homeless that need it. "(I) usually just ride my bike through a park in midtown and find somebody," he said.
Scott bought his first digital camera in 2006 and spent lots of time snapping photos of his foot on the front porch until he figured out the camera, then he shot bands every weekend trying to get his name out there, which is how Tim Foster picked him up and he started shooting for Midtown Monthly.
Midtown Monthly was his first major gig shooting most of the content and all of the covers for a couple years. In addition, he has taken photos for Capitol Weekly, Downtown Grid, Coldwell Banker, Steve Hansen campaign photos, photos for Christopher Cabaldon, Go Raw Foods, Jimmy's Barber Garage and Mraz Brewing Company.
While he also shoots weddings, events, portraits and more, with a smile he said he mostly loves shooting food because "I usually get to eat it afterward." That is if he doesn't share it.