Cal Middle students release cookbook, just in time for the holidays
The Cal Culinary Arts Cookbook is coming, just in time for your last minute Christmas shopping. For a $10 donation, you'll get 150 of the culinary students' favorite recipes and a few staff recipes, too! Even Principal Egan's Sour Cream Noodle Bake is included. Contact Mrs. Hankins in Room 18 for your copy. Books will be available the week of Dec 14 to18 right before school lets out for winter break. Order forms have been sent home with students in Hankins' classes and have additional order forms available for anyone who wants to purchase a book.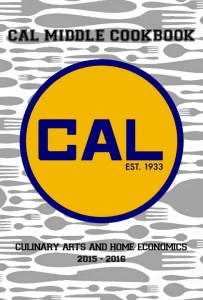 There are more than 100 recipes included in the cookbook, most of which were submitted by students as part of their first quarter project in the culinary class. Included in the cookbooks are students' family and favorite recipes, essays about why they're their favorites, and cooking tips such as doubling and halving the recipe ingredients. Additional recipes include those that have been made in the class so far this year, as well as recipes that the class anticipates making in the remainder of the school year. Finally, teachers and staff members were also asked to submit recipes.
There are definitely some recipes that have been kid-tested in the class and some healthy ones. Family submissions have not been tested in the kitchen.
Hankins has three classes of 35 students each who were eligible to contribute to the book and at least 85-90 percent of the students contributed a recipe.
Hankins said most of the recipes we have made so far this year have been positively received by students, even if it was their first time eating that particular food (different varieties of bell peppers for example). "I am most excited about the wide variety of recipes that we have in the book. It's divided into six sections: breakfast, appetizers, soups, salads, sandwiches (together in one section), side dishes, main dishes, and desserts. Main dishes and desserts are our biggest sections, and there appear to be a LOT of good recipes I can't wait to try. I love collecting recipes and cookbooks, I don't think you can ever have too many recipes so once I knew I would be teaching this class, this was a project that I definitely wanted to start."
The cookbook is serving as a fundraiser for Cal Middle's Culinary Arts class in addition to what Hankins hopes will be a welcome addition and keepsake in her students' homes. The fees generated will go towards purchasing supplies and ingredients for the remainder of the year, and hopefully help kick-start the program again next year. Hankins anticipates creating a new cookbook every school year, as she has new students to share their favorite family recipes.
-Monica Stark