CSF Kennedy Cougars Making a Difference, One Can at a Time
As the holiday season is quickly approaching, a variety of charity work is being done to help those less fortunate enjoy the festivities as well.
The California Scholarship Federation club at John F. Kennedy High School has returned with the annual KCRA Kid's Can Collection event. California Scholarship Federation, or CSF, is a club that focuses on community service to help better the club members and prepare them for college. KCRA Kid's Can Collection is the main project of the first semester that the club is involved in. They hosted a school-wide competition to raise the maximum amount of cans for the project. The class that donated the most was rewarded with a pizza party and the satisfaction knowing they were able to help others during the holiday season.
James Lam, the advisor of the club on campus, described the event as inspiring.
"As gratifying as it is, I know that students can always do more, and I just hope more and more students can become more active, selflessly."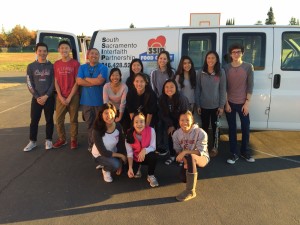 This year, the club was able to collect over 5,000 cans which will be donated to the South Sacramento Interfaith (SSIP) Emergency Food Closet. During the first week of the can food drive, members of the club distributed Kids Can Food Drive boxes to all classrooms and asked that students donate any non-perishables goods to their fourth period class. Various non-perishables were collected such as canned meats, packaged noodles, and various canned soups and sauces. Members collected cans weekly to keep an accurate count of the cans that each class donated. They also met after school to box the cans in organized boxes to prepare them to be shipped to the SSIP.
The winning class was Mr. Andrew's AP World History class with over 5,000 cans and won a pizza party.
Sharon Wong, Vice President of Activities of the club, also added that "Can collection was incredibly successful and at the same time, overwhelming (in a good way). Seeing over 2000 cans that filled the third floor hallway was amazing. I loved the amount of energy that our CSF helpers loading and unloading cans even though their arms were dying from lifting and pushing boxes of cans."
On November 20th, over 68 boxes of canned goods, 165 boxes of ramen, and 76 cases of bottled water were packed into trucks and sent to the South Sacramento Interfaith (SSIP) Emergency Food Closet.
Blake Kaiser-Lack, president of the club, expressed that "It feels go to know that as students in high school, we can still make an impact on people's lives in our community. The incredible amount of donations we collected will make it so a family won't have to worry about where their next meal is coming from during the holidays, and that makes it all worth it."
The success of the results from this year were tremendous. The event was not successful in just the donation of cans to a local shelter but to help students realize that even the smallest action, such as donating a can of food, could make someone's holiday season just a bit brighter. The CSF club at Kennedy would like to thank all those that took part in the can collection.