Just in time for Thanksgiving: Matsuyama students delivered bags of necessities to homeless children
"Ode to Socks"
By an anonymous Matsuyama Elementary School student
Socks are as timid, as your aunt's baby kitten,
They hide behind boots, and disguise as a mitten.
They come in colors like green and like yellow,
Once on your feet, you feel mighty mellow.
They shelter your feet while traipsing through willows,
They make you feel like you're walking on pillows.
Some are like long, and some are like wide,
Come wintertime they warm you inside.
They protect you well from mud and from grime,
But the washer will eat them, one at a time.
They were loved by the woman who lived in the shoe,
That's why she danced a fine boo-ga-loo.
You put them on feet, one North and one South.
Though you'd rather put one in your brother's mouth.
Some get all smelly, tattered and torn,
Now you can use them to shine your French horn.
Glorious Socks help us start out our day,
They make us all jump and shout
Hoo-rah!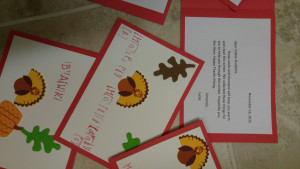 Matsuyama students Shane, David, Josie, Ahmir, Kenneth, Blake and Lucas led a school-wide campaign to collect items for the Mustard Seed School students. They made presentations in each class to request donations, developed posters, wrote cards to go with their donations, collected and bagged all the items.
Collecting a total of 350 pairs of socks, 65 shampoos, 500 mini travel sacks, Lucas' grandmother, Barbara Wackford, said the following about their efforts: "They learned about kindness and compassion for others. They were very proud of their efforts. They truly hope their donations will add a little warmth to someone's life." On Tuesday, Nov. 24, just in time for Thanksgiving, Barbara drove some of the students to hand deliver bags of necessities. "(Mustard Seed) was really very excited. They said they would start distributing them that day, so that was wonderful."
According to its website, Mustard Seed "is a free, private school for children 3 to 15 years old which provides a safe, nurturing environment, a positive learning experience, happy memories, survival resources of food, clothing and shelter referrals, medical and dental screenings, immunization updates, counseling for children and their parents and assistance entering or reentering public schools. Mustard Seed School was established in 1989 to help meet the needs of homeless children. Many school age children do not attend school because of their homelessness; some lack immunizations, birth certificates, or other documents, some are in transit, and almost all lack a support system. In spite of their situations, these children are eager to learn and to be accepted.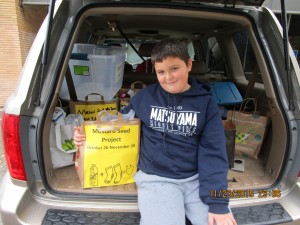 "Many homeless children are not enrolled in school because the places their families find to sleep are often not near a child's school and the family only plans to be there a short time. Sometimes the school needs an address or updated immunizations which homeless families cannot provide.
"From 15 to 35 children may attend our school each day, and an average stay is just three to four weeks. Some children have been out of school for a long time and need help to go back. A major goal of the program is to prepare and enroll homeless children into public schools, and preschool for younger children, when families have found housing stability. Since the school began, over 4,500 individual children have participated in Mustard Seed."