California Automobile Museum hires new curator
The California Automobile Museum announced the recent hiring of Nathan Smith as museum curator on Oct. 14.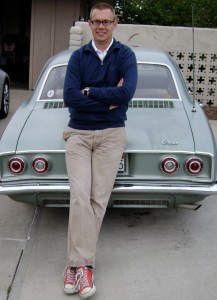 Smith joins the California Automobile Museum as curator with a bachelor of arts in historic preservation and German from the University of Mary Washington in Fredericksburg, Va., and a master of arts in museum studies from The George Washington University in Washington, DC.
"The Museum has a great foundation in automotive history, and an amazing corps of volunteers," Smith said. "I'm excited to build on the work they do every day and to share their passion for automotive history, and to connect that history to other significant developments in our culture over the past two hundred or so years."
In the course of his studies, Smith completed internships at the Fredericksburg and Spotsylvania National Military Park, the National Building Museum, and the Petersen Automotive Museum.
One of a long line of car aficionados, his great-great grandfather was a Mitchell, Oakland, and Hudson dealer beginning in 1915 and his grandfather is a recent past president of the Society of Automotive Historians. Smith comes from a long line of educators and considers himself an educator first and foremost. He looks forward to sharing his passion for history with the community.
Smith learned to drive in an El Camino and is known to spend his spare time exploring new areas behind the wheel of his '65 Corvair.