Local seniors to bring burlesque back to Sacramento
Recently sitting around a table at the Veterans of Foreign Wars Post 67 Hall in Sacramento, a group of mostly senior women was vibrantly, yet quite seriously discussing the details of an upcoming event at the building.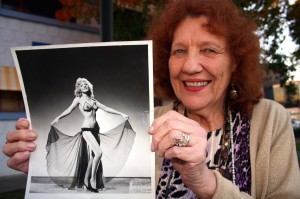 No, the topic at hand was not a retirement party, a crab feed, a used book fair or a bingo night. But instead, discussions at this meeting were in vast contrast to many discussions that one might imagine hearing at such a gathering.
The purpose of the meeting, which was the second of its kind, was to discuss the group's efforts to bring back burlesque to Sacramento.
For those who need a quick crash course in Burlesque 101, burlesque is by definition – compliments of the Random House Dictionary – a "humorous and provocative stage show, featuring slapstick humor, comic skits, bawdy songs, striptease acts and a scantily-clad female chorus."
This art form, which in America dates back to the early 19th century, served as an entertainment staple for many decades before its decline in the late 1960s.
Acting out
Providing a background of how 10 people came to unite at the VFW Hall with plans to present a Feb. 14 burlesque show at the hall, former professional burlesque dancer and south Sacramento resident Patty Russell explained that bringing burlesque back to Sacramento has been a personal dream that is fast becoming a reality.
"The dream to revive burlesque came up about 15 years ago," said Russell, who was known on stage during her dancing years from the late 1950s to the early 1970s as Patty O'Farrell. "I started to realize that the younger people did not know the word burlesque. All they know is what's going on now (in today's strip clubs) with the pole dancing, lap dancing, whatever. Well, no, that isn't burlesque. Burlesque is an art and it's where you can have a couple come in and watch you and the women enjoy it just as much as the men. There's nothing nasty about it or anything."
When asked how she became a burlesque dancer, Russell, 74, explained that while working for the Pacific Bell telephone company in St. Louis in the late 1950s, she had a career changing idea.
"All of a sudden, I just got a thing that I wanted to dance," Russell said.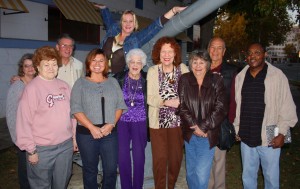 Fortunately for Russell, she discovered an agent, named Mike Riaff, who was willing to assist her in fulfilling her then-newfound dream.
After reviewing the possibilities of a career in dancing for Russell, Riaff told her that the only thing she qualified for was burlesque.
In hearing this, Russell asked, "What's burlesque?"
Learning that it was a dance performance act that involved strip tease, Russell said that she told the agent, "Well, as long as I can dance doing it, that's okay, as long as I dance."
Russell performed her first burlesque show at the age of 22 in a small theater in Louisville, Ky.
Russell, who spent many years as a burlesque dancer in various U.S. venues, including such Sacramento area venues as The Road House at 4205 W. Capitol Ave., The Driftwood at 3308 C St. and Roeder's Gourmet restaurant (formerly The Red Rose and later Neptune's Table) at 5990 South Land Park Drive, said that she never lost her affinity for the art of burlesque.
Her passion was later fueled through her friendship with Merle Cale, who grew up in East Sacramento.
Cale, a 1933 graduate of Sacramento High School and the president of women's auxiliary of the VFW Post 67, attracted the attention of Russell due to her extreme love for dancing.
Putting on a show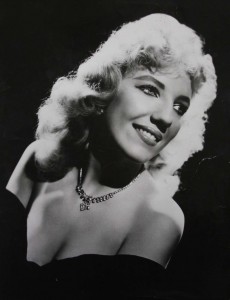 Defying her age, Cale, 94, plans to bring her many years of dancing experience to the event, as she will perform dances in a seductive, glittering dress.
Cale, whose aunt Leona Henning was a burlesque dancer at the now-closed Roxie Theatre at 912 9th St. in Sacramento, said that she has a strong passion for entertaining.
"I've always wanted to be on the stage," Cale said. "I got married on the stage at the California Theatre (in Oak Park) in 1935, but I didn't perform there."
Other members of the committee for the upcoming event include: Pocket area resident Jan Wilson, the event's producer; East Sacramento area resident Malenda Smith, who will sing at the event; Carl Cloud – who may serve as the event's emcee – and his wife Kathy Cloud of the North Highlands area; Natomas resident Jerry Youngblood, a former Arthur Murray's dance instructor; south Sacramento resident Joanne Menebroker, who will dance in the event; Elk Grove resident Pebblez Pearcy, an assistant to the producer; and Freeport/Land Park area resident Mike Samuels.
Wilson recruited Samuels for the project after she learned that he was a former drummer for the band, Little Ronnie and the Chromatics. The band performed during burlesque shows at The Driftwood during the late 1960s and may have even played while Russell was dancing.
Wilson said that she has grown to appreciate the importance of presenting this event.
"What started as an opportunity to fulfill one woman's dream has blossomed into not only a chance to raise money for veterans, but also to revive an interest in this by-gone form of entertainment."
Seniors take the stage
The event, which will be held at the VFW Hall at 2784 Stockton Blvd. on Valentine's Day at 2 p.m. and will be open to guests 18 years old and older, will feature various musical acts and professional burlesque dancing, raffle prizes and 50-cent beers.
Following the event, the committee will meet to discuss the possibility of taking the show on the road and presenting it to other California cities.
For additional information regarding this event, call (916) 453-9209.
E-mail Lance Armstrong at lance@valcomnews.com.