Designer produces "Before & After –
Lose the lawn to create a drought tolerant landscape" DVD to inspire sustainable—but still stunning—gardens
By Dell Richards
Special to the Arden-Carmichael News
With water shortages still a concern and water limits in many cities, Arden landscape designer Roberta Walker has produced a DVD that walks people through the design process to lose the lawn for a drought-tolerant landscape.
With more than 1,000 garden designs under her belt, Walker still believes in creating stunningly beautiful landscapes using plants that tolerate heat with less water.
"A garden is a magical part of who we are," said Walker. "When you create a landscape with more diverse, sustainable plants, you're opening up a conversation between you and nature."
"You can have painting with a lovely palate of plantings year-round—and still be sustainable."
Her third DVD, "Before and After," shows people what choices they'll have in a garden make-over.
From shape and grade, walkways, walls and water features, patios and kitchens, plants and ground cover, the DVD covers the steps and some of the many choices.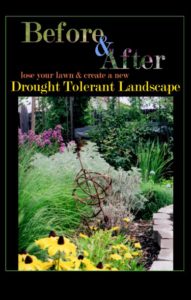 Walker not only talks weed fabric, irritation and lighting, but has gives instructions and has helpful suggestions.
By the end, Walker has people thinking differently about their "square footage"—expanding the usable space to create outdoor living areas.
A former graphic designer, art teacher and painter, Walker has produced two other DVDs– Creating a Drought Tolerant Landscape and Create a Dry Cobble Stream.
Since founding Roberta Walker Landscape Design nearly 20 years ago, Walker's exquisite designs have been featured in Sunset magazine and HGTV's "Gardening by the Yard."