Passion on paper: Free Literature of Love course offered at the Clunie Center Feb. 1, 8
By Monica Stark
editor@valcomnews.com
Poetry is made for passion. Using sound and rhythm to convey messages of romance, beautiful love letters and literature are guaranteed to fill the hearts of students of Frank Dixon Graham's The Literature of Love course through the McKinley Library. Free of charge, students can get set for Valentine's Day by reading and writing passionate love letters and romantic poetry in two one-and-a-half hour classes on consecutive Wednesday evenings from 7 to 8:30 p.m. in early February.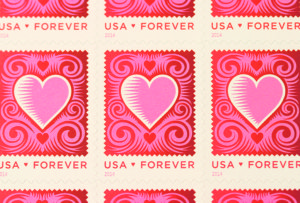 Frank, a published poet, the Editor of Tule Review, and adjunct professor of English at the Los Rios Colleges, will give lectures at each session and also facilitate the reading and discussion.
In lecture one, on Wednesday, Feb. 1, students will learn about the greatest love correspondents of all time. Why did they write the best love letters? What did these lovers have to say? How did they express themselves and what stories are behind their romantic correspondences? Attendees will hear a brief history of love letters and their star-crossed lovers. Participants may write their own love letters in class. The authors discussed and the reading of romantic letters will be certain to inspire.
In lecture two, on Wednesday, Feb. 8, less than a week before Valentine's Day, students will read some of the best love poems ever written. There will be a discussion of these authors and what goes into writing a meaningful or lasting love poem. Students are encouraged to enrich their own relationship by writing their own love poem in class or become inspired to express themselves with a well-crafted note to your valentine.
Open to adults "aged 18 to 81 years and older," there is no cost associated with either session. It is free and open to the public.
A writer of many love poems, Frank noted they are less likely to get published, yet that's not usually the intended purpose. "Love poems are either meant to express something to the person you love or they are simply created as a reminder of what was, what can be, what is, or what was. My wife is an inspiration and I have to say that I'm inspired by a moment of love or loving."
Quotidian activities can become the most romantic when shared with someone you love, he explained, so tell those stories in your love poems. Images for love poems may come like photographs of time that one wishes to describe to the listener or reader, he said. While there's less of a market for love poems today, there are some poets who have found a way to delight audiences: Mark Doty, Nikki Giovanni, and even Sharon Olds all have different twists on the modern love poem, Frank added. "Pablo Neruda is, hands-down, the most romantic poet of the past century. He's my favorite. Neruda used simple language and nature imagery to convey his message. The use of sound is critically important to Neruda and there's something about those mellifluous lines that can transport one to another dimension emotionally. Poetry is made for passion. Nowhere is that more evident than with Neruda." Available in Spanish, or in English with good translations by W.S. Merwin and others, Frank said a romantic gift-giver could hardly go wrong with Neruda's Twenty Love Poems and a Song of Despair. If you can't afford the book, Frank recommends getting a copy from the library and read it to your love interest over a romantic meal that you have cooked for them.
Seeing his students awaken to some beautiful experience of language or hearing a writer open up and share some detail of their life that they've never been able to express before are some of the greatest experiences Frank has had as a literature professor. In one of his past classes, a couple attended the writing workshops and lectures together. "They were young. I wasn't sure how close they were or if they really knew each other well at all. I'd like to think that their relationship blossomed as a result of the class. They were married last summer, not long after the class ended."
Even in his non-romantic classes on writing and literature, a lot of personal material is shared. Participants support each other. They become friends and really connect with each other, he explained. Beyond the fact that you see them develop as genuinely artful beings, a teacher of writing must love to see that connection between writers happening. Frank has coached boys' soccer and some of the same principals apply; some of those kids will be friends for the rest of their lives. "Writing is far from the solitary experience many may think of it. It is a team effort and sometimes, as we're about to explore, it is a fascination between two people who want to experience life on a deeper level, together."
This isn't the first free literature class Frank has offered at the McKinley Library. Required to complete a teaching practicum in a community environment for his master's program in writing at Goddard College, he realized his love of teaching and decided to continue to offer classes after he graduated. So, since that time, he's taught five series, each made up of six to eight classes. From contemporary poetics, international forms and styles of poetry to certain specific historical periods of American literature, Frank is interested in teaching a class on social justice poetry and nature poetry in the near future. From coordinating readings that serve as fundraisers for nonprofits to organizing the editing and publishing of the Sacramento Poetry Center's next anthology, Frank enjoys facilitating other people's creative expression through writing and literature." I was given a lot. This is the way I know to give back. The process is also a lot of fun."
For as long as he can remember language has been important to Frank. "Being read to as a child can stimulate curiosity and wonder. I never stopped imagining the worlds introduced to me," he said. At some point, life brought on challenges and he found that the best and most healthy escape was to write creatively. Physical exercise was also an important outlet, but as arthritis set in the mental workout of creating poetry has become a more vigorous activity. He has founded or championed a number of literary activities locally.
In the description of the first workshop, Frank writes: "We will read the beautiful love letters of both real and imaginary authors after a brief lecture on the topic." Thinking that might "make a few scratch their heads," Frank explained with the following example: "Griffin and Sabine is a wonderful work of fiction by Nick Bantock. It is an epistolary novel and an exchange of love letters between two people. The book is beautiful in design and in content, with letters that may be pulled from their envelopes within the text itself. Beyond that, some of the world's greatest romances are documented through love letters."
On that note, Frank added that the love letter is an almost extinct art form. "We've given in to texting. Sexting isn't all that high of an art form. It may be gratifying for a moment, but returning to a tangible piece of writing can, ultimately, be more satisfying. Some people may have never read or may have never written a love letter. The tactile riches of opening an envelope sealed with the tongue of one's love interest can create a new romance or rekindle an old one. A good pen with good ink can combine with quality paper to deliver an important message. A perfectly individualized note from someone who has affection for you in your mailbox? How fun is it to find a stamp that may have some symbolism for both of you? How much value is there in the lasting memory of a love letter? How much are we missing by not addressing our valentine with our own handwritten card or letter? The letter is a cost effective and quite complete way of conveying our thoughts to someone we care deeply about."
In the description of the second workshop, he writes: "There will be a discussion of these authors and what goes into writing a meaningful or lasting love poem. Enrich your own relationship by writing your own love poem in class or become inspired to express yourself with a well-crafted note to your valentine." Asked what makes a meaningful or lasting love poem and to describe any personal experiences, Frank shared the following: "A love poem must convey the sentiment of the admirer while stimulating the interest of the admired. Ideally, that's the way it works. There are rhetorical and poetic devices that are used to that end. Even still, there are situations in which that's not possible. There are romances that fail. Love doesn't fail. But we are human. An open expression is paramount to any poem. We all learn what it is like to experience rejection. So we put ourselves on the line when we communicate how we truly feel. We've all had to learn to kindly reject others who have opened their hearts to us as well. Whether we succeed in love or whether we fail miserably trying, the effort that can be documented in our writing is a worthwhile activity. I've written love poems for a few sweethearts. Some even wrote me back. When that kind of emotional exchange happens, the experience can be exhilarating. The closest we can become as human beings is not necessarily in the physical realm but in the experience made possible with words."
If you go:
What: Frank Dixon Graham's The Literature of Love course
Where: Reagan Room inside the Clunie Center (third floor), 601 Alhambra Blvd.
Cost: Free
When: Wednesdays, Feb. 1 and Feb. 8 from 7 to 8:30 p.m.