King of Jazz: Restored by NBC/Universal, premiering at Tower Theatre for benefit gala
By Matias Bombal
In 1930, an unprecedented mixture of art and technology melded elements of music, dance, theatre, design and visual artistry into a great melting pot of jazz on film. The movies had only been "talking" for three years. Sound for movies was new, so was an early Technicolor company process of taking movie camera images through red and green filters and reproducing almost all colors of the spectrum for color on screen. Added to this canvas of color and sound; music of all forms offered by Paul Whiteman and his Orchestra, comedy blackouts from famous vaudeville stars, dancers in impressive Broadway type choreographies staged by director John Murray Anderson and sets lavish in art-moderne design which would win an Academy Award. Universal Pictures released "King of Jazz" at FOX's 1,652 seat Criterion Theatre in Los Angeles on April 19, 1930.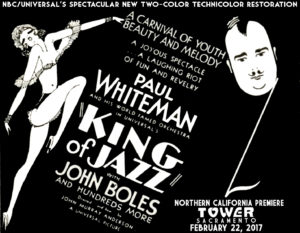 The film vanished somewhat into obscurity, after a second, shorter version re-release in 1933. In 1975 a television screening by the BBC re-awakened interest in the movie, followed by versions for U.S. TV Cable channels in March of 1984. This was a truncated version, far from the splendor and beauty of the original release. MCA then released it to home video in 1983 and 1995 on VHS, but a video engineer mixed blue into the picture, destroying the two-color process's original beauty and design and red-green color balance. It has not since been in any other format to be seen in any version.
After years of lobbying from film historians such as David Stenn, Ron Hutchinson and others, in December of 2013, the film was officially entered into The Library of Congress' National Film Registry, triggering Universal Pictures to begin a serious and monumentally expensive restoration of more than three years. At the same time, a remarkable and scholarly 303 page coffee table book about the movie's colorful history and restoration, "King of Jazz: Paul Whiteman's Technicolor Review" was written and released by James Layton and David Pierce. (www.kingofjazzbook.com)
The 2016 restoration, by NBC/Universal, of the 1930 two-color Technicolor Universal Super-Production "King of Jazz" has created a sensation everywhere it is shown. Beginning a few months ago with the Museum of Modern Art New York, then The Academy of Motion Picture Arts and Sciences in Los Angeles, this early musical movie has begun to move across the United States and Europe in select road-show events and special film festivals, like Los Angeles' Cinecon and screenings as far away as Australia.
It will be shown in Sacramento for its Northern California Premiere for one showing only, to benefit The Sacramento Traditional Jazz Society, February 22nd at 7pm at the Tower Theatre at 16th and Broadway, nestled at the south end of downtown. The premiere will bring notable persons from Hollywood and New York to Sacramento, including historians, Universal Studios executives and musicians as this has not screened in the San Francisco/bay area as the state capital was chosen for the honor.
Original ad campaign from 1930 reproduced for Sacramento Tower Theatre premiere.
Why is it a big deal? Primarily because it captures exactly the best in entertainment in 1930 in a time capsule, now clearer, sharper and brighter than when it was new. The newly restored two-color Technicolor allows you to witness, with a palpable vibrancy, an era mostly seen today in black and white, if at all. Then there's the music; along with some hot jazz renditions of tunes like "Happy Feet" written by Milton Ager with lyric by Jack Yellen, this film has the first ever performance on film of "The Rhapsody in Blue" by the man and his orchestra that commissioned George Gershwin to write it for them, Paul Whiteman.
Paul Whiteman was, without a doubt, the single most respected influence in the mainstream culture of emerging popular music and jazz in the United States in the 1920's and early 1930's. His acoustical Victor 78 rpm record of "Whispering" recorded on August 23, 1920 was a number one hit in the USA for 11 weeks, stayed 20 weeks in the charts and would sell over two-million copies. He made a hit record and created one of the nation's first major dance crazes with his May 7, 1925 Victor recording of (the)"Charleston". He represented the zenith of jazz to the public of that era. He also was a brilliant and willing master of publicity and marketing. During his orchestra's 1919 engagement at the Alexandria Hotel in Los Angeles, popular with the movie crowd, he first began to be informally known as "The King of Jazz". By 1930, Universal's "King of Jazz" film could be shown to many thousands more than could see him and his orchestra in live performance in just one theatre or ballroom at a time and it showcases his very likeable personality and big-hearted presence.
Whiteman's orchestra personnel seen in this film and in color performing were and remain the who's who of jazz greats of that era. They include: violinist Joe Venuti, guitarist Eddie Lang, saxophonist Roy Maier, violinist and song writer Matty Malneck, trombonist and violinist Wilbur Hall, trumpet player Harry "Goldie" Goldfield, clarinet and saxophone player Chester Hazlett, trombone player, vocalist and songwriter Jack Fulton, banjo player Mike Pingitore, pianist and songwriter Roy Bargy, violinist Kurt Dieterle and the very first movie appearance of Bing Crosby, then part of Whitman's singing trio, "The Rhythm Boys". To see and hear 27 year-old Bing Crosby at the height of his voice, singing with the trio is something you'll long remember. Actors seen in the film's comedy sketches and other musical numbers include John Boles, Slim Summerville, Laura La Plante and a very young Walter Brennan.
Jazz plays a great role in the movie, but it is also a product of its time when revue style shows on Broadway were popular, the kind of show that is a series of variety comedy acts, musical specialties and musical productions. Very much like one may have experienced in New York in 1930 at any of the deluxe musical theatres of that era, yet much more spectacular with all of the space of a movie studio in which to produce giant musical fantasy numbers and in the early two-color Technicolor process that predates "The Wizard of Oz" and "Gone with the Wind". The Russell Markert girls that appear as chorines in this film would, just two years later, become the very first Rockettes at Radio City Music Hall in 1932.
Rare original release trailer for "King of Jazz" from 1930, from a 16mm dupe film print (a copy not as sharp as the original 35mm) in the collection of Matias Bombal. This is the "before" restoration look of this spectacular movie musical in the early two-color Technicolor process.  Bing Crosby comparison courtesy of: TWOSTRIPTECHNICOLOR/Tumblr Film scanning to 2K digital from Matias Bombal's 16mm dupe print of this trailer by Bacos Film, http://www.bacosfilm.com
I had the privilege to have seen this new restoration in Los Angeles at the Egyptian Theatre as part of the 52nd Cinecon Film Festival a few months ago. Like many film buffs my age, I first had seen the film in one of the VHS tape versions, in the mid 1980's, which even then looked dismal, like a beat up 16mm film print poorly transferred. In spite of the mire and murk of the image, I was fascinated by what I saw and heard. Here was a slice of the best in entertainment preserved in a time capsule. I'd never seen anything like it. It fueled a passion to see it properly restored, marking 33 years of anticipation and hope to see it as it had been seen when new. Quite sincerely, to have seen it, as if for the first time after all those years was highly emotional, for there were tears of joy in my eyes as I watched its sensational beauty of picture and sound.
As I sat there next to my pal and marvelous pianist/historian Frederick Hodges in the Egyptian Theatre, things I never thought could be captured were right there before my eyes. In the "My Bridal Veil" number, a fly buzzes around actress Jeanette Loff and lands on her shoulder in a medium shot. This restoration is so good I can see a fly on the set! The amount of detail in that sequence, sourced from the original camera negative, made that musical number which had been my least favorite in the murky video version a spectacular revelation in beauty and subtle color design. I thought to myself; OK, now I get it!
In Bing Crosby's first sequence with "The Rhythm Boys", they sing "So the Blue Birds and the Black Birds Got Together" (Music by Rhythm Boy and pianist Harry Barris with words by Billy Moll). I was floored at the detail never present before on video; the sense of the brightly colored fabric pattern on the big arm chair behind Bing. The metallic variegated metal leaf on the trim of the table behind Bing and next to the chair. Fellow Rhythm Boy Al Rinker's shirt stud revealed a distinct subtle pattern never before known to be visible. It was just like standing there on the set while it was being filmed. I could go on and on with minute details of stunning beauty, but you must really see this for yourself. The "Rhapsody in Blue" with the Whiteman orchestra and Roy Bargy as the soloist is spectacular and alive.
Exclusive to the Sacramento premiere event at the Tower Theatre February 22nd are special guests from Hollywood, some who worked on the restoration. They will address the audience with stories of their efforts. Band leader Don Neely of the Royal Society Jazz Orchestra of San Francisco will chat with the crowd about Whiteman's musical contributions. Members of the family of Jack Fulton, one of Whiteman's trombone players who appears in the movie will be present talking briefly to the premiere audience about Fulton's work with Whiteman at that time.
As this benefits the Sacramento Traditional Jazz Society, you may bet there will be live music, too. Outside, in front of the theatre, the young men and women of the "Crescent Katz", well known for monthly presentations of traditional jazz in places like "The Shady Lady" will perform for the arriving guests and passers-by beginning from 6:10pm to 6:50pm. The "Crescent Katz" are Patrick Skiffington, Greg Sabin, Justin Au, Brandon Au and Priscilla Ornelas.
Inside the Tower's largest auditorium of three, No. 1, more live music may be savored from the time the auditorium opens. The precise time for seating will be determined by the ending time of the movie showing there just before the 7pm time slot. Providing selections made popular by Paul Whiteman's Orchestra inside the theatre will be the youthful, yet highly acclaimed Adam G. Swanson, noted pianist and authority of the popular song from ragtime to country-western swing. Mr. Swanson has also appeared at Carnegie Hall and The Kennedy Center and is featured summers at the historic Strater Hotel in Durango, Colorado.
The Sacramento Traditional Jazz Foundation, an educational foundation separate from the STJS which supports young musicians as they learn to master traditional jazz, will be purchasing premiere tickets to gift to young musicians in their programs enabling them to see, for free, the very music they study in its original context, enriching their musical education with this very special event on screen.
This is your great opportunity to see and hear how this music was heard and performed in its original context in splendid color and remarkable sharpness. This gala Northern California Premiere of the restored "King of Jazz", will be shown only once, at 7 p.m., Wednesday night, Feb. 22 at the Tower Theatre, Broadway at 16th Street. Free adjacent parking. Tickets are only available in advance at www.sacjazz.org for $25 per person. No tickets will be sold at the door.
There will be one day where you may obtain tickets in person however, in order to avoid the online service charge. At the February meeting of the Sacramento Traditional Jazz Society held at the Elks Lodge #6 at Riverside and Florin Road in the Greenhaven neighborhood of Sacramento, February 12th, tickets will be available from 11-4pm, if online tickets have not sold out by that date. Only 250 seats remain available at the time of this writing. What a splendid occasion to dress up and have a gala night in support of The Sacramento Traditional Jazz Society, or as the film's original tag line proclaimed, "Once in a lifetime a picture like this!"