River City Chorale to perform Disney favorites
By Laura Winn
Be their guest, be their guest. Put their voices to the test. On Saturday, March 4 and Sunday, March 5, River City Chorale will present "It's A Small World," a cabaret concert of Disney tunes at Serbian Hall in Fair Oaks. Clad in costume and accompanied by a combo band, the 60-member choir will perform each day at 4 p.m. and 6:30 p.m. for a crowd they hope includes many children enjoying the big medley, smaller chamber choir and solo arrangements. In classic cabaret style, singing servers will bring hors d'oeuvres to guests seated at themed tables and a full, no-host bar will be available.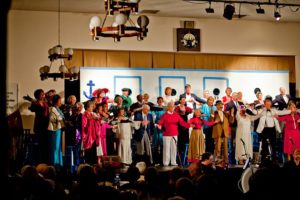 With songs spanning the decades from 1941's "Dumbo" to 2013's "Frozen," the hour-and-a-half performance, which also includes an opening set from a Dixieland jazz band, is geared toward a younger audience, explained the event's coordinator, Pam Adcock, 72. "I think it's important for kids to hear live music and see it performed on stage," she said. "It's special for a younger audience to see people actually singing live rather than just listening to music over electronics."
Board member and tenor singer Stan Muther agrees and emphasized the show is a fun way to introduce children to choir music – a style they might not otherwise experience. "One of the problems of chorale music is that it's not being taught in schools like it used to be, and church choirs are changing into praise bands. Younger people are not as familiar with it," he said. "But if kids see it, they'll become more interested, try it and continue with it for years."
Longevity in the choir world is something Muther and River City Chorale know about. This year, River City Chorale celebrates its 40th year as a group and non-profit corporation. The members, who pay their own way to perform internationally, range in age with longtime singers in their 80s and newer voices in their 40s. Muther, who turns 74 next month, is one of the chorale's most veteran members. He joined 23 years ago and has sang under the direction of three conductors and a number of accompanists. Muther says the current artistic director, Richard Morrissey, and accompanist, Dean Mara, are two of the best. "Dean is an incredible piano player. He can do anything."

Morrissey, who also directed the Yuba-Sutter Symphony Orchestra and served as the Yuba City Unified School District Supervisor of Music, created his own arrangements for some of the Disney selections. Playing Disney music is familiar territory for Mara, whose resume includes recording artist for the background tracks heard at Disneyland's Main Street, USA.
For "It's A Small World," Mara will lead the band below a large stage, custom-built by the choir. River City Chorale is in many ways a do-it-yourself operation, and finding a venue that met all of the group's needs – space for the traveling stage, plus 26 to 28 eight-person tables and kitchen storage for food and drink – was a challenge, according to Adcock, but "Serbian Hall is a wonderful venue that has everything."
The choir is also like a family, explained Adcock, who joined in 2016. "You get very close to the people that you sing with. We care about each other – not just in the music that we make, but also in how our lives go, how we interact," she said.
The members practice weekly and focus on harmonization and memorization. The latter is the more challenging part, according to Muther. "Memorization gets harder as you get older," he quipped.
For the upcoming concert, Muther had to learn a lot of songs that were new to him, including the Oscar- and Grammy-winning, "Let It Go." In fact, Muther said he only watched "Frozen" for the first time a few weeks ago. "But my grandkids had seen it, of course. They knew all the songs," he added.
With numbers from "The Little Mermaid," "The Jungle Book," "Toy Story" and more, the group hopes children and adults alike will know all the words and hear their favorites in a new way.
"It's A Small World" is River City Chorale's most popular concert and is expected to sell out. Seats are available by calling 331-5810 and by visiting rivercitychorale.org. Tickets cost $25 for general admission and $15 for children ages 5 to 12. Serbian Hall is located at 777 Sunset Ave. in Fair Oaks.