Local author to discuss romance thriller at Arden-Dimick Library book talk
By Monica Stark
editor@valcomnews.com
For years the CIA has been trying to capture the elusive criminal, the mysterious drug lord of all the Americas and possibly beyond, El Tiburón (The Shark). Meanwhile, a character named Sean and his partner Gary are on a routine CIA operative in Guatemala. They've cornered El Jefe (The Boss) in Antigua. El Jefe retaliates by kidnapping Sport (Dr. Janet McGee), which is a mistake he will pay for. She is brought to his compound, escapes, ends up at the garbage dump, and the Guajeros rescue her (the people group living inside the dump in Guatemala-true fact). Amidst all this chaos of trying to figure out where his wife has disappeared to, the elusive El Tiburón surfaces. A story about love and doing whatever needs to be done to save your family, "El Tiburón", a romance thriller answers the questions: Does he save her? And, does The Shark slip away unscathed once again? That will be revealed in the book by local author H. Schussman (Heidi Gilbert). On Saturday, Jan. 28 from 3 to 4 p.m. at the Arden-Dimick Library, Schussman will talk about her experiences in Guatemala as well as her book "El Tiburón," which is set in a Guatemalan drug and sex trafficking cartel.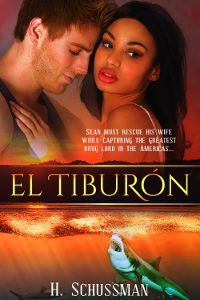 Discussion will also include her first book Counterpart (featuring Sean and Sport) as well as her current work in progress. The author will be happy to answer strategic questions about writing and getting published. Copies of her books will be available for purchase.
In an interview with the Arden-Carmichael News, Schussman stated her books have a hard time finding their place in the world of genres. "The romantic element comes from the intense love between Dr. Janet Warrick and Agent Sean McGee which develops in the first book, Counterpart. That book, as well as El Tiburón and the other two I'm working on are conspiracy/ action adventure/ military and CIA procedural. It was exciting to be published as an ethnic (she's African-Japanese, he's Caucasian) romance writer, because it acknowledges long-term serious love. This husband and wife team is a force to be reckoned with."
Schussman and her very own husband welcomed a Guatemalan youth pastor into their home about six years ago. After living with them for seven months he returned home and took their hearts with him. Subsequent trips to Guatemala have been, in part, to see him. They have attended total immersion language school for many years in various parts of the world. Twice, they stayed in Antigua, Guatemala for a month to immerse themselves in the ancient Mayan culture. Living with the local families, they experienced things from a unique perspective. "The ruins in Antigua are amazing," Schussman says. "Probably a fourth of the city is old earthquake-shaken ruins. Nature herself seemed to create the most memorable experiences with torrential downpours turning streets into rivers and earthquakes that send everyone scurrying into the streets to escape possible rubble. I still remember sitting at the dining room table when one hit. The 85-year-old grandmother threw up her hands and yelled 'terremoto' and sprinted out the front door. My husband and I just watched in wonder and then decided we ought to follow her. It's quite an experience to be standing outside with 50 neighbors giggling nervously.
The religious component of this Antigua and Lake Atitlan is truly remarkable. Semana Santa (Holy Week) is a show stopper. I couldn't resist writing about the processions winding through the city from multiple directions. These processional floats are easily as big as a Greyhound bus. It looks as though it is supported on the shoulders of at least a hundred men in hooded robes. It is preceded by the priests swinging potent incense burning lanterns. As remarkable as this is, I was even more fascinated by the intricate alfombras (carpets) made of flowers that completely covered the procession route. To see the time and effort put into making alfombras for weeks in advance, get destroyed was kind of beautiful."
Schussman has started writing a book about a woman from her age of six in the 1950s to her death, but she had such a call for more adventures of the McGees that she put her family saga on the far back burner. She now has two McGee books in the works. "I don't know which one will be finished first," she says. "Right now I am feverishly trying to keep up with Sean and Sport in Colombia. They went as adult chaperones with a church youth group of eight kids. Of course things don't go as planned and I've been trying to get these teens back to safety. The other book is about the pirating of small luxury yachts off the coast of Costa Rica."
Discussing her writing process Schussman said it's a series of stops and starts. "It's sort of like having a split personality. My creative side writes the book, but my analytical side argues about believability. I seriously dislike books without a believable storyline."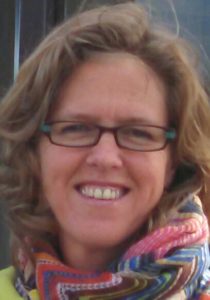 And so, Schussman researches everything she doesn't know firsthand. A physical therapist specializing in psychiatric and cognitive disorders, she sometimes steps out of her comfort zone and researches topics unfamiliar to her. For instance, while she has shot guns since she was 5, her characters have guns she never held. So, back to the researching for Schussman. "I have to use the proper military, police, and spy terminology. When I feel I could just as easily kill off my bad guy while he's sitting in the bathroom, I rewrite it. It is a very long process. When I finished El Tiburón I had several people read it for flow and character development, and I listened to their advice. I frequently send snippets of agent chatter to people in the spy/agent field to confirm I'm on the right track. For my military terminology I research it online."
Once she has written a scene, she then writes it into the outline, she explained, extrapolating that the outline comes second. "It is used as a reference. I also create a character details list, so I don't forget someone's eye color, or the dog's name (I have a lot of pets in my books). Once I consider the book finished, I go through it with a fine-tooth comb to remove extra words and sentences. Then off it goes to a minimum of three proof-readers, with at least one of those being a male," she said.
Asked if there was anything to add, Schussman said when she was young, she loved novels with flawed characters, a love that has shaped much of her writing style. "I love unique characters with real flaws or disabilities to stretch the reader. I want my reader to have learned something new and maybe a little challenging after reading my work. I avoid the patronizing tone and leave the characters to fend for themselves as they do in real life. In El Tiburón, I introduce a successful bodyguard who has paranoid schizophrenia. His audio hallucinations are part of the dialogue, making for an interesting mix. Craig is also in my pirate book. I also have heroic group who keeps Sport alive in El Tiburón: the Guajeros. The Guajeros are the lowest caste system in Guatemala. They have the nickname Cockroaches, because they have lived in the Guatemala City garbage dump for generations. There were 11,000 at last count living there, 6,000 of which are children. Without holding back on their deplorable living conditions, I write about how they maintain their own subset of ethical standards. Essentially I write about survival."
If you go:
What: Author Talk with H. Schussman
When: Saturday, Jan. 28 from 3 to 4 p.m.
Where: Arden-Dimick Library, : 891 Watt Ave., Sacramento.
Links:
Publisher of El Tiburón- http://www.vinspirepublishing.com/schussman-h
My author blog- http://hschussman.blogspot.com/
Travel blog- http://dashingboldadventure.blogspot.com/
Food/wine blog- http://the1stmiracle.blogspot.com/
Instagram- https://www.instagram.com/h.schussman/
Facebook- https://www.facebook.com/h.schussman/
Twitter- https://twitter.com/hschussman
To see images of the Guajeros simply Google "Guajeros Guatemala" and click images.