Matías Bombal's Hollywood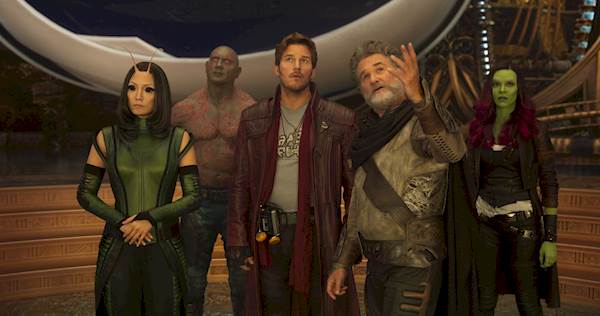 Guardians of the Galaxy Vol. 2
The MPAA has rated this PG-13
Walt Disney Studios Motion Pictures releases Marvel Studios' "Guardians of the Galaxy Vol. 2". Fans of the first movie will not be disappointed; the cast returns with the same familiar conversational style that made the first move seem so natural, despite the back-drop of outer space fantasy and comedy which is about as far from natural as it is possible to be, especially a movie based in the Marvel comic book world.
Director James Gunn ensures a good time from start to finish as the Star-Lord, Peter Quill (Chris Pratt) gives us a soundtrack with his Sony Walkman playing "Awesome Mix Tape #2" offering 1970s and 1980s pop hits which will appeal to Generation Xers and older as the story unfolds. The returning onscreen cast includes Zoe Saldana (Gamora) and Dave Bautista (Drax). Voicing animated creatures are Bradley Cooper (Rocket) and Vin Diesel (Baby Groot). Joining the cast of this new installment are Sylvester Stallone (in outer space!) playing Stakar Orgood, and Kurt Russell as Ego.
Peter Quill and the guardians must save the galaxy from Ego and his plans for domination; but the road there is peppered with adventure and plenty of laughs. Baby Groot is quite the dancer, answering only with "I am Groot" in every communication, and Pratt's likable "Quill" remains the fun character that he established in the first picture, with his hidden passion for Gamora growing. Marvel comic legend Stan Lee makes his perhaps funniest cameo yet. You'll want to stay through the credits for this one, lots of fun from when the movie starts to when the lights come up.
---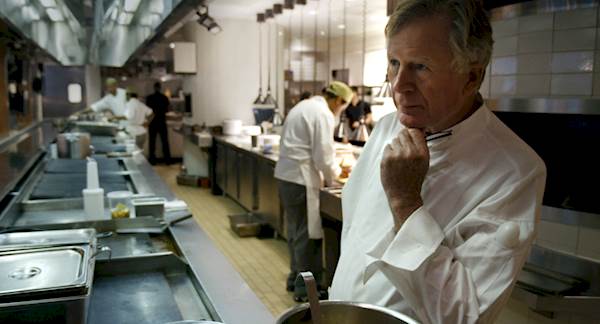 Jeremiah Tower: The Last Magnificent
The MPAA has rated this R
The Orchard releases a documentary by Lydia Tenaglia about Jeremiah Tower, the hedonistic personality of the world of fine cuisine, a pioneer for today's food culture who felt "Everything that is real for me is fantasy for others". Martha Steward calls Tower, "The father of American cuisine". We learn of his influence in the Berekely, California restaurant, Chez Paniesse, beginning in 1973, described by one interviewee as a "hippie drug ridden explosion in a playpen" and how Tower turned it into a place to be seen and to eat well, garnering such success that before he left, some gourmets were flying in from across the globe just to dine there.
Tower speaks of his earliest days with wealthy globetrotting parents, who seemed little aware of his existence, leaving young Jeremiah to be attended to by hotel employees and ocean liner stewards year round. In this loneliness, he developed an interest for food and its presentation at the highest standards from some of the most refined hotels and ocean liners in the world. He specifically recalls that he fell in love with first class on steamships with a bowl of consomm? served by the steward, and from that moment on, food was his best pal, his companion.
Channeling keen observation skills and his desire to recreate the elegance and experience of fine living, he honed his talents at Chez Paniesse, then left to open a sensation in San Francisco, "Stars". Tower says, "I aim for the crown but I always know the Guillotine is in sight". In the case of "Stars", it was the Loma Prieta earthquake of October of 1989 that sealed his fate. No one came in following the earthquake. We learn the various aspects of this indefinable man through many noted personalities of that world; Anthony Bourdain, Mario Batali and other celebrity chefs.
A grand bon vivant, Tower left and virtually disappeared until just a few years ago when the new owners of Tavern on the Green in Manhattan engaged him to bring some magic to their somewhat clumsily managed operation. As an employee, Tower did not last effectively. It was far too difficult for a man not to exact total control, a man that held Lucius Beebe as his greatest personal hero.
Thus, he ventures on to the road ahead. One friend relates, "We need Jeremiah Tower in this world, if for nothing else but to teach… Not just about cooking but about style, it's a beautiful style, something that elevates us and brings us out of the muck… something that brings us out of the mediocrity and the vulgarity in which we are forced to live." I was not initially interested in this documentary, before having seen it for writing this review, but felt such a kinship to Tower after seeing it, I am so glad that I did. You'll be glad, too. It celebrates the highest levels of the human spirit.
---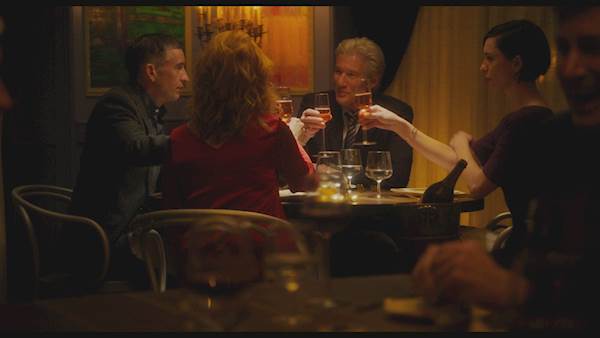 The Dinner
The MPAA has rated this R
The Orchard releases a movie written and directed by Oren Movernam, based on the novel by Herman Koch. The well-to-do Lohman family's dysfunctions are observed when a tragedy forces them to congregate for a dinner in a fine restaurant that devolves from the first course, the aperitif.
The picture stars Steve Coogan as Paul Lohaman, a history teacher specializing in civil war, working on a grand offering about Gettysburg. He is frustrated with social media arguing "History can't compete, history is over, as everything is happening in the second." He is rigid in his thoughts and lightly disturbed, as we later find out. His wife Claire is played by Laura Linney. Paul's brother, a busy congressman running for governor is played by Richard Gere. As the story unfolds, we find he is the most centered and decent of them all, a clever contrast as politicians are usually depicted as something less than ideal. Paul's new wife Katelyn is played by Rebecca Hall.
In due course, or in this case, courses, which include ongoing onscreen titles announcing the advancing segments of the movie; Appetizer, Main Course and Cheese Course, we arrive at the crux of why this meeting has occurred. The children of both brothers comprise of Barbara Lohman, played by Chloe Sevigny, two Caucasian boys and one African American that had been adopted, now in their late teens, all "infants terribles", in fact MOST terrible.
Young Michael Lohman is played Charlie Plumber, a youth of privilege and no emotion or redeeming social value, illustrated in the movie's most horrific scene, where he is disgusted by the smell of a homeless woman sleeping amid rags in a sleeping bag in a weather enclosure of a bank's exterior ATM bay. He and his cousins antagonize her, kick her, toss garbage on her and when she refuses to move, Michael starts lighting matches and begins to throw them at her. At this point, Beau Lehman, the adopted African American runs off and secretly records this heinous cruelty with his cell phone, capturing the worst moment of all; when the woman's sleeping bag catches fire and she is burned to death.
At this point Beau, never given serious fraternal consideration by his cousins, begins to blackmail Michael and his mother by sharing the video online, threatening to reveal the killer as Michael. Claire is protectively keeping this from history teacher Paul, her husband, fearful it will destruct him mentally. She is convinced that her son can do no wrong.
Thus, the tension mounts during this dinner as past angers are reinforced and an unforgivable crime has been perpetrated by their sons. This is sure to kill Stan Lohman's run for governor and unbind this family. This movie is so difficult to watch because of the depiction of the crime of the sons. Richard Gere is excellent at the congressman, the only one in the bunch that realizes his kids are more important than his career and that they should be held accountable for their horrific actions.
As an ensemble, the cast is excellent from the dramatic perspective, yet they play such insufferable self-centered roles and so well, you begin to despise them. This is an uncomfortable movie to watch, fascinating for those that love the art of acting, but not easy to enjoy as entertainment. It is more of a challenge, likely what director Overman wanted all along. Not what I enjoy, but I can't stop thinking about it.