City to release prioritized list of expectations for Panama Art Factory building owner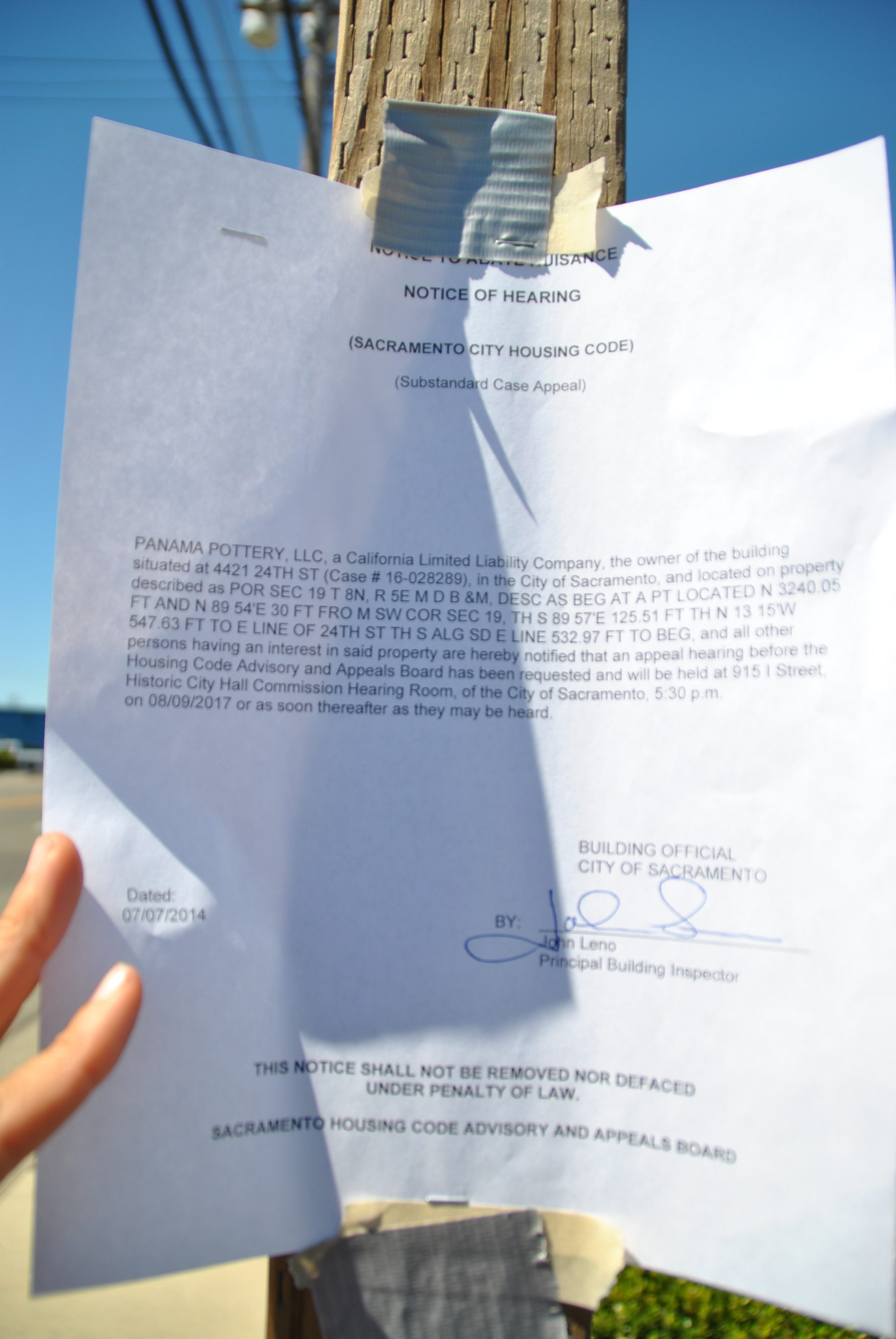 Sacramento City Council Member Jay Schenirer's office provided the following statement when asked for an update regarding the notice for artists to vacate the Panama Art Factory building:
"The Council office met with the building owner to discuss addressing code and safety violations as quickly as possible. City officials, including the Community Development Department's Housing and Dangerous Buildings Unit and Fire Department did a thorough walk-through this week to identify and prioritize specific actions that the building owner must address prior to occupancy of the Panama Art Colony buildings. Staff will provide Mr. DeCamilla with that prioritized list next week, which would be outlined in a Stipulated Agreement along with timelines and expectations of the owner to complete these corrections.
"Currently, the building does not meet city and state safety codes. The notice for tenants to vacate the property is still in place, and must be complied with by July 24. On Wednesday, when we did the walk-through, most of the artists had vacated their spaces.
Initial follow up with Mr. DeCamilla indicate that he is dropping his appeal, and hopes to work with us to quickly address the violations."
**********
Summarized background from previous story, which in full, can be found at (www.valcomnews.com/?p=21111)
Ten days to vacate. Met with that message upon arrival to their artist studios at the Panama Art Factory on the afternoon of Friday, July 7, tenants spread shock waves across social media asking their legions of friends and supporters where might they house their art supplies.
The City of Sacramento Community Development Department posted a laundry list of building violations from shoddy electrical and building artist studios within the old factory without a permit.
Meanwhile, building owner Dave DeCamilla put a call into Council Member Jay Schenirer's office asking him to stop the evictions and to take a closer look at the safety of the building. "
Two separate entities, Panama Pottery and the Panama Art Factory, fill the space now at 4421 24th St. The retail yard, Panama Pottery, did not get an eviction notice, while artists inside the factory are being asked to leave. A haven for artists, the Panama Art Factory houses 30 studios that DeCamilla had built. Varying in size and rent prices, artists can pay anywhere between $150 to $350 a month for space. Previous tenants have included notable clay artists like Marsha Schindler. Fewer clay artists have filled the space since the branding of the Panama Art Factory, while more and varied artists work out of the space.
One of the requirements the city has asked DeCamilla is to change the usage of the building from factory to business mixed use. Such violations provided by the city, in part, include the following: that the "pottery factory has been converted and being used as an artist studio, retail art gallery and according to the complaint, has living quarters on site"; that it has "faulty equipment or wiring presenting a hazard to person or property"; that there are "inadequate exists — minimum exiting as required in building codes for second floor loft spaces"; that the landlord provide required ventilation fan.