Elmhurst resident Amreet Sandhu honored by National Lawyers Guild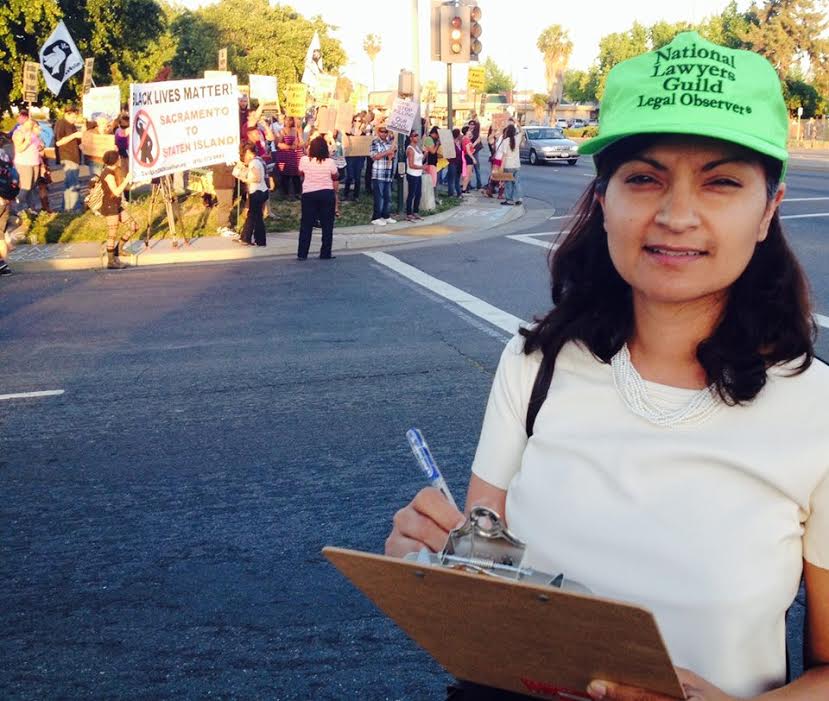 By JoAnn Fuller
Special to the East Sacramento News
Have you ever been at a demonstration and noticed folks with neon green hats taking notes? These are legal observers who have been trained by the National Lawyers Guild (NLG) to support people in expressing their political views as fully as possible without interference by the police. These lawyers, legal workers, and area law students often follow cases from arrest to trial providing pro bono legal defense for protesters charged with any number of crimes that could silence community voices and hinder local resistance work.
We are fortunate in Sacramento to have such an active program of passionate and skilled legal professionals serving our community. Among the many people we have to thank for this, one person deserves special thanks: Amreet Sandhu! In fact, Amreet has done such outstanding work that the NLG is honoring her this summer with a national award for her work in organizing Sacramento's local chapter.
In addition to her work with the NLG, Amreet has been actively improving our community for years in many other ways. A native Sacramentan, Amreet attended local public schools, graduated with honors from UC Santa Cruz and received her JD from Lewis and Clark Law School. Most recently she served as the president of her local neighborhood association. But after the last election, Amreet understood that there would be lots of reasons to protest and that folks would need support in raising and elevating their voices.
She organized a formal NLG chapter, recruited outstanding board members, and creating committees focused on NLG work such as legal observing to ensure demonstrations are monitored by trained observers, and "Know Your Rights" trainings for several community organizations working on wide variety of policy issues from Black Lives Matter and Immigrant Rights to International Law. The chapter also includes a United People of Color Caucus and a Queer Caucus. When not in green hats, NLG Sacramento works regionally, nationally, and internationally to push forward progressive policies protecting vulnerable communities.
Amreet's work has made Sacramento a safer place for those engaged in protest, energized the local progressive legal community, and involved more people from a variety of backgrounds to prioritize human and civil rights. In gratitude, and to show their admiration, her friends and colleagues are arranging for an ad to be designed and illustrated by Sacramento Bee editorial cartoonist, Jack Ohman, for inclusion in the program for the Guild's 80th anniversary dinner in Washington, DC this summer.
For those who may not know, the National Lawyers Guild is the oldest and most extensive network of public interest and human rights activists working within the legal system. Founded in 1937, this association of progressive lawyers and jurists has for many years played an important role in many struggles for civil and human rights throughout the nation. It is an honor for one of Sacramento's own to be celebrated at the national level by such an esteemed group!