Kennedy HS Student Selected for national Student Leaders Program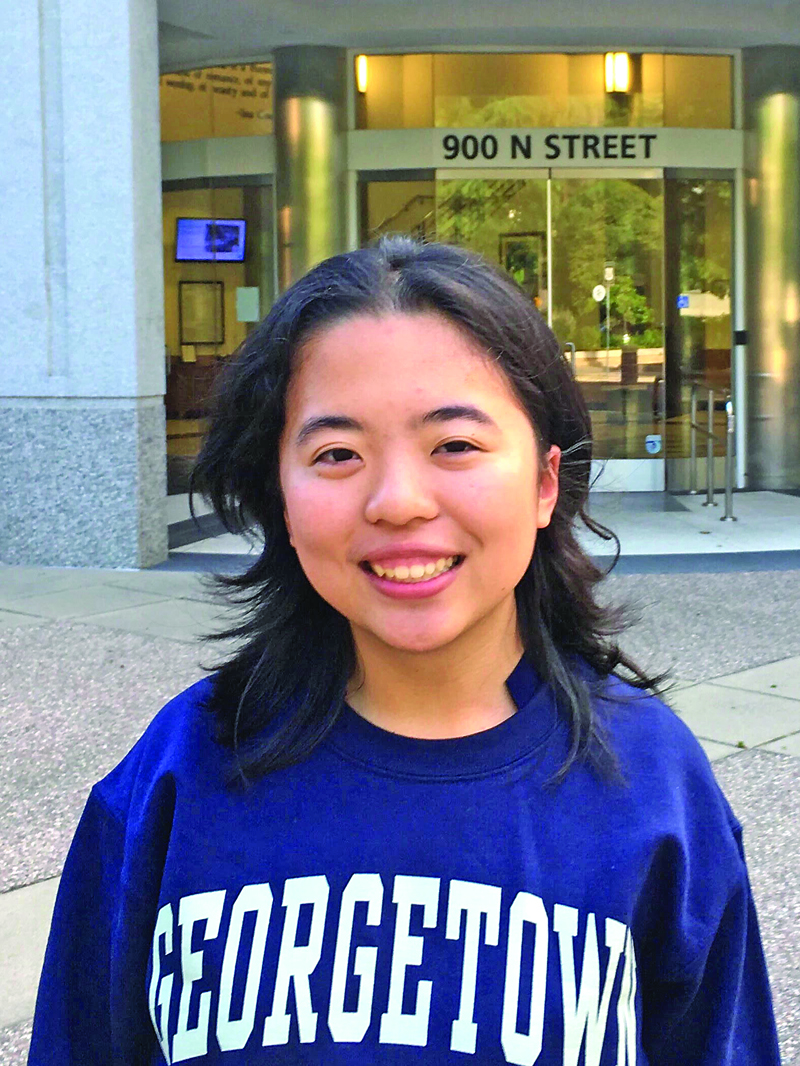 Bank of America announced that five high school juniors and seniors from the greater Sacramento area have been selected as Student Leaders. One of them is from John F. Kennedy High School. Part of the company's three-year $40 million commitment to connect youth and young adults to skills, training and jobs, the program offers high school students who are engaged community citizens – an opportunity to build their workforce and leadership skills through a paid summer internship at a local nonprofit and participation in a national leadership summit in Washington, D.C.
The student from Kennedy is Baoyi "May" Tan, a senior. She was chosen for her demonstrated leadership and commitment to the community, including as a field intern for Mayor Steinberg, a Sacramento Youth Commissioner, American Red Cross committee chair, JFK Green Catalyst Club President, and volunteer and board. Member of Sacramento Zoo Teen program. May says about civic and community engagement, "The lack of political efficacy and community involvement, especially among young adults, has plagued my community. There are an increasing amount of excuses not to be involved. My job is to create excuses to be involved."
She plans to run for office in the future, adding "If I am ever going to be a US Congresswoman, I will need to act like one. Which means I have to start meeting with like-minded leaders."
In a letter of recommendation, her teacher says, "Boayi "May" Tan is one of the most phenomenal students I have had the pleasure of working with during. My thirteen years as a school counselor. Her academic ability, coupled wither desire to help others sets her apart from her peers."
May came to the United States from China when she was just 7-years-old. She can recall how scared she felt. Her desire to help others stems from these early experiences.
May will attend Georgetown University in the fall.
In Sacramento County, according to the State of California Employment Development Department the youth unemployment rate was 24.8% in 2015. When young people can't access early employment opportunities that build their skills, they are at risk of being left behind and not finding a meaningful job that puts them on a path to success.
The Sacramento Student Leaders will work at the Boys & Girls Clubs of Greater Sacramento, Teichert Branch during the 8-week summer program, during which time they will participate in a variety of jobs in the areas of Human Resources, Board & Executive Leadership, and Resource Development, in addition to planning and facilitating youth activities and programs. They will attend weekly roundtable discussions with department leaders and board members, committee and management team meetings, and community partners meetings.
Joining Tan as a Sacramento Student Leader are: Shreya Balaji, a senior at Folsom High School, Folsom; Joseph Goulart, a recent graduate of Union Mine High School, Cameron Park; Diego Haro, a senior at Cosumnes Oaks High School, Elk Grove; and Calvin Wong, a senior at Franklin High School, Sacramento.
"We want to give young adults hands-on opportunities to build their careers and contribute to society," added Key. "It is truly the best way to build the talented and diverse workforce of our future here in the Sacramento region."
During the program, these five students joined the more than 200 other Student Leaders from around the country in Washington D.C. from July 9-14 for Bank of America's Student Leadership Summit. As part of this week-long convening, students helped build advocacy and inclusive leadership skills, met with members of Congress and participated in a service learning project. There are 80 student alumni from the Sacramento market, and nearly 3,000 Student Leaders across the country have gained skills and workforce experience through the program since 2004.
*********************
IN HER WORDS:
Being a part of the Bank of America Student Leaders Program has been a great learning experience. From the first day of my internship at the Boys & Girls Club with the four other Student Leaders from my Sacramento market group, I knew that this experience wouldn't be like any other. During my time there so far, I was able to sit in on several hiring interview, learn about the day-to-day tasks of employees around the office and the club, and work with BGC members by assisting in its summer camp classroom. What I've learned there so far are all things that have allowed to be a well-rounded worker and understand what it takes to run a non-profit, something that I hope to do someday. The attention that my market group and I get there from the staff to ensure that we're getting the most out of this experience is exceptional, and quite frankly, something that I've never experienced to this level at any of my previous internships. Not to mention, the great food they feed us is a pretty awesome perk too. The other Student Leader interns and I often joke that this is the peak of our career and we'll never get a job better than this.
I'll admit, I'm not exactly aiming towards a career in child development, rather, I find myself leaning towards international affairs and politics (I'm going to college in the fall to study this field), but my participation in the Student Leaders Program has contributed to my interest in politics as well. A few days ago, I came back from a week-long leadership summit in Washington D.C. with Student Leaders from around the country. In addition to sitting in on panels with non-profit leaders and meeting like-minded youth from across the country, we were able to learn about American democracy and citizenship utilizing our country's capital as a living classroom. To ensure that we get the full experience of our democracy at work, we also spent a day on Capitol Hill meeting with staffers from our representatives' offices discussing issues that we care about. Oh, and it was pretty cool to bump into my inspiration Senator Kamala Harris in the elevator lobby of the Hart Senate Building and meet Representative John Lewis on the steps of the U.S. Capitol as well! Having taken AP government earlier this year at school, I know from first hand experience that there are some things you can't quite learn in the classroom, and my time in D.C. fills the gap.
This program has been one of the greatest learning opportunities I've ever come across and I feel extremely fortunate to be able to be selected as a Student Leader out of a competitive pool and gain so much from it. To me, being in this program is so much more than an addition to my résumé, but rather, it is the skills I got to learn, the friends I got to meet, and the human connections that I got to make that made it an irreplaceable and memorable experience.
-John F. Kennedy graduate Baoyi "May" Tan, class of 2017