KVIE studios presents "Stories" — a Jared Konopitski solo show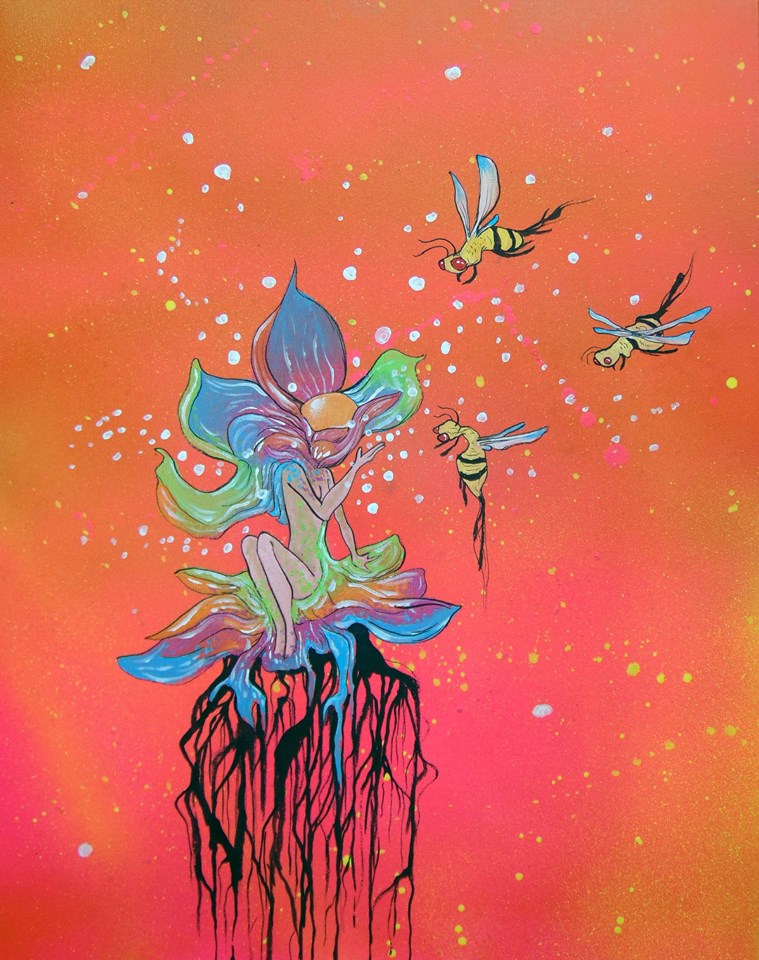 By Monica Stark
editor@valcomnews.com
Colorful, playful, youthful, curious — these adjectives of delight and wonder cannot begin to describe the work of local artist Jared Konopitski whose solo show beginning Thursday, Aug. 17 inside the KIVIE Gallery, 2030 West El Camino Ave., invites the viewer to experience fables, stories and colors through a dozen of his paintings. Each piece displays a fragment of a story or a narrative that never existed — a window, he says, into a larger story. And what that story is, will be up to you, dear reader.
Some made from scratch; others built upon paintings found in thrift stores and antique shops; and some found in the artist's dreams, each of Konopitski's pieces has a title, a story in itself, he says — a two to three sentence mini-story telling fables that never existed.
"Collaborations with discarded stories, breathing new life into unwanted frames," he explains, all as a tribute to the paintings he's donated to the KVIE, (Sacramento's local PBS station) art auction for the last few years.
As the artist spray paints his canvas and splattering it with the drops, Konopitski then lets the colors drip and inspire his design. From there, he draws right onto the canvas. Making the process sound easy, he says, once he has his composition ready, he paints it in with acrylic and brings it all together with black lines and extra details with his ink and brush. For the found paintings, he scours antique shops, garage sales and thrift stores for scenes or art that "seem to need a visit from my critters."
He paints what his mind sees, sometimes to his surprise. "I will also find myself inspired by random places like the rainbow swirls in a parking lot oil spill, or the strange creatures living under rocks, and the way a shadow might land against the wall in my kitchen," he says.
Having taught art the Crocker Museum, Konopitski also has had work published in Heavy Metal Magazine, The New Yorker and Color Ink Book. He made his own comic book through 4th Way Comics and contributed to Arcana's Steampunk Originals. Additionally, he's had work displayed in the offices of Mad Magazine, and shown in Ireland, Peru, China, all over the United States and beyond. Always working on something new, he searches for as many opportunities as possible.
Having started his craft of drawing and creating since he was a "wee little child", Konopitski said inspiration began with Mark Kistler of Imagination Station (which he watched on KVIE as a child) Dr. Seuss, Mad Magazine, Looney Tunes, Spike and Mike's Animation festivals, not to mention a whole backyard filled with bugs, plants and critters.
"I picked up the crayons and never put them down. I never really considered myself as an artist, I just loved to create and draw," he says.
"The 'artist' title was not really taken seriously until my mid 20s. It all started with a coffee shop show and eventually grew into international shows, museums, magazines, comics, TV and more! There was never really one show or one place that lead to these experiences. I believe it was my passion for creativity, my goal to be kind to all I encounter, and the obsession of challenging myself with new projects led to the opportunities and successes."
Last Christmas, Konopitski became a father for the first time, and since then new pieces of work show a younger side — another surprise to the artist. "I thought since I am basically a kid at heart (I love candy, watch cartoons, draw and curious about everything) that my art would stay the same, and although my art style is still the same, my subject matter has changed to adding quite a few new little baby critters and nursery rhyme elements. It surprised me, but I love this new element. Plus, my new little human helps me grow and learn with a fresh perspective and a love I have never known before. I guess it was inevitable this would change my art in some degree."
Without a specific goal, other than to create ways to have his art support itself and lead to opportunities that advance his craft as an artist and his personal growth as an individual, Konopitski is excited to see the journey and says he's honored to be along for the ride.
On Thursday, Aug. 17, there will be an artist reception at KVIE from 6 to 8 p.m. inside the KVIE Gallery, 2030 W. El Camino Ave. The show continues through the end of September. He also has a piece at FE Gallery (1100 65th Street) in the Tiny Monsters show, joining Bruce Gossett, Suzy Goodwin, Susan Silvester, Claire Voigtlander and more. "It's a whole show of mini creatures guaranteed to be awesome," he says. Details at fegallery.com/.