East Sacramento comedian releases "Big Book of Jokes"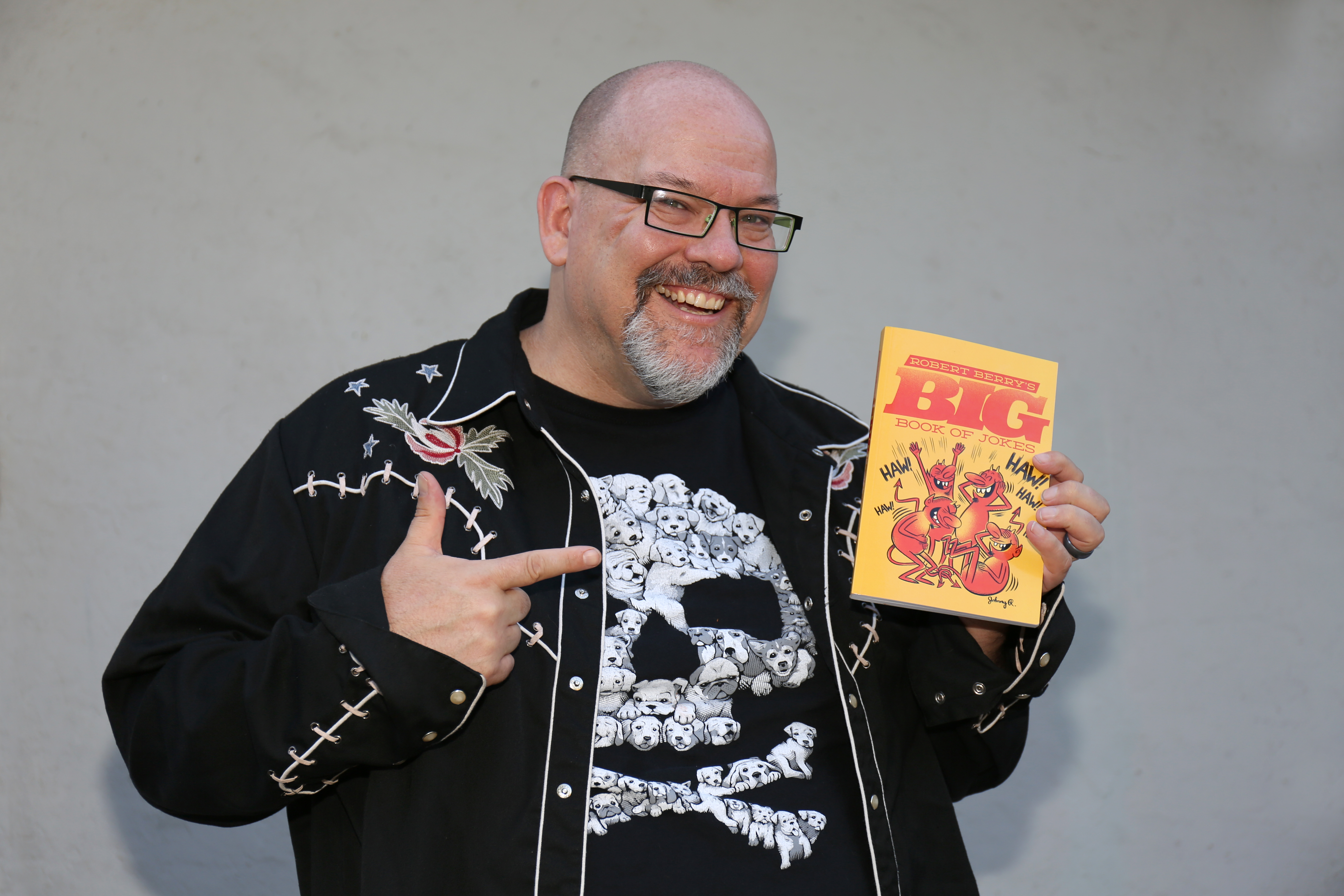 By Monica Stark
editor@valcomnews.com
When he was just a wee lad, Robert Berry was the shy kind of class clown. Writing jokes on his homework for his teachers to read, while passing around joke books among his classmates, Berry shied from the spotlight of school-day showmanship. "I wasn't a noisy and boisterous class clown that wanted all the immediate attention. I was pretty shy in a lot of ways," he says today.
And yet, where are you likely to find him today? The stage.
From the Punchline to Laughs Unlimited, to dive bars like On the Y, as well as Bay Area venues and spots in towns like Gustine, Turlock, Mill Valley and Arcata, Berry has made a career out of performing those comedic one-liners, those groaners, those laugh-out-loud, out of left field cheese-ball jokes.
And now, this East Sacramento comedian has added another trick to his bag – a collection of sorts, a tribute to the dirty and tasteless joke books he grew up with. Aptly titled, "Robert Berry's Big Book of Jokes," the collection, is chock-full of nearly 1,000 jokes. If the Motion Picture Association of America were to give it a rating, they'd likely give it PG-13 or R rating.
Going old-school with this release, Berry and his wife put the books out in the mail themselves upon a customer's payment. With some good pre-order attention, the mom-and-pop operation sold about 80 copies before they came out. A biased friend endorsement goes as follows: It was the last time he ever saw his dad reading a book.
The book also provides an outlet for Berry to share his humor with friends who live afar.
Recalling a bit more of his school days and the beginning of performing in front of others, Berry said he signed up to try out for the school talent show as a violin player, but about an hour beforehand, he made the quick decision to tell jokes instead. He jotted some things down, to which he likens to material that Fozzie Bear from the Muppet Show may have uttered.
After one joke into the fifth grade performance, Berry panicked, cried and went home. It was many years before he tried that again. But his love of joke books never wavered. He'd memorize those jokes, shaping the kind of comedy he performs. Hitting up the local circuit for the last five years Berry has traveled, sharing one-liner after one-liner. He's also host to the weekly open mic at On the Y on Fulton Avenue.
A "great classic dive bar", On the Y is home to a "fun and different type of crowd," he says. "They're not the most polite, quiet crowd. It can get boisterous compared to a comedy club. On top of that, it's a different caliber of folks that come and perform there. A ventriloquist would show up, all kinds of stuff that's pretty silly. I went there for karaoke because one of my first loves is singing and I saw they had an open mic comedy night. I checked it out and gave it a try."
After the longtime host stopped running the open mic, Berry said he thought that was the perfect time to take it over. With 20 comedians a week, the open mic night starts at 8 p.m., with sign-ups at 7:30 p.m., on a first-come, first-serve basis. Karaoke starts at 10 p.m.
Asked if he ever tells a bad joke on purpose, Berry said, "Oh yeah! There's some jokes that are darling jokes to me and they're so stupid and the crowd will let me know that they agree with me. I love it when you tell a bad joke and the crowd just goes, 'awwwwwww, man', and shakes their heads. But, they're so appreciative in a way that there's no hatred there. They're just like, 'I can't believe that was the punchline' but it gets them. And I rather have that than silence."
Concerned about the audience reception, he says he's performed shows where tears were shed with groans mixed in. It's as if time slows, he says. "Sweat's drippin' out of your forehead and it's like the water faucet's on and it's a slow torture."
Of his long drawn out jokes, Berry becomes the ghost of Jim Kerr, lead singer of Simple Minds. Satirical in tone, he sings, "Hey, hey, hey. Whoooo, whoooo, whoooo" as he introduces "Don't You Forget About Me", a song featured in the 1985 John Hughes Brat Pack movie, The Breakfast Club.
"It's so dumb, and it has such a big build up to get to that and you expect a tomato to come flying at your head. People will tell me how dumb that joke is and then sing it to me. It sticks with them. I've got a lot of jokes that are stupid and hard to forget."
In 2010, Berry moved to Seattle for about 10 months for a job, while his family stayed in Sacramento, but the job didn't work out and he came back home. In the interim, he frequented karaoke bars and got hooked singing along to The Violent Femmes, Prince, Queen. "I just enjoyed it. I was conscientious at the time to make my voice better, louder and clearer." That's why he enjoys hosting the show at On the Y. Berry says they have a great karaoke book there with thousands of songs, featuring some of the weirdest, most obscure stuff.
Being a comedian is a weird existence, he says. "There might be five people in the audience staring at you and you just bomb miserably and you go home depressed. You can go from the extreme of having a giant crowd of people cheering and laughing through what you say to just complete silence and this gruesome gray fog that just hangs over you after you're done."
And that's what's great about performing comedy, he says. Any night could be either one of those things. After all, even the best comics in the world can bomb. "You grow from it and that's how you get better," he says.
Enjoying the performance of the "little quick jokes", Berry says it's great when you can get an audience behind that format, as most comics perform longer-form comedy. Comparing the two, he says, "If you got an hour to perform and you're doing little jokes that could be 120 jokes that you gotta tell (versus) six or seven longer bits of the traditional comedy form. It's different. So there are a lot more chances for people to laugh or not laugh when you're done. So, it's definitely a skill-building thing. Bill Cosby – the long form is his bread and butter; Rodney Dangerfield does the quick ones. I love them both, I just happen to be better at the quick ones. Just like some people can run a marathon better than a 100-yard dash. There's a silliness to the one-liners that you got to get into and you have to power through them. If you tell 20 jokes and some of them don't get the biggest laughs, you got to believe there's the best jokes that you're telling."
"I'm an older comedian and there's a lot of young ones that are starting out. I turn 48 this year. So, my 20-year plan at this point is just being alive."
********************
Find Robert Berry online at retrocrush.com. There you can buy a copy of his book and find more details and pricing information for the following shows:
You can catch Robert Berry live in comedic form on Aug. 16 at 8 p.m. at the Punchline (2100 Arden Way), Aug. 18 at the Blue Lamp (1400 Alhambra Blvd.), Aug. 30 at the Pizza Factory in Turlock (1050 W Monte Vista Ave), Sept. 1 at the Variety Club  582 Market St.) in San Francisco, Sept. 6 at Kozy Kar (1548 Polk St.) in San Francisco or at the Crawfish Fest at the Yolo County Fairgrounds (1250 Gum Ave., Woodland) on Sept. 9-10.