Barrio Café temporarily closes its doors to the public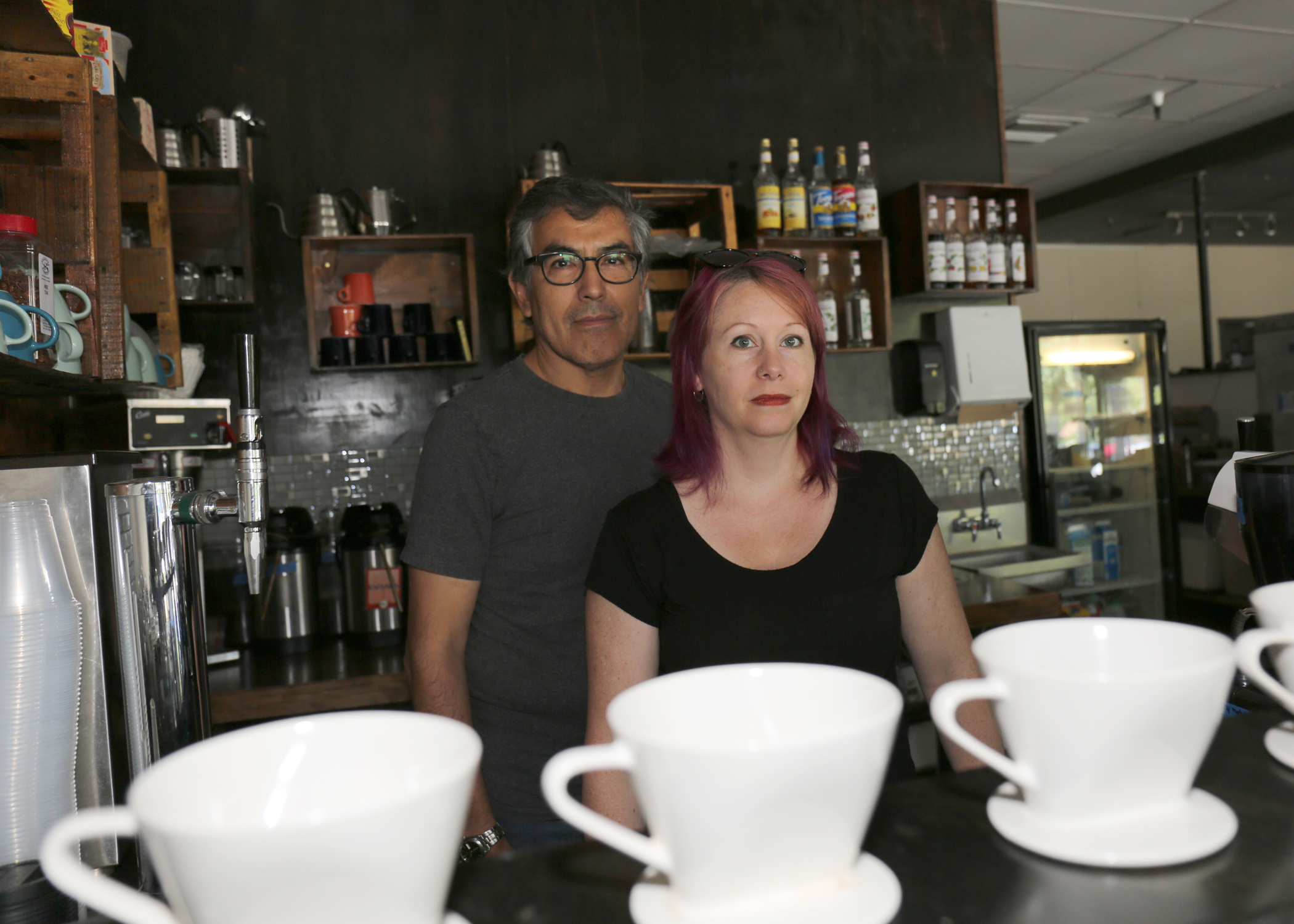 Photo by Stephen Crowley
Sergio Barrios and Melissa Allen
Owners vow to open next month, following alleged 'callow behavior' of their employees
By Lance Armstrong
Barrio Café, a less than 1-year-old business in the South Hills Shopping Center, shut its doors to the public on Aug. 12. But its owners, Sergio Barrios and Melissa Allen, state that the closure is both temporary and necessary due to employee behavioral issues.
Taped on a window of this bakery and coffeehouse is the message: "To our valued customers, we are forced to close for a few weeks – possibly shorter – due to the callow (or immature) behavior of our employees. We will be recruiting new personnel and training them in the next few weeks.
"We will reopen with a new, more professional crew, and with our expanded menu. Again, sorry for the inconvenience, and hope to see you soon. Melissa (and) Sergio."
Shortly after the business's temporary closure, the Pocket News visited with business employees and local residents who were surprised by the sudden closure of the café, which opened on Sept. 24, 2016.
Wendy Lee, a manicurist at the neighboring business, Royal's Nails, commented about the closure.
"They closed this morning," she said. "This morning a lot of customers came there. Oh, my God, I think about 100 people came in. They're good, they're nice and the coffee is good. I hope (the business) comes back."
Martha Cervantes, who arrived at Barrio Café that evening for a student art show that was to have been presented but was cancelled by the organizers, expressed her opinion about the message that was placed on the window.
"That wasn't very tactful the way they did it," she said. "They didn't handle it very right. They should have just said, 'Closed due to a staffing shortage.' That would have been better. They're putting their laundry out."
During the following morning after the temporary closure of this business, the Pocket News met with Sergio and Melissa inside their café at 1188 35th Ave., where Brick Oven Pizza operated for many years.
Sergio stated that he does not regret the strong words included in the message posted on his business's window.
"I'm going to say that is the right response, because the people don't know what we've gone through," he said. "Basically, it has to do with employees and discipline. Finally, the whole thing just collapsed in the sense of they're just not doing what they're supposed to do. And then they turned the tables around and said, 'We're doing what we're supposed to do.'"
Sergio added that none of his staff were terminated from their employment.
"A couple of them did quit on their own," he said. "They said they're not coming back. The other ones, we haven't dismissed them yet. The two of those that quit, those could have been fixed with anything, but they just didn't want to come back for the whole mess. The other ones are disciplinary actions."
Sergio referred to the situation as a whole as "drama," and he mentioned that the two employees who quit claimed that they were being overworked and were unappreciated.
"They seemed to think that they were having too much work, of which now we can ease the pain," he said. "We're looking for more people to take care of the counter."
Sergio noted that he had already conducted some interviews prior to when those two employees quit. And as of the deadline for this story, those vacancies had not yet been filled.
In the meantime, the remaining employees are no longer earning money, Sergio said.
"I paid them up to Friday, (Aug. 11)," he said. "I don't know if we can continue the conversation (of employment with the remaining employees). Otherwise, we'll be doing some (additional) recruiting. We have things on Craigslist and other (job classified sources)."
Sergio mentioned that because of issues he has had with his employees, his business's progress has been slowed.
"We wanted to do breakfast and lunch and we're stuck on the breakfast part right now, because of the same reason," he said. "Our employees haven't really come up, but in their defense they're very young. One of them comes out of culinary school – just fresh out of culinary school – never had experience on the workforce. The other comes from a vocational school.
"We're behind our schedule where we're supposed to be. By this time, we were supposed to have a beer and wine license, be open some evenings and have lunch, and it hasn't materialized."
Sergio added that fortunately for his business, it can financially survive this temporary closure.
"Financially, (this closure) hurt us, but it doesn't put us in any potential thing," he said.
In further speculating about his South Land Park business's challenges, Sergio admitted a possible need for him and his wife to spend more time there.
"A point against us is that maybe we spend a little too much time over there (at their downtown Sacramento business, Fluid Espresso Bar) and not enough (time at Barrio Café)," he said.
Sergio and Melissa opened Fluid Espresso at 1230 N St. in Feb. 2006.
Moving forward, Sergio and Melissa are considering writing a statute of conduct for their employees at Barrio Café, and are planning for that business's reopening.
"We'll (reopen in) no longer than a month," Melissa said. "We're trying not to take up a month, but we're giving ourselves a month, just in case."
And in providing more specifics on that opening, Sergio committed to having the café operating with at least a partial menu by Sept. 1 and a full menu by the middle of September.
"If we have the right people, then we can do it sooner," he said.
Following Sergio and Melissa's interview for this article, several other community members spoke about the business and its temporary closure.
One of those people was Land Park resident Lisa Wunsch.
"I think it's nice for the neighborhood to have a coffee shop for the community," she said. "So, hopefully they get it together."
Another resident of the area, Jaquie Duerr stated that she had already found out about the café's closure and had come to the business hoping to provide her encouragement.
"I was going to stop by and say hello, and let them know I'm in the neighborhood and kind of routing for their success," she said. "I hope they resolve their labor issues for the benefit of both labor and the owners. We want to see them survive."