Know your neighbor: Hoàng Chi Trương Smith, author of TigerFish
By Monica Stark
editor@valcomnews.com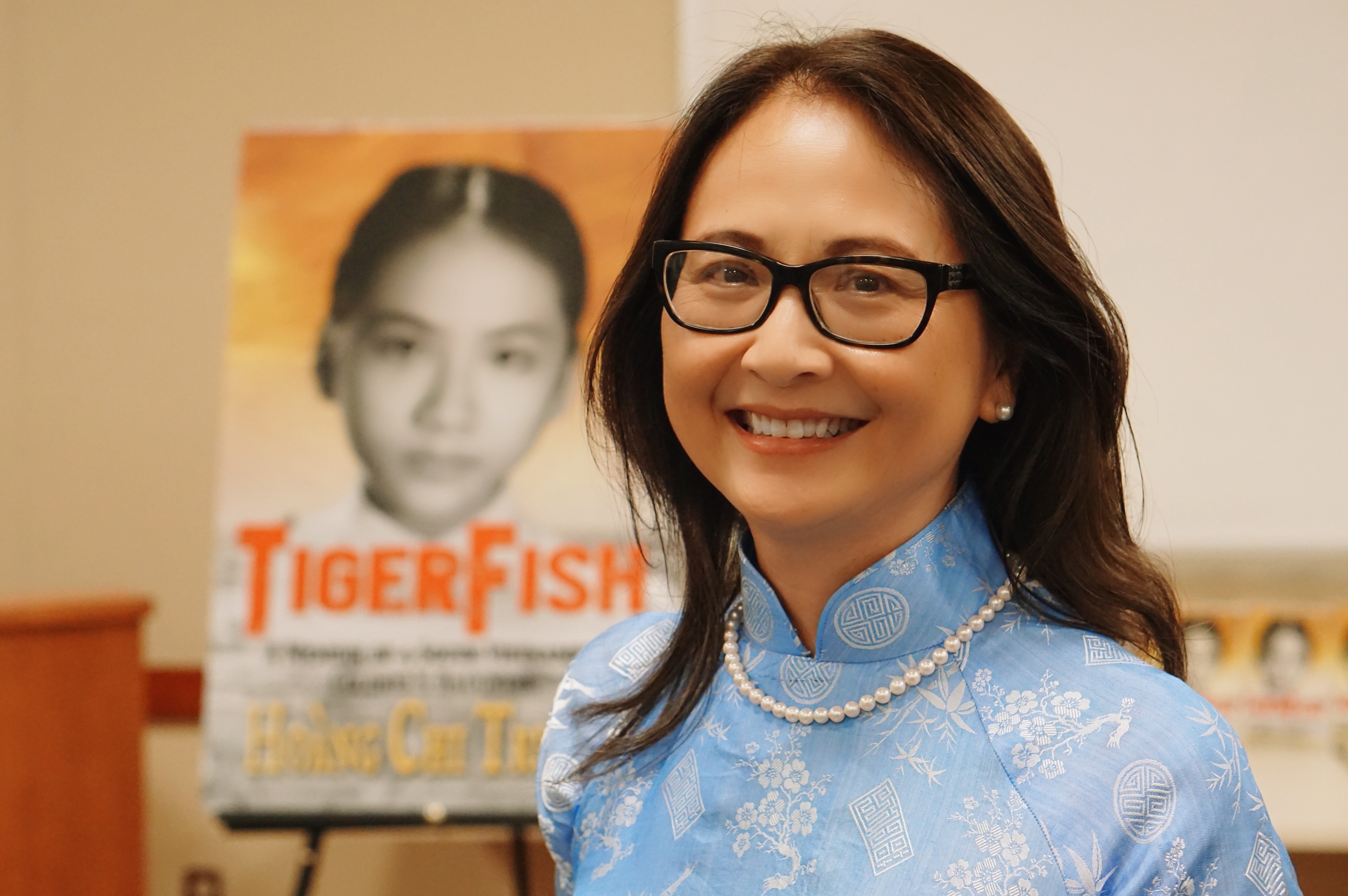 In her memoir TigerFish, Pocket author Hoàng Chi Trương Smith chronicles the tumultuous years growing up in war-torn Vietnam and the abrupt and brutal regime change that forced the disruptive and disorienting coming of age between two vastly different cultures.
Trương Smith witnessed abject poverty, war veterans with missing limbs, orphans having to sell trinkets on the street to make a living, young girls and ladies driven from their bombed out villages to the cities and loured into lucrative business of being "bar girls". As a child, her parents taught her to be aware of her surroundings. Kidnapping and assassination attempts were real fears that the young girl and her family faced. These social ills and injustices were set against the backdrop of a heavy Vietnamese and U.S. military presence, as she listened to the same American music and watched the same television shows most Americans watched overseas by way of the GIs' television sets.
The daughter of Col. Thuc Tan Trương, Trương Smith describes life away from her father for the protection of his family.
In an interview with the Pocket News, Trương Smith explained that her father lived away from home most of her life in Vietnam as he stationed in battle zones since it was unsafe for the family to live with him. "He only made unannounced visits home to avoid snipers attempts, and when my parents talked on the phones, they didn't talk about anything of importance or of many details for fear of being intercepted. He kept us safe and protected from the danger of war, especially after the failed assassination attempt on my mom, sister and me," she said.
At times, Thuc Tan Trương encountered disagreements on the winning tactics and strategies to minimize the U.S. and Vietnamese casualties, as the U.S. military training and experience were unfamiliar with the Vietnamese culture, the environment, and the cunning guerrilla tactics of the North Vietnamese. And yet, stories about him hail the colonel as a well-respected, honest and effective leader of the South Vietnamese Army by the Vietnamese as well as the U.S. One of his U.S. counterparts, Lieutenant Colonel W. Ray Bradley, son of General Bradley, commented in several interviews that he was one of the best Vietnamese officers he had the privilege of working with. Bradley credited Thuc with "turning around" the 51st and responsible for much of the progress in the South Vietnamese Development Program in the Danang area.
Meanwhile, as a young child, Thuc's daughter felt the safety he provided. As Trương Smith states today: "As a child, I absolutely felt safe and protected from the war by the way my parents sheltered us behind the fence and gates of our home, bomb shelter bedrooms, guards, and drivers to prevent another assassination attempt on our lives." Her father paid infrequent visits home and he stressed discipline and education, hiring tutors and providing extra English lessons. "Although he was strict, he left the disciplining to my stay-at-home mom, who instilled values of hard work and family loyalty," she explained.
Born in 1962, Trương Smith never knew what peace time would be like. "That was the norm for us," she says. During the supposed ceasefire and truce, there were still bombardment and casualties from both sides, the North Communist and the South Republic, while her family slept in a bomb shelter bedroom and had around-the-clock guard protection and a driver. To that extent, she says, "We lived in a well-protected cocoon."
One of the most vivid images she remembers occurred on the date her family left their home in Danang on March 28, 1975 for the United States where California would become home. That day was when she first witnessed chaos, anarchy, and the every-man-for-himself survival mode. It was the day after Hue fell. "There was a collective fear of impending doom and fear of the Fall of South Vietnam since the strategic stronghold of Hue took place. Refugees from this area north of us fled and funneled through our city, escaping southward from the communist's strong advance. The streets were crammed with people with their worldly belongings seen by what they could carry with them by bikes, motorcycles, on foot, buses or cars. I had never seen traffic jams quite like this and ironically, a child stood in the traffic light booth, playing with the signal lights which nobody paid attention to as they turned red and green like Christmas tree lights."
Trương Smith started writing her memoir as a family documentation in 1992 when her firstborn – her daughter – was 2 years old. A stay-at-home mom in Clarksburg, Trương Smith's original intent for TigerFish was only as a family document and history. "I wanted my children to know about their heritage and how I came to America and why. I also wanted them to know the details of what life was like for me as a child, and as a teenager with my sets of challenges in Vietnam versus America."
Finishing the first draft in 1997, Trương Smith then took a writing class at the Cosumnes River College to improve her writing. She wanted to "make it more compelling for my children to read someday because I didn't like how it read like a genealogy document." From this class, she changed her writing style of chronology of dates and facts into vignettes of important moments of her life. At this point, this book was still intended for her family exclusively and stayed on her desktop with no intention of publishing.
However, as the Syrian refugee crisis started in 2011 and continued to escalate, Trương Smith felt an increased urgency and a need to share her story and humanize the refugee experience. "The major deciding moment for me to publish my book for public consumption was in January 2017 when the first Executive Order that banned refugees from legally entering the U.S. I felt a moral obligation to share my story to connect the word "Refugee" to a face and person who shares the same thirst for life, dignity, and liberty, whom otherwise would be persecuted for their political and religious beliefs."
She began to work full-time, devoting all her attention to publishing the book in nine months, working with editors, book cover designers, formatters. She built a website and developed a social media following for TigerFish, leading to the successful launch of TigerFish at the end of April 2017. It's available on Amazon, as well as some local indie bookstores.
Trương Smith self published TigerFish on April 24, 2017 via CreateSpace, a print-on-demand publisher. Trương Smith ordered 50 for a private book launch and 30 copies from Sacramento Public Library's I Street Press. Besides buying TigerFish on Amazon, the book is also available on paperback and Kindle.
You can meet Trương Smith at the following local author events where copies of the book will be sold for $20 (including signing):
My Sister's House Book Read Night at Belle Cooledge Library on Wednesday, Sept. 27 from 6:15 to 8 p.m. A large portion of the book sales proceed will be donated to MSH by the author.
CSU- Fresno Henry Madden Library Alumni Reception & Author Event on Oct. 6 from 6 to 8 p.m.
Bogle Winery Author Event; Clarksburg, Saturday, Oct. 14 from 6 to 9 p.m.
Arthur Turner Library. West Sacramento. Wednesday, November 1st. 6 to 7pm
Belle Cooledge Library, 5600 South Land Park Drive on Nov. 4 from 2 to 3 p.m.
Davis Branch Library Author Event on Thursday, Nov. 9 from 7 to 8 p.m.
Tea and Talk Book Club at Belle Cooledge Library on Jan. 3, 2018 from 10 to 11 a.m. and from noon to 1 p.m.
Trương Smith said it's an honor to share her memoir TigerFish with its message and advocacy for refugees and human rights against indentured servitude, a situation in which her family found them in Wyoming. "Additionally, MSH's mission resonates with mine as an advocate for refugees, women, and children of domestic violence and human trafficking. I'm currently working with Dr. Jenny Banh of CSU Fresno Anthropology and Asian American Studies, contributing to interviews for her research project, 'Successful SE Asian Americans in Central Valley.' I will also speak to her classes, as well as other students at the Henry Madden Library Author Event on October 6th to encourage and advise students to overcome adversity, and ultimately raise the dismally low 4-year graduation rate for SE Asian students. My oral recording for her project will be available to everyone and is resource for K-12 teachers, to gain an understanding of this underrepresented population in the Central Valley."
You can find copies of TigerFish at the following bookstores:
Davis Avid Reader. Davis; avidreaderbooks.com
Avid Reader on Broadway; avidreaderonbroadway.com
BluMoon & Vinyls. Sacramento; facebook.com/bluMoonbooks/
Petunia's Place. Fresno; petuniasbooks.com
Bookshop Santa Cruz; bookshopsantacruz.com