Jim Piskoti, A Double Life in Art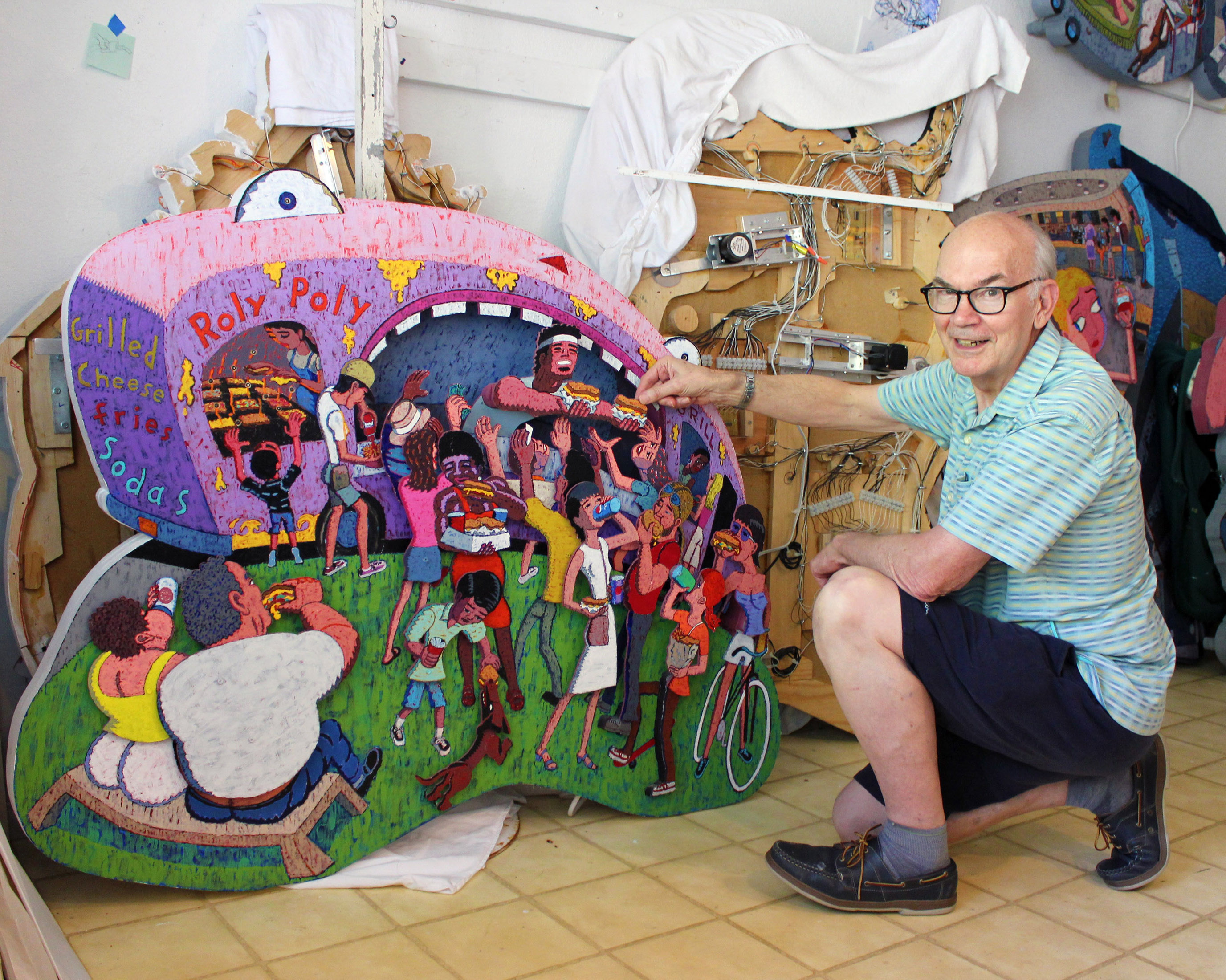 By Mark Hanzlik
Many artists approach a blank canvas without any expectation or where the creative journey might take them. There are also those who seek immediate gratification, a desire to see their creation come to life quickly. Jim Piskoti, a long-time Pocket area resident, artist and print-maker is neither of those. His socially perceptive translations of people, places and objects through a unique form of kinetic art is something to behold. Jim's passion for art takes him on a long journey with the creation of each new multi-media piece. He also becomes an engineer and electrician as the work itself to his best description, often involves a lot of 'problem-solving'.
Jim says he produces a kind of contrived "scene-picture" that incorporates aspects of perspective, chiaroscuro and local color. I'm attracted to themes that are often tied to social issues, sometimes, purely celebratory depictions of modern genre situations."
Blue Line Arts in Roseville is currently showing a career-spanning retrospective of Jim Piskoti's work along with other artists inspired by his kinetic paintings through October 7. The artist will speak for the first hour of the opening reception held September 16, 5pm-8:30pm.
I met with Jim and his wife Carol in his River Oaks home studio located in the Pocket area of Sacramento while he anxiously prepared for the Blue Line show. He graciously shared details about his artistic process and inspirations that formed his life's work over the past 50 years. As we talked, Jim revealed his desire to be considered more of an 'outsider' despite his formal education, artistic training and lofty principals he promoted as a teacher himself. The coolest part of hanging with Jim for a few days was listening to him describe the narratives layered within each of his scene-pictures, peppered with his infectious laugh and revelatory self-discovery.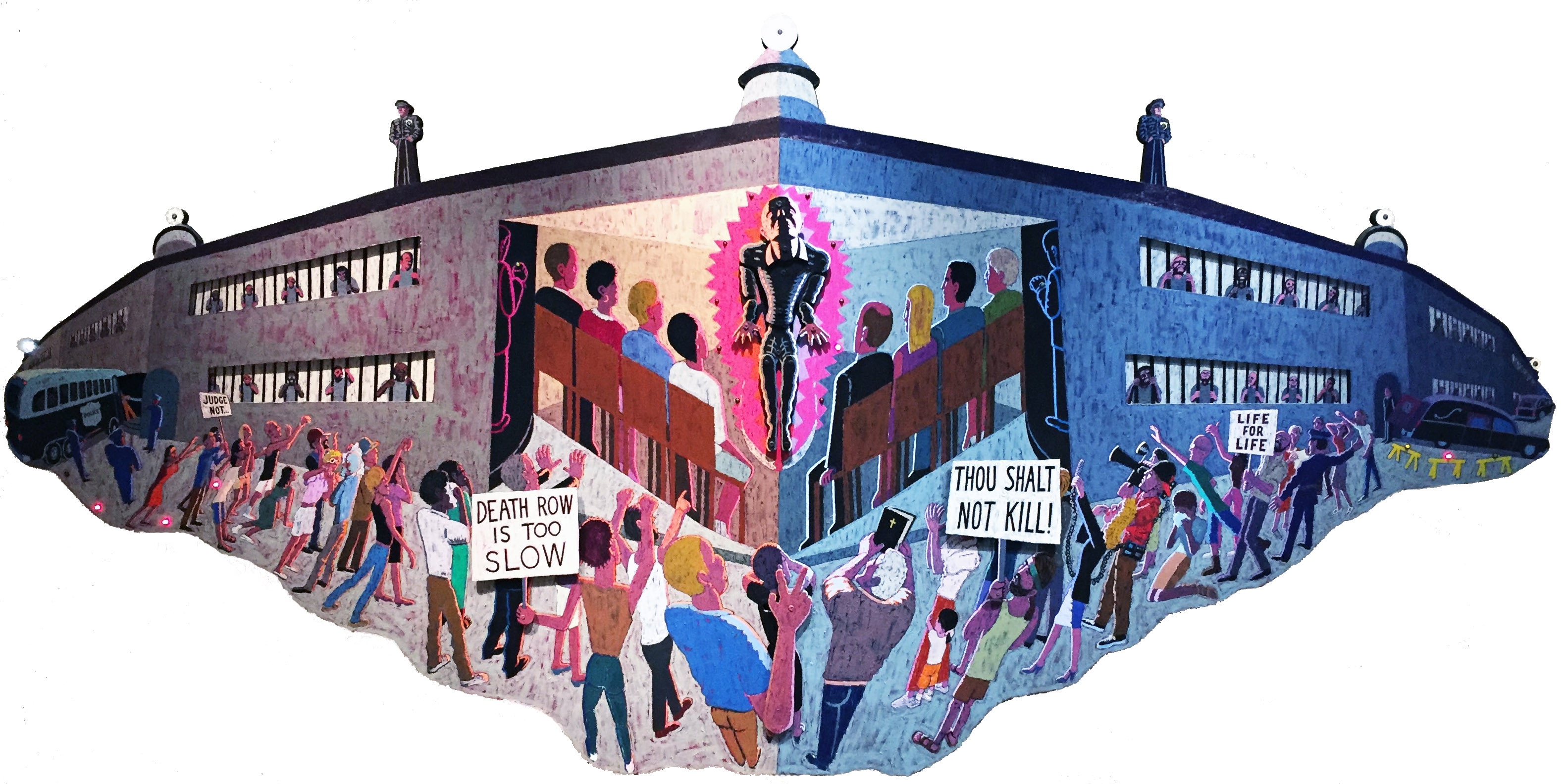 Double Life
One way to explain what some viewers might see in Jim's paintings is think about the "double life" they inhabit. His large-scale kinetic work combines the traditional medium of acrylic paint with modern technology, motorized parts, LED lights, and in some cases audio. Jim offers "I like the idea that in one state, it's an arrested, quiet image, and then when the electricity goes on, it comes alive in a whole different way." Two worlds exist in one painting; inactivity which invites thoughtful contemplation, and an electrified interactive experience that many of us are accustomed to in our distracted lives.
You'll also discover a different kind of double life in Jim's juxtaposition of celebratory depictions of modern life against images of social issues. In one painting, the inhabitants are seemingly satisfied enjoying a food truck experience Roly Poly Food Truck and Customers (2016) while in another Justice (2002) a much darker death penalty statement is made by the artist.
In Roly Poly, Jim points out how the lighting makes highly detailed cheese frying on the grill appear like candles being lit in church. In this one, he opted out of adding audio as it already "had so much stuff going on." Jim tries to strike a balance between being overly active or too static, something he admittedly struggles to control with each kinetic project.
Jim suggests when a viewer approaches the painting Justice (permanently display at Crocker Art Museum) "they become the executioner by pushing a foot pedal and activate the lights and gears. The lights and movement simply add to the drama that is already present."
In T.S. Eliot's Four Quartets, the world is described as a place where beauty and corruption cohabit and are often indistinguishable. Contrasting qualities reside within a single painting, City of Gold (2012) another of Jim's depictions of modern genre. Jim is pleased with the balance he achieved with so much going on, he says ultimately, "the viewer can still find it easy to see all the different characters and actions." In the painting, a woman's purse is picked in front of Neiman Marcus while flowers are sold off the sidewalk, a busload of sightseers gawk at the sights and seductive images of money are mixed with garbage and panhandling. It's a form of satirical social commentary filtered effectively through Jim's interpretative eye and exaggerated style.
Jim's latest kinetic work, Convenience Store with Customers (2017) is in his own words, "a microcosm of the whole world of things that interest me in terms of people, vehicles, signs and the morality issues." It's his interpretation of the range of characters and actions you might see at a convenience store. A rotating 24-hour sign sits atop another "double life" structure where liquor and cigarettes are displayed on a dark side and food and soda dominate the bright side. Hidden in the back, an adult purchases beer for a minor, a ferocious dog barks off the back of an open bed truck at a frightened child, and nearby there's a guy with a walker filled with liquor. Meanwhile movement in the foreground shows a woman washing an auto windshield in a fuel station while another woman actively collects ice from a machine and a family carries supplies for their camping trip in a Volkswagen bus.
All of the aforementioned pieces are among Jim's favorites but Driven Man (2007) has a special place in Jim and Carol's family room. "It reminds me of Jim," adds Carol, "a man carrying a briefcase and Starbucks with clock hands moving very fast. You can see the gears and motors moving which you can't in his other pieces. It's very active and it makes me very jittery—that's why I like it."
As a young art student, Carol met Jim at California State University Stanislaus in Turlock where he was teaching printmaking, painting and drawing. "He looked like Andy Warhol, a head full of blonde hair, glasses, very skinny." The first decade or so of their relationship involved a lengthy commute after Carol took a job teaching art at J.F. Kennedy High School in Sacramento in 1973. Jim, an Emeritus Professor of Fine Art retired in 2005 after 36 years and Carol turned in her keys at Kennedy in 2010. For more than a dozen years now, Jim has committed himself to his home studio work which has been primarily kinetic.
Carol says their Pocket-area home was built in 1985 to accommodate Jim's studio work but as his kinetic projects began to take shape and fill the home after 2002, he outgrew his studio. "If I could do it again, I would have built a shed for him!" Carol prefers Jim's kinetic paintings over his earlier two-dimensional work. Her favorite is Tunnel of Love (2010), an appropriately heart-shaped piece with more of his nuanced "double life" imagery and an oldies audio track titled Sea of Love. "The couple under L.O.V.E. letters are supposed to be us which is kinda sweet," Carol continues, "There's some lovebirds, different couples, genders, ages, and sexual orientation coming out of the tunnel. Another couple is crying, so, you never can tell what's gonna happen in your love life."
Much of Jim's work can be found online at his website: jimpiskoti.com
Artistic Development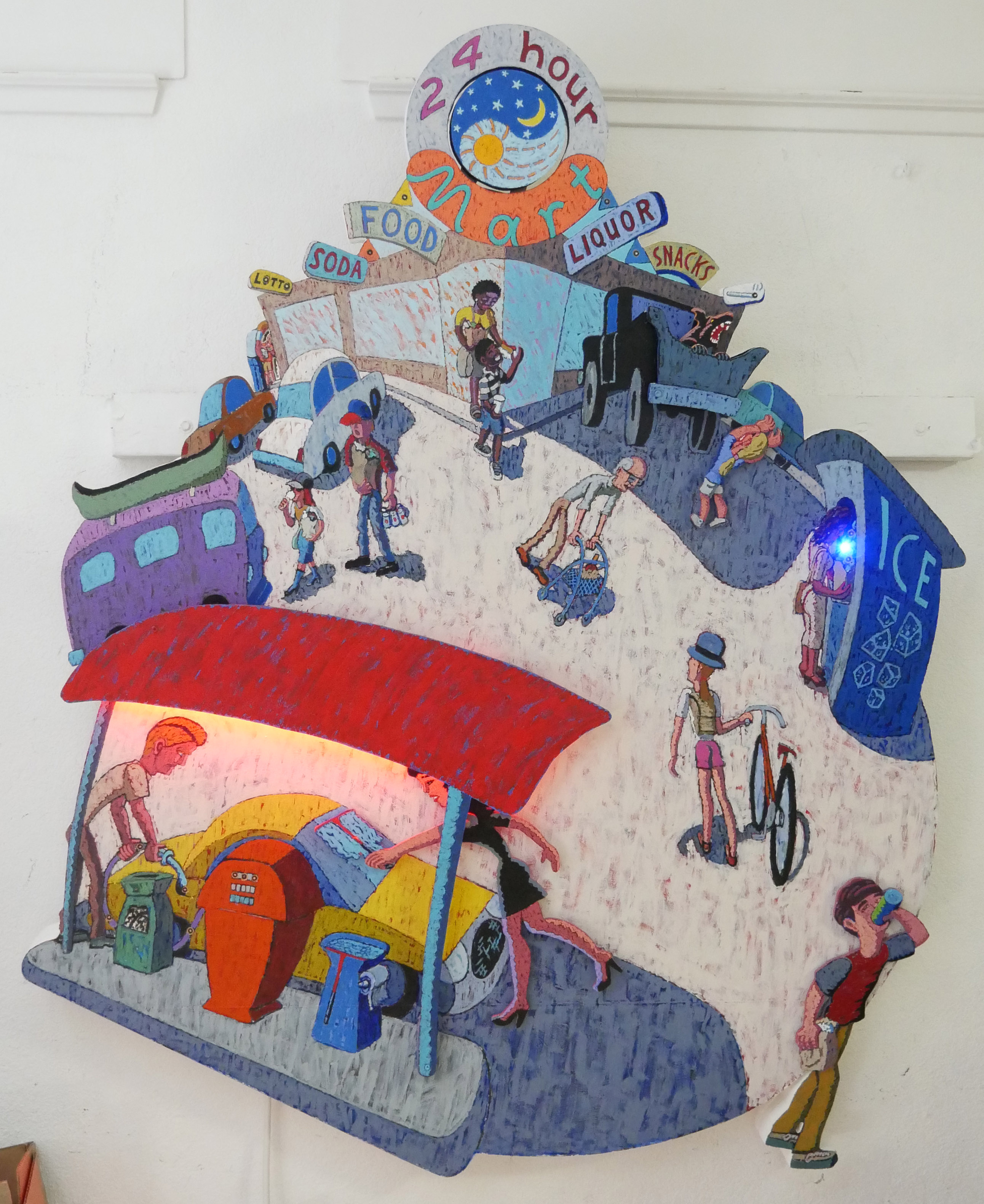 Jim was always drawing as a child. He was born in Logan, West Virginia but moved to Flint, Michigan at age 12. His attraction to trucks began early in his life and can still be found in much of his current work, and in his studio one can see a large collection of toy trucks displayed well out of reach of children. But it was Jim's fascination with hearses as a teenager in Michigan that laid the groundwork for what would eventually get him accepted at Yale University. "I wrote to these companies that did conversions of Cadillac sedans to hearses, and they sent me really nice catalogues."
After two years at Flint Junior College studying commercial art, Jim headed to the University of Michigan where he was to complete his B.S. in Design. It was while at U of M he produced a series of photo-realist paintings of funeral hearses, Cortage Series Crown Royal Rear Servicing Coach (1966) in acrylic. "I used an opaque projector and projected the image on canvas, and just filled in the colors," Jim laughs, "people are so impressed." Apparently, Yale was impressed enough to accept him into the graduate program of the School of Art & Architecture. "I'm still doing hearses but in a more personalized way. I distort and exaggerate them now."
Jim absorbed the striking images of Appalachia early in his life and later in Michigan in the shadow of the booming auto industry, developed his artistic sensibility and desire to include social commentary in his work. 
At Yale, Jim grew as an artist as he was exposed to contemporary art in New York galleries and museums. New York Traffic, No. 1 (1969) painted in oil was part of a series Jim produced after drawing inspiration from sketches made during his weekend jaunts into Manhattan. He also was doing a lot of printmaking which would later become a focal point in his own teaching career. "At that time, printmaking had a much higher respectability in the art world. Digital has completely killed it off."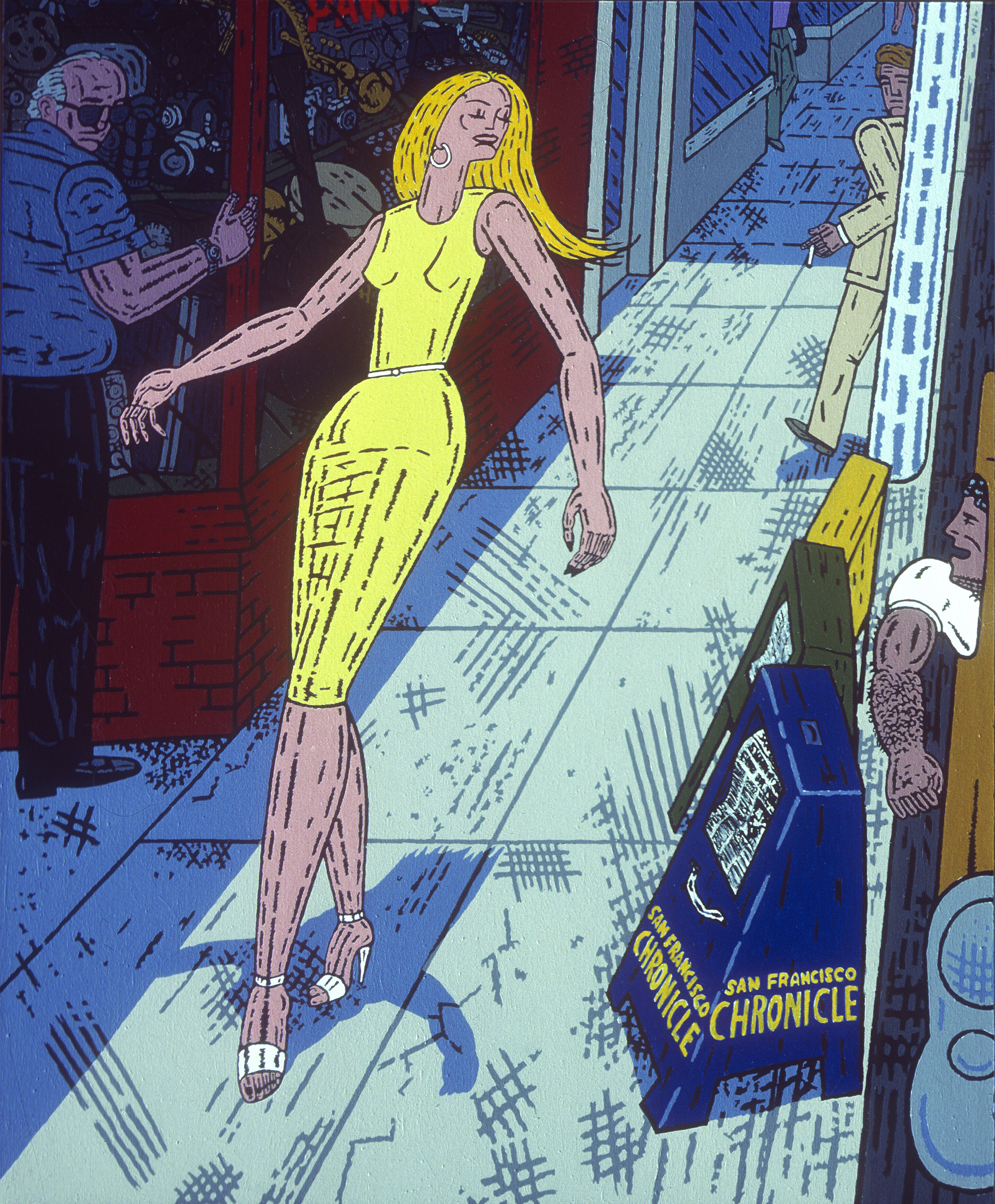 At Yale, Jim experimented with bold, gestural moving qualities in his oil paintings during this period. His interest in vehicles, cities and scale, he refers to as "huge trucks and tiny women" were to become recurring images in his work throughout the next five decades.
After Jim was hired in 1969 to teach in Stanislaus County, he continued to paint impressionistic views of traffic, mostly scenes in the small town of Turlock. In the 1980's, Jim produced a large volume of work, acrylic and oil paintings of a variety of scenes, many of them awarded prizes and exhibited throughout Northern California and beyond. Figure in a Yellow Dress (1980) caught the eye of a feminist art critic at Ann Arbor News when Jim's piece was shown in an Alumni Art Annual in 1984. Peggy Page wrote, " I just don't like Piskoti's definition of women – as sexpots who dress for, and enjoy leers from men. That image of women went out with go-go boots." Jim proudly shares a clipping of the opinion piece and a hearty laugh with anyone who wants to join him. 
Another two-dimensional piece from this period, On the Sunnyside of the Street (1984), an acrylic painting served as an early indicator of Jim's Double-Life. "Carol's father was telling me it's always better to have your business on the side of the street that gets the sun. People are in a more optimistic mood." In the painting, Jim shows a porno theater, lowlife characters on the dark side, and an old woman looking toward the brighter side of the street at a younger woman where there's plenty of money and high fashion.
You can also view Jim's public art in several locations:
Figures in a Park (2010) located in Hampton Park, Sacramento; Four Interactive Paintings (2010) North Natomas Library, Sacramento; Capitol Box Art Projects (2014) Downtown Sacramento; Bull Dozer with Passengers (2014) Art of the Dumpster Project, Sacramento; and Wild Life on a Ferris Wheel (2017) Metal Sculpture located in McKinley Village, Sacramento
Although Jim has concentrated primarily on kinetic works over the past 15 years, he has returned to acrylic works on paper. After seeing a Bosch show in 2016, Jim produced a number of two-dimensional paintings on paper including Side Show (2016), of a Trump-like scene where a woman is groped, a wall is erected, red-capped supporters raise weapons, and mortally-wounded statue of liberty is wheeled away on a stretcher.
When I asked Jim about this idea of a double life, he suggested in his paintings he's simply introducing a capacity for a double life, a richer variety, a different experience for the viewer. "It's opening a new direction or another way to capture life in the 21st Century. That's why I'm doing them I guess."